On April 5th, US Strategic Command tweeted out a story about the nuclear triad that was published by the controversial news site Breitbart. And people were pissed. According to records released to Gizmodo through a Freedom of Information Act (FOIA) request, it's clear that pretty much nobody was happy with the decision to link to Breitbart. Well, nobody except for Breitbart.

According to the 36 pages of documents released to Gizmodo, US Strategic Command (Stratcom) received numerous phone calls and emails complaining about the tweet. The messages came from both veterans and the general public alike.
Why were people pissed? Breitbart's long history of racist and sexist content has made it a lightning rod for people of all political persuasions. And Breitbart's direct associations with the White House (Trump advisor Steve Bannon used to run the news site) call into question its ability to be impartial.
US Strategic Command formulated a script to read out to people who called to complain about the tweet. Tellingly, there was a version of the script "for people who start yelling." Gizmodo has redacted some of the names and contact info below, as well as highlighting in yellow some of the more interesting bits.
G/O Media may get a commission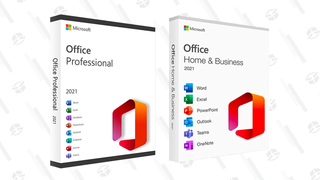 89% off
Microsoft Office Professional 2021 Lifetime License
Internal emails give a glimpse into the debate over the tweet, but there's one thing that's quite curious: Everyone at US Strategic Command refers to the tweet as a "retweet."
For those unfamiliar with Twitter (as Stratcom appears to be) a retweet is when you pull someone else's tweet into your own stream, sending it to other people who follow you. In this case it appears that the people at Strategic Command believe a retweet is when you send out a tweet with a link.
As lower level staff started to notice the negative attention online, news of the controversy went up the chain of command. In an email dated April 6, 2017 from Captain Brook DeWalt to General John Hyten, it's explained that US Strategic Command "received a fair amount of criticism overnight on Twitter," despite the fact that the account notes "retweets do not imply endorsement."
Again, this notion that "retweets do not imply endorsement" is a bit confusing for people who have been on Twitter for a while. This wasn't a retweet, but instead was a link to a story on Breitbart.
General Hyten, the top commander at Stratcom, replied to Captain DeWalt, asking what benefit there was from the tweet. Hyten wrote that it "seems like it only invites criticism...." Again, the conversation refers to the controversial Breitbart link as a "retweet."
At this point Captain DeWalt, former director of public affairs at Guantanamo Bay, says that it's all part of "social media engagement" and that he can elaborate further in person. This might be the point at which Captain DeWalt realizes that some nosey blogger might request this conversation in a FOIA request. That, of course, is just speculation.

The rest of the documents provided by US Strategic Command involve emails and messages sent through Stratcom's web portal. Again, people were not happy about the military linking to Breitbart, which many complained was racist and inflammatory.

Another person who said they were a veteran was unhappy with the tweet, calling Breitbart racist and saying that the situation was UNSAT, military shorthand for unsatisfactory.
Another person wrote to say that Breitbart "spews hateful stories - many of which are completely false." The same person said that US Strategic Command should be held to a higher standard.
Another person claiming to be a veteran wrote to complain about the tweet calling Breitbart a "white supremacist website."
Others sent Stratcom lists of the stories that people typically find on Breitbart to demonstrate just how hateful it can be. Stories that are anti-semitic, anti-trans, and anti-woman were just a few sent in an email from one veteran below.
US Strategic Command sent us a copy of its Public Affairs Rules for Social Media Engagement, which Gizmodo also requested. There's no clear rule barring from linking to something like Breitbart, but perhaps there should be if they want to cut down on their hate mail.