The Hugo Awards are given to the best science fiction or fantasy works of the previous year. Unfortunately, they've only been awarded since 1953. That's where this column comes in — Jess Nevins will be awarding some honorary Hugo Awards to the best novels of the Victorian era... and beyond.
Top image: Jekyll and Hyde poster.
First, A Clarification
Before diving in to the novels and stories, I need to respond to a criticism of the last column: Queen Victoria died in 1901, yet I'm going to cover through 1930. The Hugos from 1901-1910 will be the "Edwardian Hugos," and the Hugos from 1911-1930 will be the "Pulp Era Hugos."
The Novels
The Hugo short list for 1886 novels would have been F. Anstey's A Fallen Idol, Marie Corelli's A Romance of Two Worlds, Rosa Praed's The Brother of the Shadow, Robert Louis Stevenson's Dr. Jekyll and Mister Hyde, and H. Rider Haggard's She. This is only the second year of the Victorian Hugos, and already there is tight competition for the award. Unlike 1885, there is even competition for which novels should be on the short list, something which will repeatedly be the case going forward.
G/O Media may get a commission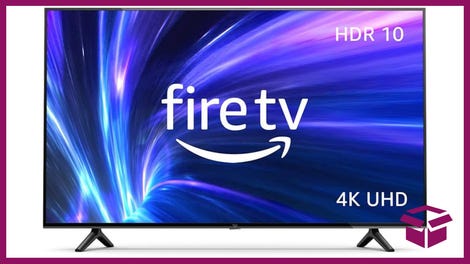 42% Off
Amazon Fire TV 50" 4K Smart TV
As mentioned in the 1885 column, Anstey (real name Thomas Anstey Guthrie) was a major humorist in the 1880s, better loved in the U.K. than in the U.S. The modern equivalent might be Tom Holt, though at his peak Anstey was more popular and much better known than Holt. A Fallen Idol is about an English painter who is given an Indian idol by his fiancee. Unfortunately, the idol is possessed by the malicious spirit of a Jain saint of significant supernatural powers, and the idol brings the painter nothing but trouble until an occultist and his Tibetan masters manage to drive the spirit away. Like Anstey's The Tinted Venus, A Fallen Idol would have made the Hugo short list based on Anstey's reputation more than its intrinsic quality. In 1886 Anstey began writing an "overheard conversations" column for Punch which was popular with the public and critics and which boosted Anstey into the next level of fame (the modern equivalent might Lois McMaster Bujold becoming a regular correspondent on The Daily Show), and, as has sometimes happened with Hugo/Nebula nominees, that fame would have been more important to Hugo voters than the quality of Anstey's work. The main problem with A Fallen Idol is its style. Anstey was a professional writer, so his work is always competent, but A Fallen Idol, like his other novels, reads as if it were written twenty years earlier, in a High Victorian style which is neither subtle nor fast moving and which sees no need to make a point with one sentence when three paragraphs could do. Add to that a Victorian archness which seems increasingly forced with the passage of time, and the benign racism with which Anstey treats the Jains, and you have a work which has aged in unfortunate ways. Still, A Fallen Idol was popular with Anstey's readers and would have been nominated.
Marie Corelli (nee Mary Mills, 1855-1924) was the best selling of all Victorian novelists, the most popular with readers and the most reviled with critics. Some choice quotes:"a woman of deplorable talent who imagined that she was a genius, and was accepted as a genius by a public whose commonplace sentimentalities and prejudices she gave a glamorous setting," "the imagination of a Poe with...the mentality of a nursemaid," and "vain to the point of mania," Corelli is among my least favorite Victorian novelists, and I hated every second I spent rereading A Romance of Two Worlds. (For what it's worth, Jessica Amanda Salmonson has a good defense of Corelli here). Romance, Corelli's first novel, is about a heroine who, while recovering from a nervous breakdown, is given an elixir which leads to a vision of and later meeting with a Chaldean prophet (of the "Electric Creed," the "gospel of electricity") named Heliobas, and then an astral voyage through the galaxy. The first of Corelli's anti-materialist screeds, A Romance of Two Worlds combines the ludicrous self-seriousness and prose style of a seventeen year old (the age the 31-year-old Corelli claimed to be when Romance was first published) with the ideas of a New Age proselytizer who's taken one too many blows to the head. Henry Miller said of Corelli that she "makes of you either an addict or a sworn enemy." Count me among her enemies. And yet Romance was a popular success and would have garnered more than enough votes to make the Hugo short list.
Praed was a popular novelist whose Affinities would have made the Hugo short list for 1885. I think Brother of the Shadow is better than Affinities, and is Praed's best novel. Brother is about a delicate young woman dying of neuralgia and morphine whose doctor uses his psychic abilities to cure her, only to fall in love with her. He uses his abilities to make her fall in love with him, but dies while trying to psychically kill her husband. Despite the much greater use of Theosophical ideology — Praed was involved with Madame Blavatasky and the Theosophist Society almost from the beginning — Brother is a moderately fun late Victorian romantic occult fantasy. Brother has good characterization (especially for the doctor), an agreeably smooth style, hidden Tibetan occult masters, psychic death rituals, and a pleasant lack of racism in its treatment of Indians. One might describe Brother as Bulwer-Lytton without his bombast, straining for affect, or moments of genius. Like Affinities, Brother would have deserved its place on the Hugo short list.
Neither Robert Louis Stevenson nor The Strange Case of Dr. Jekyll and Mr. Hyde need any introduction. In 1886 Stevenson had what one critic called "an unsensational meed of fame," mostly from Treasure Island (1883), but Jekyll and Hyde made him famous. It dwarfed Treasure Island and was an immediate best-seller as well as a hit with the critics. The only surprise would have been if Jekyll and Hyde didn't make the Hugo short list. Stevenson's style is a little stiff, but the story is compelling, the treatment of Jekyll's psychology is very strong, Stevenson has a deft hand at physical description, and the mystery of the novel's central allegory — what do Jekyll and Hyde stand for, what do they mean — allows many interpretations, but remains pleasingly mysterious.
Haggard and She should be familiar to all of you. She's official British publication date was 1887, but it appeared as a serial in the British magazine The Graphic from Oct. 20 1886 to January 8 1887, and the American publisher Harper's brought out a pirated and abridged American edition in time for Christmas, 1886, which would have led American fans to put She on the Hugo ballot for 1886. Possibly British fans' complaints might have prevailed and had She left off the 1886 ballot, but I doubt it. She was even more popular with readers than Haggard's King Solomon's Mines (1885) was. Critics grudgingly conceded some of its virtues while playing up Haggard's alleged plagiarism (from Thomas More's The Epicurean, from the Venerable Bede, and from Randolph Anson, among others), but readers didn't care about any of that. They just loved She. I do as well. Yes, it is (in E.F. Bleiler's words) "one of the clearest statements of death eroticism ever written." Yes, it is rank with misogyny. Yes, Haggard indulges his affection for infodumps and extended lectures. No, She is not as well written as King Solomon's Mines. But most readers ignore Haggard's narrative flaws and allow themselves to be swept along by his not-inconsiderable storytelling power. She has Ayesha, one of the greatest fictional femmes fatale. And Haggard's views on race and empire are considerably more nuanced than most modern readers will expect, and enlightened and progressive compared to his contemporaries.
She would have won the 1886 Hugo, but Dr. Jekyll and Mr. Hyde was the more deserving of the two. She is a great read, vivid, memorable, and packed with a surprising amount of Haggard's fin-de-siecle pessimism, but there's a reason that Jekyll and Hyde is in the literary canon and She is not. Jekyll and Hyde is better written and more complex symbolically and psychologically. She is good fun; Jekyll and Hyde is good literature.
Other novels receiving votes would have been Edward Payson Jackson's satirical ideal society novel A Demigod (unread by me; Bleiler says "Perhaps too long for its matter, but still enjoyable Darwinian fiction"), Thomas Lee's satirical imaginary voyage Falsivir's Travels (unread by me; Bleiler says, "Well-handled on the whole; imaginative, amusing, nicely detailed, but the confusion between destructive and constructive satire weakens the impact of the story"), and William Westall's The Phantom City, a smarter-than-usual Lost Race novel with unusual attention on the author's part to geography and psychology.
One novel which would not have received votes, but which seems like a glaring omission now, is Vernon Lee's A Phantom Lover. That Lee's name is unknown to most, much less considered on par with Arthur Machen, M.R. James, and Algernon Blackwood, makes me sad. Vernon Lee (pen-name of Violet Paget, 1856-1935) was one of the great Victorian masters of supernatural fiction, and her Phantom Lover, which passed nearly unremarked upon by the critics of 1886, is seen as one of her best. I think Phantom Lover is significantly below Lee's better work, but critics like Jim Rockhill (here: http://www.violetbooks.com/REVIEWS/rockhi… have convinced me that my inability to properly appreciate Phantom Lover is a flaw in me rather than in the book, and that it would have deserved to make the short list.
Short Stories
The Hugo short list for 1886 short stories would have been F. Anstey's "Marjory," Ambrose Bierce's "Can Such Things Be?", E.T.A. Hoffmann's "The Automata," Sarah Orne Jewett's "The Gray Man," and W.H. Stacpoole's "The Teleporon." "Can Such Things Be?" would have won the award, but "The Gray Man" would have deserved it.
Anstey tried to make it as a serious writer; his The Giant's Robe (1883), about the disgrace and redemption of a failed novelist, The Pariah (1889), about the downfall of an arriviste youth, and The Statement of Stella Maberley (1896), about supernatural schizophrenia, were attempts at earning the critical recognition of authors like Walter Pater and Thomas Hardy, but none of the novels were received well and Anstey ruefully limited himself to humor and novels of the fantastic. Anstey did write the occasional serious short story — his The Talking Horse and Other Tales (1892) is full of them — and "Marjory" is his best. It's about two boys and a girl. One of the boys is taunted unendingly by his schoolmates, the other boy is the head tormenter, and the girl tries to be friends to both of them. After she dies in an accident, her ghost comes back to make peace between the two boys. "Marjory" is an effective combination of the school story (which Anstey excelled at) and the sentimental ghost story. Anstey doesn't go for chills. Instead, he tells a sad, gentle, and wise story. Harsh critics might dismiss it as "sentimental," but it is kind and moving and would have deserved to make the short list.
Bierce (1842-1914?) remains well-known: journalist, satirist, author of outstanding Civil War stories (he was a combatant) and landmark supernatural tales. "Can Such Things Be," better known to us now as "An Inhabitant of Carcosa," is one of those landmark stories. About a ghost who doesn't realize he's dead, "An Inhabitant of Carcosa" influenced countless writers and posthumous fantasy stories. "Carcosa" is strange and compact and powerful, with an ambience of unease and lurking evil, and it has not aged at all nor lost its power. No sane voter would have denied it both a place on the short list or the short story Hugo itself. Its only flaw, and the reason I think Jewett's "The Gray Man" would deserve the award over "Carcosa," is that "Carcosa" is a vignette, while "The Gray Man" is a full story, with a beginning, middle and end, and I think an outstanding three course meal is preferable to a sublime appetizer.
E.T.A. Hoffmann (1776-1822) would seem to be an odd choice for inclusion on this list. After all, he wasn't exactly producing new work in 1886. But the thing to remember is that, just because he'd been dead for sixty years didn't mean that the British and American audiences had seen all his work. A great many of his stories weren't translated into English for decades, and "The Automata," among others, only appeared in English in the first volume of The Serapion Brethren, which was published in 1886. If, say, an unpublished John Collier story were to run in F&SF in 2011, it would certainly get consideration for a Hugo. So, too, with "The Automata," about a mechanical man, the Talking Turk, and one of his tragic prophecies. I wouldn't include this story among Hoffmann's best; the framing sequence adds nothing to it, the philosophical discussions (very much of the era) are an annoying distraction, and the ominous ambiguity that lent Hoffmann's "The Sand-man" such a sinister tone is missing here. Nonetheless, "The Automata" has its moments and would deserve to be on the award short list.
Sarah Orne Jewett (1849-1909) was an American short story writer and naturalist. She is usually described as a major "regional" writer, which I find to be both damning with faint praise and a lazy dismissal based on ignorance and sexism. Jewett wasn't just a major regional writer; she was a major writer, period. Jessica Amanda Salmonson says it well http://www.violetbooks.com/jewett.html here; I'd say that in a 1000 yard dash with Henry James she matches him pace for pace and falters only in the final half yard. Her best short stories stand comparison with any writer (fantastic or mimetic) of her lifetime, and "The Gray Man" is one of Jewett's best. Death, in the person of a gray stranger, moves into a small town in Maine. He is friendly and generous with natives, but his unsmiling manner and their provincial smallmindedness eventually drives him away. Jewett's style is economical and precise without being dry; rather, there is a careful intelligence and even wit at work, so that her style is a joy to read and occasionally breathtaking in its perfection. Jewett's visual descriptions of the landscape of Maine are evocative, and the story as a whole has a spiritual and almost religious sensibility absent from many similar stories. "The Gray Man" would have placed on the Hugo short list, for Jewett was a favorite with many of her contemporary writers if not the readers, and would have deserved the award. In its way, "The Gray Man" is a perfect complement to "Carcosa:" stylized English versus Bierce's beloved "pure English," compassion versus nihilism, Jesus' cross versus that of the thief who denied Him. Bierce was the bigger name, and the sardonic humor he specialized in (but which is absent from "Carcosa") is always going to be more appealing to award voters than Jewett's gentleness, and of course Bierce was a man and Jewett a woman — sexism can never be discounted in award-giving — but I maintain "The Gray Man" is the better story of the two.
William Henry Stacpoole (1846-?) is the very definition of a minor Victorian writer. His only work of any significance was his Coronation Regalia (1902), but as of October, 2011, "Stacpoole 'Coronation Regalia'" gets only 72 hits on Google. Moreover, I couldn't find Stacpoole's death date, and he does not appear in any of the standard reference works on Victorian literature. His "Teleporon" seems to have been his only story of the fantastic. The narrator has a gambling problem, so (SPOILERS) his friends stage a teleportation-and-imprisonment hoax to cure him. At 10 pages, in the hands of a better author, "The Teleporon" would have been a brisk souffle. At 30 pages and coming from Stacpoole, "The Teleporon" is too long to carry its premise. Closer to the relative stodginess of 1870s prose than the breeziness of 1890s prose, "The Teleporon" isn't especially dated, but stylistically it's average. "Teleporon" is no undiscovered classic, but withal its faults it is still a mildly entertaining late-Victorian science fiction story, and I think the award voters would have nominated it.
Clearly, 1886 was not a banner year for short fiction of the fantastic: four strong entries and one mediocre entry. The other stories which might have received votes — Edward Bellamy's "A Blindman's World," Andrew Lang's "The End of Phaeacia," Robert Duncan Milne's "A Telescopic Marvel" — have minor virtues and major flaws and are eminently forgettable.
Further Reading
F. Anstey's A Fallen Idol
Marie Corelli's A Romance of Two Worlds
Rosa Praed's The Brother of the Shadow [Google Books preview]
Robert Louis Stevenson's Dr. Jekyll and Mr. Hyde
H. Rider Haggard's She
Vernon Lee's A Phantom Lover
F. Anstey's "Marjory"
Ambrose Bierce's "Can Such Things Be?": http://www.horrormasters.com/Text/a0346.pdf
Sarah Orne Jewett's "The Gray Man"
W.H. Stacpoole's "The Teleporon"
E.T.A. Hoffmann's "The Automata"