A lot of interesting ballot measures were taken up by voters on Tuesday but none of them were more curious than Florida's Amendment 9. The successful ballot item actually amends Florida's constitution to ban offshore drilling and vaping in indoor workplaces. But why were those two things bundled together?
As you may be aware, Florida is a weird place. It's the only state that schedules and appoints a commission to submit constitutional amendments for its ballot. Every 20 years, 37 people are appointed to Florida's Constitution Revision Commission (CRC) by the top branches of its government. The commission has a few guidelines in the state constitution but largely makes its own rules and does what it wants. Proposals are open to the public and submitted by commissioners. This year, it sent eight revisions to the ballot. Of the 13 total ballot measures, all but one passed on Tuesday.
In October, Grist, a non-profit publication that focuses on environmental issues, investigated what brought the "Ban Offshore Oil and Gas Drilling and Ban Vaping in Enclosed Indoor Workplaces Amendment" into existence. The short answer is that the commission simply wanted to streamline things and cram some proposals together based on "common elements." The chair of the commission's Style & Drafting Committee issued a press release saying, "Grouping some ideas together keeps the ballot from becoming too lengthy to complete."
Normally, when really disparate laws get crammed together in legislation it should raise a red flag that someone's either trying to sneak something through or kill the initiative altogether. And indeed, it's hard to square exactly where the overlap in vaping-haters and environmentalists lands. Former Florida Supreme Court Justice Harry Lee Anstead took issue with the unusual bundling on the grounds that it would violate voters' First Amendment rights. He and a co-plaintiff eventually argued that three of the amendments didn't truly give voters a voice because if they had conflicting views on unrelated issues they would be forced into suppressing one of their beliefs.
A circuit judge agreed with Anstead, and the case took a surprising turn. Florida's Attorney General, Pam Bondi, decided to appeal the decision in September. Bondi is a hardcore conservative who gained national attention after she suspiciously killed an investigation into Trump University and took a $25,000 campaign donation from the now-defunct Donald J. Trump Foundation. She's not the type of person you'd find backing green policies, but then again we have no idea how she feels about vaping. The state Supreme Court gave Bondi the go-ahead on two of the bundled amendments including the vape/oil amendment.
G/O Media may get a commission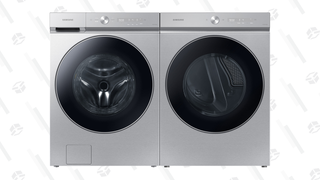 Get $500 back in credit
Last Chance: Samsung Bespoke AI Washer and Dryer Preorder
The messy process of getting the Frankenstein amendment on the ballot doesn't fully explain how the two issues came together. "Workplaces without tobacco smoke or vapor" was introduced by Lisa Carlton, a member of the commission. She would, obviously, have some influence in getting her proposal approved. Carlton was appointed by Republican Governor Rick Scott who spent 2017 running for a seat in the Senate, and she was a big fan of combining her issue with offshore drilling. She told Grist "the issues together send a message of clean air, clean water."
Scott scored a narrow victory on Tuesday night, though his opponent, Senator Bill Nelson, is calling for a recount. He's a man whose record on climate change is only slightly more terrifying than his undead appearance. But a ban of offshore drilling was popular in Florida after the U.S. Secretary of Interior, Ryan Zinke announced plans for more oil exploration off of coastal states. Scott's opponent introduced federal legislation to protect Florida's coast, and the governor became vocal about his new opposition to offshore drilling. Scott avoided direct questions about that particular legislation but he did meet with Zinke and got an exemption from the Interior's push... for now. Leaving it up to voters certainly didn't hurt Scott in eliminating a Nelson talking point.
Ultimately, the Florida Wildlife Federation wrote the language on offshore drilling and fracking that was included in the finalized Amendment 9. The group's CEO, Manley Fuller, told Gizmodo that at no point did the FWF support bundling its proposal with other initiatives—that's just what the CRC wanted. "In fact we asked the Constitution Revision Commission not to do that, not to combine them," he said. "But they have the authority to do so."
In a phone interview, he said the proposal was drafted in 2010 and was still written on the back of a chalkboard in the group's office when he received an out of the blue phone call from a friend of his at the commission. The friend asked if he'd like to submit any ideas, and he jumped at the chance.
When it came to bundling the FWF's project with an anti-vaping measure, Fuller said he didn't have much of a choice. The CRC wanted it bundled with something, and he was just relieved that vaping had a tenuous connection with clean air. Fuller did get to attend a meeting in St. Petersburg in which the commission was debating some of the measures. He said he was there from 9 a.m. until 7 p.m., and they were still talking when he left. The blizzard of wild proposals made it difficult for him to recall what other combinations were considered for his drilling plan. At one point there was some discussion of adding it to a measure about certificates of participation for hospitals that he couldn't understand. "I thought, my God I hope they don't combine [both of these] because I think that the public will be totally confused," Fuller said. At another point, one commissioner discussed combining the offshore drilling ammendment with a measure about dog racing.
If people were confused about the connection between drilling and vaping, they were confused in a way that worked out for the FWF. The measure passed on Tuesday with 68 percent of the vote. Fuller was thrilled. "It literally means that there will be no oil or gas exploration or production in Florida coastal waters" because it is now enshrined in the constitution he exclaimed.
But Fuller warned that federal waters off the coast of Florida are still vulnerable. He's not sure why his measure ended up getting the support of a conservative administration but speculated that they've seen the economic threats that pollution poses to Florida. "We've been having all these horrible problems with the red tide and the algae blooms and that may have they may have just said oh my god we don't want to have anything that might result in more water pollution."
Barring a different result from a recount in Florida, Governor Scott will be going to the Senate and taking over Nelson's seat next year. Nelson's federal proposal has been squashed, his seat has been taken, and Rick Scott could have a chance to show how much he cares about offshore drilling in a non-election year.