You've seen the most horrifying industrial disasters. Now, here are some of the worst architectural calamities ever to crush entire buildings right down to their foundations.
Knickerbocker Theatre, Washington D.C, January 28, 1922
The five years old building has been collapsed on January 28, 1922 under the weight of snow from a two-day blizzard during the screening of a silent comedy film named Get-Rich-Quick Wallingford. The fallen roof killed 98 moviegoers and injured 133 more.
(via Library of Congress)
Yarmouth Bridge, Great Yarmouth, Norfolk, UK, May 2, 1845
G/O Media may get a commission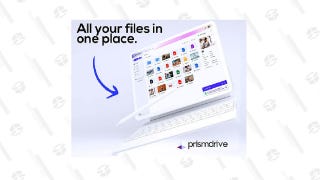 Save 97%
Prism Drive Secure Cloud Storage: Lifetime Subscription
On 2 May 1845 the Yarmouth Bridge collapsed under the weight of hundreds of children and their parents. Four hundred people went into the river, 79 died, 59 were children.
They were there to see a circus clown go down the river in a barrel pulled by geese.
(via Broadland Memories Blog and Yarmouth Advertiser)
The Pemberton Mill Collapse, Lawrence, Massachusetts, January 10, 1860
The five story building was only seven years old when it buckled and then collapsed without warning.
145 workers were killed and 166 injured.
(via Merrimack Valley Magazine)
South Fork Dam, on Lake Conemaugh, near South Fork, Pennsylvania, May 31, 1889
After the catastrophic failure of the South Fork Dam on May 31, 1889, 20 million tons (18.2 billion litres or 4.8 billion US gallons) of water were unleashed and caused the Johnstown Flood that killed 2,209 people.
By the way, a previous owner of the dam removed and sold the three cast iron discharge pipes that allowed a controlled release of water.
(via New York Public Library, Library of Congress, Wikimedia Commons 1 - 2)
Quebec Bridge, west of Quebec City, Canada
The longest cantilever bridge in the world (987 m or 3,239 ft) has been collapsed two times: first on 29 August, 1907 and 11 September, 1916 for the second time.
After four years of construction, a part of the central sections and the south arm of the bridge collapsed in just fifteen seconds. 75 workers (33 of them were Mohawk steelworkers from a Canadian reserve) were killed and 11 were injured.
Nine years later, when the central span was being raised, it fell into the river and killed 13 people.
(via McCord Museum and Wikimedia Commons and An Engineers Aspect)
Ronan Point Tower, London, UK, May 16, 1968
The brand new 22-storey tower of East London (completed on 11 March 1968) was partly collapsed on 16 May 1968 after a major gas explosion that demolished a load-bearing wall. Four were killed and 17 were injured.
(via Evening Standard/Getty Images, Failed Architecture and Failures)
John Hancock Tower, Boston, Massachusetts
The use of the blue reflective glass in a steel tower wasn't a good decision: entire windowpanes has been detached and crashed to the sidewalk. The police had to close off the sidewalks when the winds reached the speed of 45 mph (72 kmh). Five years after the tower's completion, in 1973, every single windowpanes (10,344 of them) were replaced.
During the replacing process, sheets of plywood replaced the empty windows. The locals named the John Hancock Tower "Plywood Palace" these months.
(via Tomtheman5 and Architecture Week/Michael Shellenbarger)
Teton Dam, Idaho, June 5, 1976
During the first filling of the earthen dam in Idaho, it collapsed and killed 11 people and 13,000 head of cattle.
(via University of California and Water Archives - 1 - 2)
Sampoong Department Store collapse, Seoul, South Korea, June 29, 1995
It was the deadliest building collapse ever until 9/11, and th deadliest non terror-related building collapse until the Savar building collapse, mentioned above. 502 people died and 937 were injured.
(via pressbyple)
Collapse of Viale Giotto 120 building in Foggia, Italy, November 11, 1999
The six-story apartment complex collapsed in nineteen seconds. 71 people lived in the building, and only four of them has been survived. The causes of the tragedy were the cheap materials used for the construction 30 years before and the poor workmanship.
(via Gazzettaweb)
Versailles Wedding Hall, Jerusalem, Israel, May 24, 2001
23 people were killed and 380 more were injured due to a last minute design change on a portion of the structure that wasn't designed to carry a heavy load like some dancing people.
(via Elizabeth Dalziel)
Lotus Riverside complex, Shanghai, China, 2009
One of the eleven 13-storey buildings has been collapsed on June 27, 2009.
(via Cracktwo)
The Savar building collapse, Savar Upazila, Dhaka District, Bangladesh, April 24, 2013
The eight-story commercial building named Rana Plaza contained a bank, some shops and apartments that were closed and evacuated after cracks were discovered on the walls — but the clothing factories that were on the higher floors weren't. At least 2,500 people were rescued, but at least 1,127 more were dead.
(via rijans)