They're the very definition of monumental. These sculptures are the most enormous you'll ever see in the world. They're both insane and utterly magnificent.
The 420 ft or 128 m (including its 66 ft or 20 m high lotus throne) tall Spring Temple Buddha in the Fodushan Scenic Area, Zhaocun, China, built in 2002.
The statue looks even taller because of the three pedestals added few years after its completion. The total height of the complex is now 682 ft or 208 m.
G/O Media may get a commission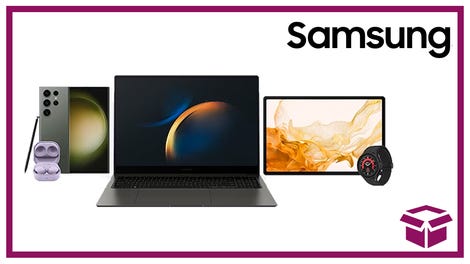 24 hour deals
Discover Samsung - Daily Deal
(via World Wondering, Red Tree Times and Grandstroy)
The Laykyun Setkyar, a standing Buddha statue on a 44 ft (13.5 m) throne, Khatakan Taung, Myanmar. Built by Chief Abbot Ven. Nãradã, constructed between 1996 and 2008. The statue has a height of 381 ft (116 m).
There is a smaller reclining Buddha right in front of the standing one, and there are thousands of Buddhism-themed painting and small sculptures inside the big one and around the complex.
(via Patrick M. Loeff and Tun Tun's Photo Diary)
The giant, 348 ft (106 m) high mythical emperors Yan and Huang in Zhengzhou, China, constructed for two decades, completed in 2007.
(via Eyepress/Associated Press)
Peter the Great statue, a 315 ft (96 m) high monument designed by Zurab Tsereteli, erected in 1997.
It was allegedly based on an idea for a statue of Christopher Colombus, according to a story published in Washington Post three years ago, but it may be an urban legend only:
Peter started out as an idea for a statue of Christopher Columbus that Tsereteli pitched to U.S. cities in 1992 in remembrance of the great voyage 500 years earlier. Over the years, Baltimore, New York and others - even Columbus, Ohio - turned him down, and Tsereteli eventually persuaded Puerto Rico to accept his model. Meanwhile, he busied himself designing Peter, who looked very much like Columbus, but with a different head.
(via Adam Baker)
The 279 ft (87 m) tall Motherland Calls (or The Mamayev Monument), commemorating the Battle of Stalingrad in 1942-1943, designed by Yevgeny Vuchetich and Nikolai Nikitin, erected Volgograd, Russia, 1967
The 200 steps from the bottom of the hill to the monument are symbolizing the 200 days of the battle. The figure itself measures 170 ft (52 m) and has a 108 ft (33 m) long sword.
(via Martha de Jong-Lantink and pds209)
The Leshan Giant Buddha, the largest stone Buddha in the world and the largest pre-modern statue with its height of 233 ft (71 m), carved out of a cliff face between 713 and 803 AD, near Leshan, China
(via Wikimedia Commons and Kjell Tjensvoll)
Mother of the Motherland, a part of Museum of the Great Patriotic War in Kiev, Ukraine, built between 1979 and 1981.
The 203 ft (62 m) tall stainless steel statue with a 52 ft (16 m) long sword and a 43 by 26 ft (13 by 8 m) shield with the State Emblem of the Soviet Union was designed by Yevgeny Vuchetich and stands upon a 131 ft (40 m) high museum building. Its total height is 335 ft (102 m).
(via Jorge Láscar and Vadim Mahorov)
The 160 ft (49 m) tall African Renaissance Monument, a bronze statue outside of Dakar, Senegal, designed by the Senegalese Pierre Goudiaby, constructed by the North Korea-based Mansudae Overseas Projects between 2008 and 2010.
(via Jeff Attaway and Rebecca Blackwell/AP)
A 157 ft (48 m) tall statue of a Samantabhadra at the summit of Mount Emei, Sichuan, China, 2005
(via Wikimedia Commons)
The tallest sculpture of the Virgin Mary in the world in Trujillo, Venezuela. It's 153 ft (46.7 m) high and sculpted by Manuel de la Fuente in 1983.
(via Wikimedia Commons)
The Genghis Khan Equestrian Statue, a 131 ft (40 m) tall Genghis Khan on horseback, 33 miles east of the capital Ulaanbaatar, designed by architect J. Enkhjargal and sculptor D. Erdenebileg, 2008
It's on the top of a visitor centre with 36 columns representing the 36 khans of the Borjigin clan who ruled the Mongols from Chakhar.
(via uzoranet)
The 123 ft. (37 m) tall Shiva of Murudeshwara, India, completed in 2006
(via Thejas Panarkandy and Sunil)
The 105 ft. (32 m) tall Hanuman of Nandura, India
Lord Hanuman was one of the Vānaras, a group of monkey-like shapeshifter humanoids with supernatural powers in the Hindu epic Ramayana.
(via Surabhi Dhake)
Bonus: India wants to build the world's tallest statue, the Statue of Unity. It will be a 597 feet (182 m, without base) tall tribute to Sardar Patel.
Sardar Vallabhbhai Patel (or just Sardar, which means Chief) was the first Home Minister (the head of the Ministry of Home Affairs) and Deputy Prime Minister of post-independence India from 15 August 1947 to his death in December 15,1950. The foundation stone of the 790 ft high statue (240 metros, with base) was laid on Sardar's birthday on the 31st of October, three weeks ago, according to the International Business Times.
(via Statue of Unity)