U.S. ground forces are about to get an awesome new whip from Boeing's Phantom Works: a petite combat support vehicle combining power, speed, and all-terrain traction to deliver soldiers to just about anywhere on Earth—without all the hiking.
The Phantom Badger, as it is called, is a 240 HP combat support vehicle that resembles a Humvee shrunk down to Mini Cooper dimensions. Measuring just 60 inches wide, the Phantom Badger is the first combat support vehicle narrow enough to fit aboard the new V-22 Osprey. They're tiny enough to pack a pair into a C-130's maw, sling under a Chinook, and stuff nearly a dozen into the cargo hold of a C-17 (before being air dropped alongside paratroopers).
They're like golf carts, except with a top speed of 80 mph, rugged adjustable-height suspension, all-wheel drive and all-wheel steering which delivers a miniscule 24-foot turning radius. And machine guns. Each Badger include a .50-caliber machine gun or a 40mm automatic grenade launcher bolted to the roll cage. Plus, the additional pair of rear-facing seats can be removed to make room for supplies or additional hardware.
G/O Media may get a commission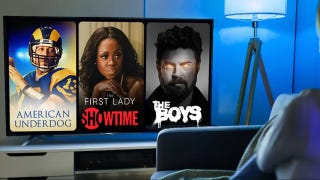 UNDER $1
99¢ Prime Video Channels
After more than 5,000 miles of durability testing over treacherous terrain, the Navy has just certified the platform combat ready. "This certification validates Phantom Badger's versatile design while offering the warfighter increased battlefield access and deployment options," John Chicoli, who leads Boeing's internally transportable vehicle program, said in a statement. There's no word yet on when these chibi combat vehicles will make their battlefield debut. [Janes 1, 2 - Danger Room]