This fully automated drive-in food market held the promise of a leisurely, push-button future. But even people of the 1950s probably recognized it as a sleek re-imagining of a surprisingly retro idea.
The drive-in market of the 1920s revolutionized how a lot of Americans shopped for food. For better and worse, the world was fast becoming car-centric. Especially in places like Southern California, where the car was quicker to catch on thanks to fair weather, and the fact that the region had such an abundance of car-food (that's the technical term for oil) right in its own backyard.
The drive-in market delivered new kinds of efficiencies, like allowing food vendors to set up shop slightly off the beaten path, where real estate prices were cheaper. It also allowed shoppers to find nearly all of their grocery needs under one roof rather than driving from specialized store to specialized store.
As Richard Longstreth writes in his book The Drive-In, The Supermarket, and the Transformation of Commercial Space in Los Angeles, 1914-1941:
Many consumers acquired a preference for the drive-in market over chain and other neighborhood food stores because of its convenience. The opportunity to pull off the street, park adjacent to the store, and have purchases placed in the car by an attendant was regarded as an enormous advantage. At some drive-in markets, customers could even remain in the driver's seat and give their order to a clerk, although this practice does not appear to have been widespread owing to the bottlenecks it could generate. Furthermore, conventional wisdom held that most customers preferred to leave their cars while shopping. To facilitate the process, some markets had an employee aid in vehicular circulation and watch parked cars.
G/O Media may get a commission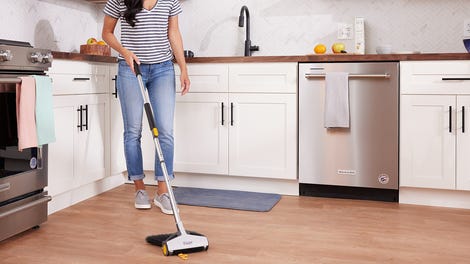 BOGO 50% Off
Flippr - BOGO 50% Off
The drive-in market gave way to the supermarket by mid-century, but magazine readers of the 1950s were promised that the concept may not be dead quite yet. All the drive-in market needed was a little ingenuity from the same people that were dreaming about crazy ideas like putting a man on the moon.
The fantastic Modern Mechanix blog dug up this advertisement, which appeared in the May 1956 issue of Scientific American. The ad was for General Motors' New Departure ball bearings, and proclaimed that by 1959 the old fashioned drive-in market could get decidedly more high-tech.
A week's shopping in minutes! And you haven't moved from your car. It's that simple at the Drive-In Market of tomorrow. Just select your items from the monitor screen; electronic impulses select, assemble, deliver your order, total your bill and return your change.

It's just a dream away! And when it takes shape, look for New Departure to provide the proper bearings to keep all moving parts functioning smoothly. New Departure ball bearings keep parts in perfect alignment, support loads from any angle and require little or no maintenance.
General Motors, like so many advertisers that would come before and after them, loved to position themselves firmly at the future's door. An association with the sleek, techno-utopian ideas that were just around the corner meant that even a product as boring as ball bearings could look as bright and sexy as a rocket to the moon.
Honestly, I imagine you could do some pretty innovative things with drive-in markets these days. But I suppose there's more excitement here in the 21st century about the various ways to get food to come to you.
---
Images: New Departure ball bearings ad from the Modern Mechanix blog; Photograph of the now defunct Plaza Market, 4651-4663 Pico Blvd in Los Angeles, scanned from the book The Drive-In, The Supermarket, and the Transformation of Commercial Space in Los Angeles, 1914-1941 by Richard Longstreth; Sketch of the "Los Angeles Drive-in Market" by Richard Neutra circa 1928, scanned from the book The Drive-In, The Supermarket, and the Transformation of Commercial Space in Los Angeles, 1914-1941 by Richard Longstreth