Have you had a long week? Perhaps you're wondering how we're not even 100 days into the Trump administration, and it feels like the entire world has gone dark. Let this newborn pygmy hippo beam some sunshine into your life. It is the cutest thing on the planet.
The female calf was born on February 21 at the Taronga Zoo in Sydney, Australia, but the first footage of her only came out a few days ago. This sassy little lady is not only adorable but also incredibly important to the future of the endangered species. In fact, this is the first baby pygmy hippo to be born at the Targona Zoo in seven years, adding one more lovely creature to a dwindling population. "With as few as 2000-3000 Pygmy Hippos remaining in the wild, every little calf is important," zookeeper Renae Moss said in a release.
Weighing a little over 10 pounds at birth, the unnamed pygmy hippo calf is roughly the size of a bulldog and yet cuter than any dog you've ever seen. This is not up for debate. Look at her!
"The calf is absolutely thriving," Renae Moss, the zookeeper said. "She's putting on weight every day, and she's already got little rolls of fat around her neck."

G/O Media may get a commission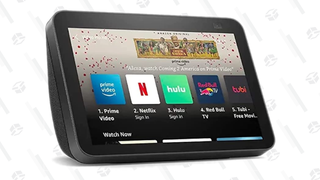 She sure does!
Look at her marching around, a cuddly little pygmy hippo with places to go!

Look at her chillin' in the water, where she's learning how to hold her breath but also taking our breath away!
Look at her doing her best aardvark impression!

Look at her rubbin' her butt on a tree!

Look at her marching on a rock!

Look at her almost getting stepped on by mom but handling it gracefully!

Look at her scooting around and swimming in a goshdang video!

Have you ever seen anything cuter than a baby pygmy hippo? Let us know in the comments.