'Tis the season for terrifying nightmare things! How's this for creepy: Artist Alex Chinneck constructed a full-sized, two-story house of wax—actual wax!—in London that's slowly melting down to nothing over the course of a month. Paging Vincent Price…
A Pound of Flesh for 50p was made for the Merge Festival , an annual creative celebration in culture-rich Bankside. Though Chinneck's contribution was designed as tribute to a centuries-old candle-making factory that once stood on the site, it definitely has an undeniable horror-factor (not to mention the somewhat ominous Shylock reference).
Chinneck consulted with chemists and engineers to perfect the look and consistency of the 8,000 paraffin bricks, which are being regularly warmed with handheld heaters to keep dripping as consistent as possible. From far away it looks all kinds of freaky, abandoned, and derelict-as-hell, but I'll be honest: The up-close pics make it look a little like chocolate. Right? Kind-of sort-of delicious? Maybe?
G/O Media may get a commission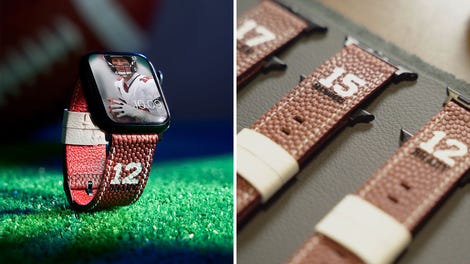 Official NFL PRODUCTS
Official NFL Apple Watch Bands
Wait, nope. Scratch that. Disgusting. Not delicious.
It cannot be denied that Chinneck is really freaking good at turning traditional architecture into thought-provoking what-ifs that seem to emerge from an alternate universe that isn't dictated by the same boring rules as the one we inhabit. He's been playing around with large-scale illusory installations for years—flipping facades upside-down, magically making exteriors slide down a few feet, even ripping apart a stone home and suspending the top half in mid-air.
If you'd like to check this out for yourself, you've only got until November 18th. Just remember: Each day in the interim, more and more will completely disappear in the ultimate act of urban decay. [It's Nice That]