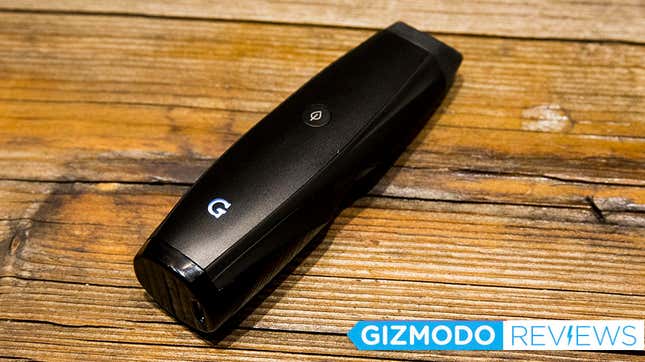 There's a reason the Firefly 2 and Pax 2 stand out from other vapes—beyond being big eye-catching kazoos. They're unique. A lot of the vape market is reminiscent of the hoverboard market. A few companies make the products and a whole mess of other companies slap their logos on them and sell them. Grenco's been one of the smarter logo slappers. It gets branding, and not just because it partners with Snoop Dog for advertising. But while it's very good at moving product it has struggled with setting itself apart from the nearly identical competition. The new G Pen Elite is the flagship device Grenco needs, and it's the vape the rest of us deserve.

Rob Savage on Collaborating with YellowJackets' Sophie Thatcher
But the G Pen Elite looks less like your usual vape and more like a nose trimmer. Or a masculine vibrator. It's got that vaguely industrial "I'm a man Jessica" sensibility you see from products at Sharper Image or the dude aisle at CVS. As a lady I don't hold that against it, lots of devices have more masculine design, but I did get joking comments about it. Often.
The teasing would stop when I'd fire the G Pen Elite up and they'd get a decent cloud of vapor. To turn it on you have to press the power button five times and then press and hold it once to heat your substance—potentially annoying, but a nice change from all the accidental firings I've done with the Firefly 2.
The chamber is all ceramic and much, much deeper than any chamber I've seen in a vape before, it makes it a pain to load properly, but it's designed to not just heat the substance from the bottom, but from the sides as well and it's meant to heat up, and cool down, very quickly so that you minimize wasted product.
With the exception of the Firefly 2 this is the fastest heating vape I've ever used. While my Crafty or a Pax 2 can take thirty seconds or longer to be ready to smoke the G Pen Elite was ready to go in under 10 (the Firefly 2 is virtually instantaneous).
It's also got a crazy good heating range: from as low as 200 degrees Fahrenheit to a potentially lip scorching 428 degrees Fahrenheit. You adjust it using the button on the side and the readout, from current temp to final temp, appears on the small LED display next to the readout for battery life. I finally settled on 375 degrees as that's the same temp I often use the Crafty at. But I was met with a surprise when I tasted the vapor.
It was warm.
Noticeably warmer than any vape I'd experienced. While mouth pieces are notorious for getting hot (the original Pax could be particularly painful), the vapor coming through them is usually not so warm. But with the G Pen Elite you don't just suck up air through the vape, you have to draw air out of the corners of your mouth as well. So the discrepancy between hot vapor and cool air is noticeable. It doesn't effect the cloud of smoke you exhale. It's still great vapor that will leave you buzzed—it just more pleasant than most. Like shooting vodka instead of gin.
"Pleasant" has come to define much of my time with the Grenco G Pen Elite. It charges quickly via USB and has battery life that last for days of regular use. It also feels great in my tiny hands and fits easily in a coat pocket or a purse. The thing that takes it from "perfectly pleasant" to near outstanding is the price. It's just $170. That's damn cheap compared to it's competitors. The Firefly 2 costs $329.95 and the Crafty retails for $339. Sure those products heat via convection instead of roasting a ceramic chamber, they're much easier to pull on, and the clouds they produce are enough to fishbowl someone sitting with you, but for nearly half the price the Grenco G Pen Elite is a fantastic deal.
README
Very helpful LED read out
Wicked fast heating time
Plastic mouthpiece can get a little nasty with time
Difficult to fill chamber. Do not attempt while under the influence of substances.