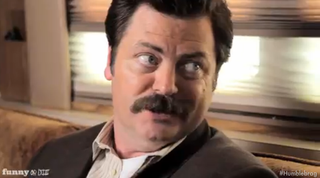 The subtle art of the humblebrag, a twitter conceit so well-received that they've actually made a book out of it. Not familiar? Let the cast of Parks and Rec educate you.
Full video below; and honestly isn't getting the cast of the funniest show on TV to promote your book the humblest brag of all?
-It was fall premiere week as the big four networks all debuted new comedies.
-Modern Family and Louis C.K. won a bunch of Emmys.
-IFC cancelled its quirky game show Bunk.
-We interviewed Irish stand-up David O'Doherty, American stand-ups Gabe Liedman and Demetri Martin, and had Adam Pally and Gil Ozeri from Happy Endings interview each other.
-We held a roundtable with several leading black comedians about humor in the "post-racial" Obama era.
-We dove deep into Lorne Michaels's aborted attempts to base a reality show around Saturday Night Live's casting process.
-We told you the 10 Comedians on Instagram You Should Be Following.
-We followed @MrEmilyHeller on Twitter.
-We explored Chris Elliott's unaired sketch show Chrissy: Plain and Simple, Myq Kaplan and Micah Sherman's musical comedy record Please Be Seated, the stand-up documentary Alone Up There, profane British sitcom The Thick of It, the web series "Lady and the Damp," and Jerry Minor's short-lived stint on Saturday Night Live.
Splitsider is a website about comedy and the people who create it. It covers movies, TV shows, web videos, books and any other format that exists to make you laugh.