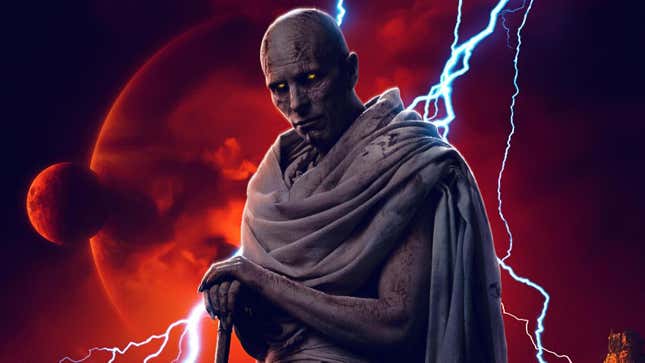 Every superhero movie is judged by how well their villain worked, and for the MCU, the success rate of antagonists is up and down. Nowhere is this more apparent than with Thor's movies: Loki and Hela are pretty good villains, Malekith and the Dark Elves aren't, and Gorr the God Butcher ultimately depends on how you feel about Thor: Love & Thunder overall.

The Secret to Taika Waititi's Success
Taika Waititi, who directed both Love & Thunder and Thor: Ragnarok, gave his thoughts on who he thinks would be a good villain for the Odinson to go up against next. While Thor 5 doesn't seem to be on the docket at time of writing, Waititi revealed in Titan Books' upcoming movie special book for Love & Thunder that he'd like to "step up" from Hela and "add a villain that's somehow more formidable."
"It's got to be something that feels like it's carrying on with the evolution of the character," he continued, "but still in a very fun way and still giving him things to come up against that feel like they're building on the obstacles that he has to overcome." Specifically mentioning Hela as a benchmark for Thor baddies is maybe a little telling about Waititi's overall thoughts on Gorr, and may get some fans' minds racing on who could work as such a foe for the hero. More interestingly, he added that he'd like to bring in more parts of Thor's comic book origin and have him go up against enemies that are both out of this world and true to the Asgardian's roots.
Speaking to Thor as a character, Waititi talked about the "fun element" of the character that he wants to dig into. "[Thor] has a casualness and a sort or swagger about him when he visits these worlds and encounters these aliens that I don't think you'd get when it's an earthling traveling through space exploring the universe." It's for that reason that he wants to have the God of Thunder go up against "more and more outlandish and crazy beasts, monsters and aliens." All this is contingent on whether Thor 5 even gets a green light, which feels like less of a sure thing now than it would've even just a couple of years ago.
Titan Books' Thor: Love & Thunder The Official Movie Special book will release on September 19.
[via Variety]
---
Want more io9 news? Check out when to expect the latest Marvel, Star Wars, and Star Trek releases, what's next for the DC Universe on film and TV, and everything you need to know about the future of Doctor Who.