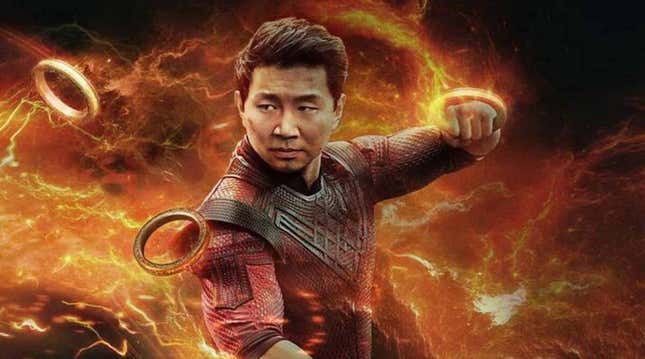 After the Infinity Saga came to an end with Avengers: Endgame in 2019, the deck was effectively cleared for the MCU to get weirder and highlight some fresh, young faces. While that's happened to some extent in the form of pleasant surprises like Ms. Marvel or Moon Knight, things have been fairly shaky for the franchise from Phase Four onward, and it doesn't look like that'll be changing anytime soon.

Recently, Shang-Chi & the Ten Rings star Simu Liu did an AMA over on Meta's hot new platform Threads. Naturally, Liu was asked about the status of his second solo movie (currently just known as Shang-Chi 2) and he plainly stated that its release status is presently up in the air. It was originally meant to follow an Avengers movie, but because that "keeps pushing back due to circumstances beyond my control," it leaves the state of his own movie in flux. And since both Avengers: Kang Dynasty and Avengers: Secret Wars were respectively pushed to May 2026 and May 2027 last month, that means there'll be a five or six-year gap between Shang's titular films.
Shang-Chi isn't the first MCU character to be in this predicament—Doctor Strange didn't get a sequel to his 2016 film until last year, but that character had sporadic appearances in other media, and was a key player in Avengers: Infinity War. By the time Doctor Strange in the Multiverse of Madness rolled around, Marvel had already done the work of positioning Benedict Cumberbatch's sorcerer as a key player going forward. It's currently unclear if Shang can have that same treatment given what we know is slated to come out relatively soon, but this newest delay highlights how messy things have been for the MCU in recent years. Even when that messiness is due to real world circumstances outside of its control like the COVID-19 pandemic, its handling of those events isn't really great—2021 and 2022's deluge of releases would have you thinking the studio was going out of business in the next week. It wasn't easy to get a feel for the future when there's so much fighting for oxygen and practically cannibalizing each other, to say nothing of other Disney media also releasing in the same airspace.
Disney's seemed to have learned its lesson from the last two years and is intentionally giving more breathing room for Phase Five material like Ironheart and Echo. But too many releases is the least of the studio's problems this year: stories of VFX crunch and abuse allegations of its top-billed stars hover over the the big picture future. The recent, ongoing WGA Strike further throws things into disarray as some projects like Blade and Thunderbolts are delayed indefinitely while others such as Deadpool 3 and Captain America: Brave New World are still in production at time of writing. But with the threat of an actors' strike looming on the horizon, those productions may soon ground to a halt in the next couple of days.
Marvel and Disney will ultimately be fine, unless yet another event sets them back by a year or two. But the string of events that have kneecapped Phases Four and Five in the last couple of years show how easily the studio can get tripped up, and why it probably doesn't hurt to take things one step at a time rather than trying to sprint to the finish line.
---
Want more io9 news? Check out when to expect the latest Marvel, Star Wars, and Star Trek releases, what's next for the DC Universe on film and TV, and everything you need to know about the future of Doctor Who.