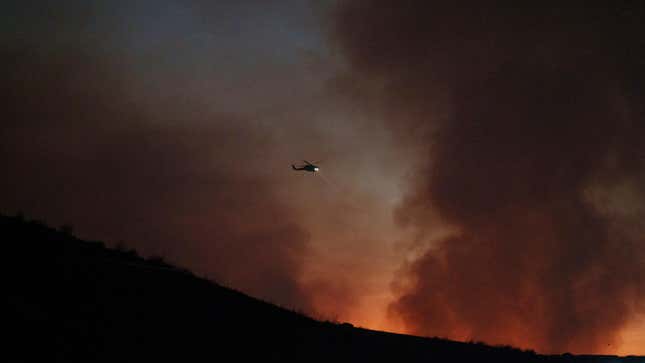 Two firefighters and a pilot died this weekend after helicopters that were responding to a fire in Southern California collided in midair. The National Transportation Safety Board has opened a probe into the crash, and investigators are on their way to the scene of the accident.
Meet Microsoft's New Surface Laptops
Firefighting units were called to respond to a fire that sparked in the community of Cabazon this Sunday evening. The flames spread into nearby vegetation, which required more people on the ground for backup including helicopters, NBC News reported. While responding to the fire, two of the helicopters on the scene collided into each other. One was able to land safely, but the second helicopter crashed, and all three people aboard died in the accident, Cal Fire Southern Region Chief David Fulcher confirmed during a news conference today. The aircraft that collided were a Bell 407 helicopter and a Sikorsky S-64E, according to the NTSB.
"The first helicopter was able to land safely nearby. Unfortunately, the second helicopter crashed, and tragically all three members perished," an NTSB spokesperson said. 
The deceased include a Cal Fire division chief, a Cal Fire captain, and a contract pilot. Their names were not revealed during the press conference. The crash created a new four acre fire that was extinguished by those on the scene. No one else responding to the fire was injured.
"This was a tragic loss for the community, the fire service committee and Cal Fire Riverside County Fire Department," Fulcher said during the conference. "Though this was a tragic event, we are so thankful today that it wasn't worse."
Want more climate and environment stories? Check out Earther's guides to decarbonizing your home, divesting from fossil fuels, packing a disaster go bag, and overcoming climate dread. And don't miss our coverage of the latest IPCC climate report, the future of carbon dioxide removal, and the un-greenwashed facts on bioplastics and plastic recycling.