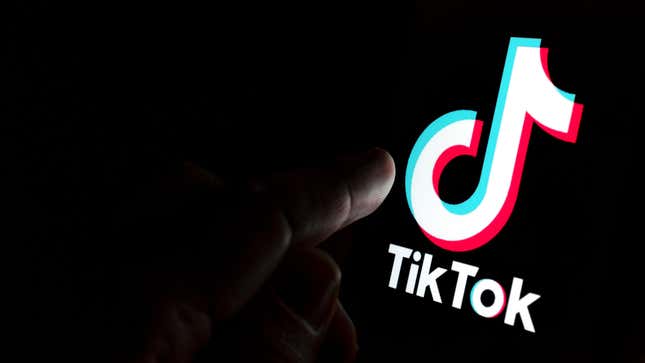 In true The Voice-meets-Black Mirror fashion, everyone's favorite time-waster TikTok has recently announced a live, global singing competition with the winner taking home a seemingly hefty prize.
Will Banning TikTok Solve Privacy Issues? | Future Tech
TikTok announced the competition, titled Gimme the Mic, yesterday on its blog. Gimme the Mic will feature three stages: an audition, a semi-final, and a U.S. and global grand finale, the latter of which will see someone taking home a 500,000 Diamonds reward. What does that mean in real-world terms? It's currently unclear, and TikTok did not immediately return Gizmodo's request for comment on the prize sum's monetary value. U.S. auditions for Gimme the Mic are now open until August 16, and users must submit a singing video that is a minimum of 30 seconds long.
"We are committed to creating fun and entertaining ways to elevate our talented community and support them as they share their passion and creativity with the world," TikTok wrote in its announcement. "Gimme the Mic is a chance for contestants to showcase their talent to a wider community."
After the auditions, TikTok will select 30 U.S.-based contestants to compete in a tournament-style semifinal, in which singers will go head-to-head in duo livestreams from September 1 through September 3 with real-time audience votes determining the finalists. The top 10 most popular contestants will then move on to the U.S. finale on September 10, with the champion taking home 50,000 Diamonds. The winner of this finale will graduate to a global finale that will be livestreamed on September 22 and September 23, with the ultimate winner being awarded a trophy and 500,000 Diamonds.
TikTok is fully stepping in to the live event space with Gimme the Mic, which comes as users have found success in cashing out from livestreams in recent weeks. Last month, a TikTok user named @pinkydollreal, whose real name is Fedha Sinon, took the app by storm with her bizarre livestreams, during which she speaks to the camera in a robotic, monotone voice while championing the gifts she receives (gifts on TikTok LIVE work like tips to creators, allowing them to generate revenue).
TikTok users were quick to liken Sinon to AI or a video game NPC, but once those same users tried the livestream style themselves, they quickly saw how much money they could rake in. It's a bizarrely dystopian effort: Act like a robot in order to take advantage of the system that is facilitating you acting like a robot. Gimme the Mic and its impressive-sounding, but very nebulous, prize, is a further exploration down that road, speaking to the issues with institutions like Big Tech and game shows as contestants compete for a prize of which they don't even know the full value.