The iPad 2 is skinny and pretty. The Galaxy Tab 10.1 is skinny and pretty. The Toshiba Thrive is... big and beautiful? It's definitely the latter. But is it as functionally bountiful as it is bootylicious? We've got hands on.
The Thrive doesn't try to be the iPad, the thinner Galaxy, or any of the other myriad (and mostly generic) Android tablets. It doesn't try to be beautiful. It doesn't try to be sleek. It doesn't try to wow you with eye lollipops. Rather, it's sort of a plain Jane. The rubberized texture grip on the back is a nice design choice, and perhaps pleasing to the eyes of some, but other than that, it's a pretty thick slab of black Android bacon (although colored backplates are available of black isn't the new black). If thinness and palm grace is important to you, this will probably make your stomach turn. But, surprisingly, it's doesn't feel that heavy. Be it better (or cheaper, though it doesn't feel at all flimsy) materials, the Thrive doesn't feel like it looks. And that's a good thing.
G/O Media may get a commission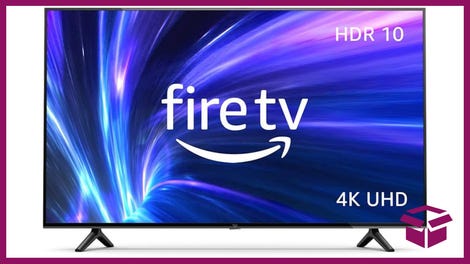 42% Off
Amazon Fire TV 50" 4K Smart TV
Guts-wise, it's got some nice things going for it: Tegra 2 innards, a gig of RAM, and a true plethora of ports. HDMI, full-USB, and a card reader that supports SD, SDHC, and SDXC. Not exactly common! Toshiba is banking on the Thrive's connectivity to beat out the sexier competition.
But it's got more going for it than ports. The 10.1-inch, 1280 x 800 screen is highly responsive (as opposed to some of the truly garbage Android displays I've had the misfortune of pawing across), and is vivid, albeit an easy victim of glare. Toshiba eschewed wacky skins (YES THANK YOU) for a speedy, plain Honeycomb 3.1 installation, which is fine by us—and it performed very nicely. No bloat. Sigh. Deep breath. Yes. They've thrown in a Windows-style file manager app of their own, which interestingly goes in the exact opposite direction Apple's heading, where your directories are little ghosts inside the slab. But if you dig the idea of plugging in a lot of storage, an old school, folder-based manager might also be up your alley. Or it might gross you out.
And the camera (5 MP back, 2 MP front)! Shockingly non-abominable, when it comes to photos. Alright! And a removable battery? Hey now!
If you don't want svelte chic and glamor in your tablet, you might like the Thrive. It's not trying to be an iPad. It's not ashamed of being fat. And from what we saw today, it has some decent reasons for self-esteem.
Music: Clams Casino - Realest Alive