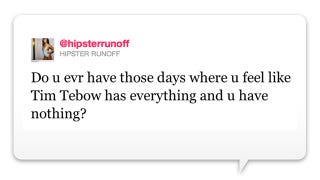 2011 was a momentous year, full of historic moments about which we tweeted with equal parts urgency and volume. The Royal Wedding (3,966 tweets/second). The raid on bin Laden (5,106). The death of Steve Jobs (6,049). In 2012, one event has already outshone them all. Or rather, one man.
Ladies and gentlemen, you new tweets per second record holder? Broncos OT savior Tim Tebow. The guy just wins.
Tebow's game-winning pass in the first play of overtime of last night's playoff game inspired a whomping 9,420 tweets per second from you all, mostly of them a football-related version of the headline on this post. Get it? The guy is religious and good at something! Nuts, right?
Anyhow, the bar's been set, Twitter. At least until the AFC championship game. Or the second coming. [MSNBC]