X-Men: First Class has brought on two awesome actors to play major villains. Will Transformers 3 start with a presidency-themed flashback? There's a new image of Odin and Thor doing godly stuff. And does Superman have a director after all?

Transformers 3:
Executive producer Steven Spielberg has reportedly come up with a pretty cool-sounding prologue for the movie. Supposedly the film starts with the detection of Transformer-related disturbances on the Moon, which are then relayed to the president...who is revealed to be John F. Kennedy, circa 1961 or 1962. This turns out to be the real impetus behind the space race. The report doesn't name a source, so I'd consider this definitely just a rumor for now, but I'll admit it's at least a pretty interesting one. [CHUD]
Thor:
Here's another awesome photo of Chris Hemsworth's Thor and Anthony Hopkins's Odin: [SuperheroHype]

G/O Media may get a commission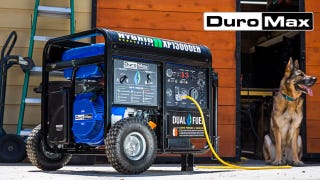 Black Friday Sale
DuroMax Generator Sale
X-Men - First Class:
Kevin Bacon has officially joined the cast, although it's remaining top-secret who he's actually playing. Joining him is Winter's Bone star Jennifer Lawrence, who will be playing Mystique. [Variety]
Superman Reboot:
An inside source is claiming that there's more truth to that Jonathan Nolan/Zachary Levi rumor than we thought. The source says that Nolan directing isn't a done deal, but he wants it and will probably get it, if only because Warner Brothers wants to keep his brother Christopher happy. In this scenario, Christopher Nolan would apparently produce the film. We're still classifying this as a "grain of salt" rumor for now, but yeah...there might be something to this. As for Zachary Levi, the source says they do want a TV star, and Levi is the right look and height for Superman, but nobody has tested yet. The source says that there is someone atop the wishlist and that "[He's a] popular TV actor that no one is thinking of, but everyone will be thrilled with if he pulls on the blue tights." [Moviehole]
In a related "TV star" rumor, anonymous sources are "rumbling" that Castle/Firefly star Nathan Fillion is a shoo-in to play the Last Son Of Krypton. As with all such rumors, the phrase "grain of salt" comes to mind. [Comic Book Movie]
Sorcerer's Apprentice:
Here's one last clip to whet your appetite for the goofiness:
Mad Max - Fury Road:
Star Tom Hardy says production has been delayed, but that he expects things will start up again soon. He also mentioned that he won't be bulking up for the part, and instead he'll be "shredding", which basically involves getting insanely ripped while still retaining a vaguely normal frame. [MTV Movie News]
Flash Gordon:
Breck Eisner repeats that this film will be nothing like the ill-fated (but hilarious) Syfy series. He adds that it'll be like Avatar meets the Ron Moore BSG, which he helped out with in the early stages. And he says:
It'll be a franchise for sure. It will be a standalone story, it definitely won't left open for more, but the ultimate goal is to turn it into a franchise. It will be an origins story for Flash. He's going to Mongo, he's gonna save the planet and it will have a superhero buy in and will be unique. It is very much a superhero origins story.
Rise of the Apes:
David Oyelowo, best known from The Last King of Scotland, has reportedly been offered a role in this prequel movie. The character is called Steve Jacobs, but we don't actually know anything more about him. [BloodyDisgusting]
Red:
Producer Lorenzo di Bonaventura explains the film's comic edge by describing the scene where Bruce Willis and Mary Louise Parker first meet:
"Frank [Willis] is retired from the CIA and we don't really know what he is but we know he has this phone relationship with this girl [Parker] over his pension checks. And it's clear they kind of like each other and they have this kind of fun sort of little banter. … It seems like he's sort of an average guy, and he goes to bed and suddenly gets up in the middle of the night and he's going to the bathroom and shadows are passing down the hallway and three commandos attack him. And he takes them out and he realizes they've come after him. … He goes to the girl's house [and] she's like, 'Who are you? Get the hell out of here!' They've never met. And he says, 'Listen they're going to come here and kill you. You've got to come with me.' And she's like, 'Why do I attract all the crazy people? … Oh my God, I get all the losers.' I mean, she goes off. Instead of being scared she goes off. … And you cut and you see him driving in the car and he's like, 'You know, listen, this really wasn't the way I first wanted to meet you.' And then you cut to the back seat and she's fully duct-taped and abducted."
Meanwhile, John Malkovich talks about his spy character and why he always carries around a stuffed pig:
"[He's] a kind of survivalist type that lives in a swamp and is a little bit wacked. I'm not really clear why it's a pig and not, like, a duffle bag. He carries weapons and at some point, when they find out that they're being followed — that they are targets for something that happened many, many years ago — my character says, 'I'm gettin' the pig.' I'm not really sure why, but that's a really good idea. A sort of call to arms."
Here's another cool poster, this time spotlighting Morgan Freeman: [IGN]

Supernatural:
Creator Eric Kripke says he stepped down as showrunner for no other reason than he just felt it was time to do so. He will be probably writing and definitely directing an episode this season. As for what's in store this season, he explains the basic questions this season will attempt to answer:
We have had so many creature episodes but we haven't actually explained where they came from-[similar] to the way we have explored angels and demons. How do they feel about the situations they are in? Are they from here? Where did the first ones come from? How did werewolves and vampires and shape-shifters all begin anyway? I thought that was a really smart notion on [Sera and Bob's] part, just exploring the history of that, because that was something that we never investigated on the show.
Chuck:
NBC has confirmed the season premiere will be on September 20. [ChuckTV]
Eureka:
Here are some pics from tonight's episode, "A New World": [Spoiler TV]

Warehouse 13:
I'm pretty sure this is old, but I'm also pretty sure we haven't mentioned this before. Paula Garces will play Univille veterinarian Kelly and Nolan Gerard Funk will play townsperson Josh. They sound like romantic interests for Pete and Claudia respectively. In more awesome news, Crusoe actor Philip Winchester will play a "multi-character role of a Marine, cowboy, gladiator and mad scientist. Oh, that's a fun sentence. [Spoiler TV]
There's a promo and a sneak peek for the next episode, "Beyond Our Control":Click to view

Click to view

Torchwood:
Were we too quick to dismiss those casting calls from the other day? One site quickly debunked them as actually calls for the US remake of Shameless, but a lot of other sites seem to be reporting them as official. So now, honestly, I don't know what to think, so I'll just include the casting calls and update you when we know more one way or the other:
Rex Matheson, a wickedly funny (operative word: wicked) CIA agent born to make waves. Almost as key to the new season are recurring characters Esther Katusi, a CIA grunt in her early 20s who learns what she's really made of only when she's forced to, and Oswald Jones, a convicted murderer and pedophile who will be as shocked as anyone to learn how easily infamy and fame can be exchanged for one another.
Nikita:
We've got a sneak peek from the pilot, plus a ten second trailer that features Maggie Q. kicking ass in a bikini. That may be the most accurate trailer ever made:
Additional reporting by Mary Ratliff and Charlie Jane Anders.