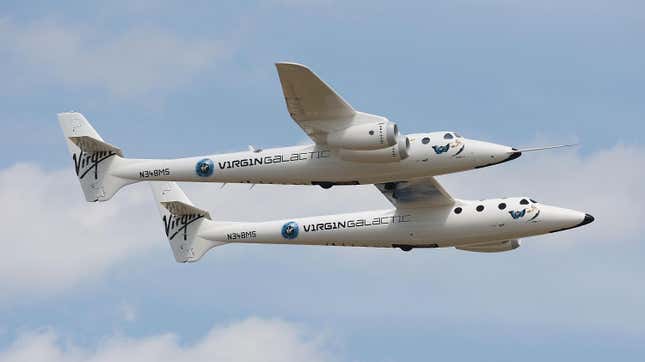 Virgin Galactic's carrier aircraft VMS Eve took to the California skies yesterday for an important two-and-a-half-hour flight test. It's the latest sign that the Richard Branson-founded company is preparing to resume suborbital flights.
Astronomers Could Soon Get Warnings When SpaceX Satellites Threaten Their View
SpaceNews reported that VMS Eve—named for Branson's late mother—took off from the Mojave Air and Space Port in California at 1:30 p.m. ET. The aircraft then flew for over two and a half hours, reaching altitudes of 41,500 feet (12,650 meters) before touching back down in Mojave. SpaceNews says it was Eve's first test flight in over year, when the aircraft flew from Spaceport America in New Mexico to Mojave in October 2021.

Eve, which debuted in 2008, is a mothership that carries the company's suborbital SpaceShipTwo spaceplane, which it does using a pylon located between its twin fuselages. At an altitude of approximately 50,000 feet (15 kilometers), the mothership releases the spaceplane, which then propels itself into space, or at least the minimum accepted boundary of space, using its own rocket engine before gliding back down to Earth. The primary purpose of the system is space tourism—with tickets costing upwards of $450,000—but Virgin Galactic is also booking science research projects from the likes of NASA.
As Aviation Week reports, the company was testing an overhaul of the four-point launch pylon that Eve uses to carry spaceplanes to high altitude. The company uploaded a video yesterday to Twitter that shows the carrier aircraft's takeoff, flight, and landing during the February 15 test.

"A primary reason for doing flight test on Eve is to inform our models. We have the ability to model our vehicle in terms of aerodynamics, loads and systems," Senior Flight Test Director Kelly Latimer said in a Q&A on the company's website. "So, for flight tests, we actually go out and fly very specific conditions, gather data from the vehicle, such as airspeed, altitude, and various other aircraft parameters. Our engineers take all of that information and update their models because, although we don't fly every possible situation, our computer models can and do!"
Virgin Galactic's stock price rose 13.5% on Wednesday following the completed test. This is good news for Virgin Galactic as its sibling company, Virgin Orbit, has been floundering as of late. Virgin Orbit—Branson's satellite launch company—has seen issues with cash flow, a sluggish satellite launch frequency, and a rocket crash during its first UK orbital launch attempt last month that appears to have been triggered by a problematic $100 filter. Amidst this barrage of issues, Virgin Orbit received $55 million from Virgin Investments Limited to course correct, which is not a great sign.

Virgin Galactic is looking to get back on track with its suborbital flights, and this completed test flight is certainly a step in the right direction—but this journey has seen some turbulence. The company was temporarily barred by the Federal Aviation Administration from flying its suborbital SpaceShipTwo spaceplanes following a flight of the company's VSS Unity in July 2021, which Branson was on board for.
As first detailed in The New Yorker, pilots David Mackay and Mike Masucci received a warning that VSS Unity was potentially at risk of not having the required glide energy to reach its target destination, and subsequently flew the vehicle outside of sanctioned airspace. By September 2021, the FAA announced it was satisfied with the corrective actions the company took after the July flight.
Right now, it's not clear how much more testing needs to be done with Eve, but Aviation Week reports that the modifications made to the carrier aircraft prior to this launch forced the company to reallocate engineering efforts away from its recently unveiled spaceplane VSS Imagine, which Virgin Galactic revealed in March 2021 but has yet to fly.
The company, so far, has performed four suborbital flights in its spaceplanes, the fourth being the flight that included Branson. Virgin Galactic is still planning suborbital test flights with Unity throughout the beginning of 2023 ahead of a planned research flight in collaboration with the Italian Air Force later this year. And then, maybe, back to the business of running tourist flights to the minimum boundary of space.
This article has been updated to clarify the nature of Virgin Galactic's July 11, 2021 flight. A previous version of the article incorrectly stated that the pilots "ignored" the warning lights and that Unity did not have the required glide energy. Reporting from The New Yorker suggests the pilots chose not to abort and that Unity was at risk of not having the required glide energy. Also, Virgin Galactic has performed four suborbital flights and not two. 
More: NASA's Artemis 1 Megarocket Launch Was Really, Really Loud