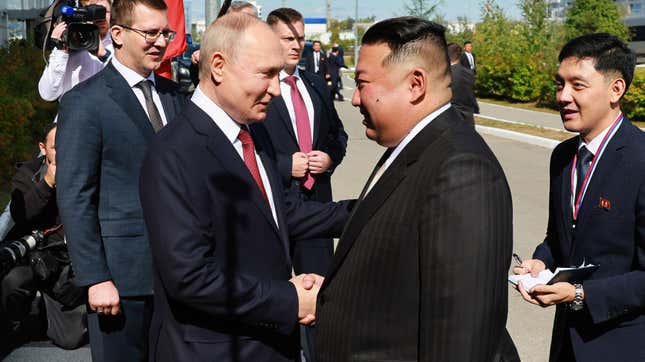 North Korea may soon be getting technological assistance to help launch its satellites as Russia vows to contribute to its space ambitions.
Astronomers Could Soon Get Warnings When SpaceX Satellites Threaten Their View
On Wednesday, Russian President Vladimir Putin met with North Korea's leader Kim Jong Un at Vostochny Cosmodrome, Russia's main spaceport. The meeting highlighted increased cooperation between the two nations, with Russia offering to lend a hand to North Korea's space program.
When asked whether Russia would help North Korea build its satellites, Putin responded by pointing out that the reason behind the meeting being held at the Russian spaceport is to collaborate on future launches, Reuters reported. "That's why we came here," Putin is quoted as saying. "The leader of the [Democratic People's Republic of Korea] shows great interest in rocket engineering; they are also trying to develop space."
Kim needs help in developing North Korea's military reconnaissance satellites, which he has described as crucial to enhance the threat of his nuclear-capable missiles, the Associated Press reported. In exchange for Russia's help in developing the North Korean satellites, North Korea will continue supporting Russia's invasion of Ukraine.
North Korea has already failed in its two attempts to launch a spy satellite this year. The country's first military reconnaissance satellite was meant to monitor the United States' military activities. The White House issued a statement condemning the launch as "a brazen violation of multiple UN Security Council resolutions, raises tensions, and risks destabilizing the security situation in the region and beyond."

The failed launch, which took place in May, was the sixth satellite launch attempt by North Korea and the first one to take place in six years. North Korea has but two satellites in orbit, but neither are spy satellites.
For more spaceflight in your life, follow us on X (formerly Twitter) and bookmark Gizmodo's dedicated Spaceflight page.