This winter, Vudu will give every Vudu owner and new buyer copies of both The Bourne Identity and The Bourne Supremacy, pre-loaded on their boxes in glorious HD. They will also have the opportunity to download The Bourne Ultimatum to own for $25. This is a sign that Vudu—and Universal—are looking past the current format war toward the increasingly inevitable download-only distribution.
Until now, Vudu has just seemed like a better alternative to CinemaNow or Movielink, IP-based video-on-demand that was ready-made for the living room. It still costs money to rent or own movies after you buy the the box, and content selection was limited to (very high quality) standard-def video. But now it's challenging the current state of HD.
Whenever we talk about the format war, there is always a segment of commenters who scream out "Neither!" in favor of the still nebulous digital download scenario. At the beginning of Blu-ray and HD DVD, Hollywood execs talked of a strict code: HD was for packaged disc-locked media only, while downloads had to be standard def. But Xbox Live changed that when it began distributing HD video for rent, and now, it seems, the floodgates are open. Even staunch HD DVD defender Universal seems eager to see what happens when you give customers to take their HD movies straight up, hold the shiny silver disc.
But there are good reasons why this doesn't yet signal the death knell of the disc formats:

• There's high-def and there's high-def. The video quality of Vudu's downloads is 1080i, impressive especially for film content, but a far cry from the 1080p favored by true videophiles. Also, packaged disc content can have higher-resolution audio at this point, too, though that will change as pipes widen.
• $25 for a software-only copy of a movie sounds a little steep, considering you can get the HD DVD of The Bourne Supremacy at Amazon for $20. iTunes had to sell albums for $10 at a time when CDs costs $15 or more. I think $20 is the most Vudu could really charge for HD download-to-own titles.
G/O Media may get a commission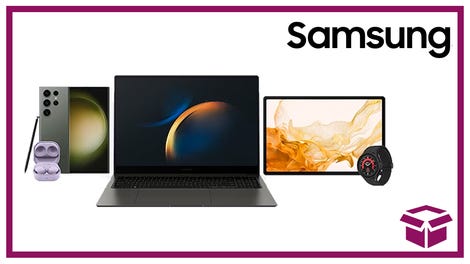 24 hour deals
Discover Samsung - Daily Deal
• Saving an HD movie to your Vudu may put the screws to the HD DVD/Blu-ray debate, but it also starts up another format war, what our own Matt Buchanan labeled the Infinite Format War. For the time being, an HD movies saved on your Vudu is going to stay there, and you won't be able to play it on your Xbox 360. Never say never, but that's the deal for now.
Press release:
VUDU AND UNIVERSAL STUDIOS HOME ENTERTAINMENT TO DELIVER BOURNE TRILOGY DIRECTLY TO THE LIVING ROOM IN HIGH DEFINITION JUST IN TIME FOR HOLIDAYS

Included With the Purchase of the VUDU Set-Top Box, VUDU Customers Get High Definition Versions of The Bourne Identity and The Bourne Supremacy and an Option to Purchase The Bourne Ultimatum Starting on December 11, 2007

VUDU Users Don't Need to Run to Video Store or Wait in Line on Release Day for the Ultimate Action Thriller

SANTA CLARA, CA - November 20, 2007 - VUDU Inc., the company that brings instant access to video content to the living room, announced an unprecedented collaboration with Universal Studios Home Entertainment to deliver the entire Bourne Trilogy in high definition (HD.)

In a groundbreaking HD arrangement, VUDU and Universal will offer the three installments of the franchise available through the VUDU service in HD with Surround Sound. Starting November 23rd, and for a limited time, VUDU will begin offering an amazing bonus to its existing and future VUDU customers that includes, with the purchase of their VUDU set-top box, permanent copies of The Bourne Identity and The Bourne Supremacy in HD - a $50 value. In addition, beginning December 11th, VUDU customers will be able to purchase The Bourne Ultimatum in HD for $24.99

By providing VUDU customers access to the Bourne Trilogy, VUDU expands its service to include HD content for the first time. These HD movies complement more than 5,000 titles available for rent or purchase directly through the television, without requiring a PC, cable service, or satellite TV subscription. The availability of The Bourne Trilogy expands on a previously announced agreement with Universal to deliver content in HD format.

"Digital delivery of HD movies through VUDU makes it easy for consumers to get the high quality content they most want to watch, when they want to watch it," said Tony Miranz, VUDU's Co-founder and EVP for Sales & Business Development. "Our agreement with Universal gives lovers of the Bourne series instant gratification in glorious HD right from the comfort of their own home. We share Universal's passion for providing viewers with the ultimate in video content, and look forward to collaborating on many more top-quality Universal releases."

"Universal is committed to providing new and innovative entertainment experiences for consumers," said Craig Kornblau, President, Universal Studios Home Entertainment and Universal Pictures Digital Platforms. "VUDU's breakthrough technology speaks to the evolving digital distribution market and is a perfect way for Bourne fans to get the best motion pictures in superior home video quality in the timeliest manner possible."

VUDU enables high-speed broadband customers to get instant access through their TV to more than 5,000 movies from all the major and more than 20 independent studios and distributors. VUDU delivers movies to consumers as they are released by the studios to DVD and maintains an up-to-date library of current releases. VUDU lets consumers watch the movie they want to watch when they want to watch it—no planning necessary, no computer required, no software downloads, and no cable TV service or satellite subscription needed.

Availability

VUDU can be purchased at select retailers and online including Tweeter, Magnolia, MyerEmco, Amazon.com ,VUDU.com, and other select AV retailers.