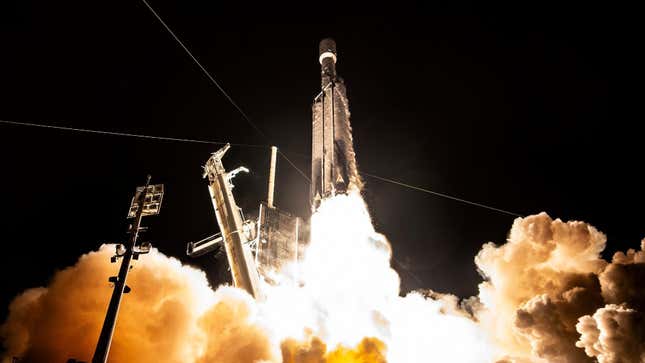 Update: July 31, 8:57 a.m. ET: SpaceX successfully launched EchoStar 24 (Jupiter 3), with Falcon Heavy blasting off on Saturday July 28 at 11:04 p.m. ET. The rocket successfully deployed the 9.2-metric-ton communications satellite to geostationary transfer orbit, and both side boosters performed successful landings. Maxar says its satellite is performing as expected after launch.
Astronomers Could Soon Get Warnings When SpaceX Satellites Threaten Their View
Update: July 28, 8:35 a.m. ET: On Thursday, SpaceX was once again unable to launch Falcon Heavy. "To complete vehicle checkouts, now targeting Friday, July 28 for Falcon Heavy's launch of the [Hughes Connects] JUPITER 3 mission," the company tweeted. "Weather improves to 65% favorable for liftoff [Friday] night." As before, launch is scheduled for 11:04 p.m. ET, and you can watch it at the live feed below.
Update: July 27, 8:15 a.m. ET: SpaceX issued a scrub late in the countdown, and for unspecified reasons. The company will try again on Thursday, July 27 at 11:04 p.m. ET.
Original article follows.
SpaceX is set to make history with tonight's scheduled launch of the heaviest geostationary satellite ever, EchoStar 24, also known as Jupiter 3. You can catch the action live right here.

Jupiter 3 will be launched using SpaceX's Falcon Heavy, one of the world's most powerful operational rockets. The launch is scheduled for Wednesday, July 26, at 11:04 p.m. ET from Launch Complex 39A at Kennedy Space Center in Florida. The satellite will first be sent to a geostationary transfer orbit (GTO), from where it will maneuver to its final destination: a geostationary orbit 22,300 miles (35,700 km) above Earth.
You will be able to watch the launch live on the SpaceX website, SpaceX's YouTube channel, or through the live feed provided below. The U.S. Space Force's 45th Weather Squadron predicts an 85% chance of favorable weather for tonight's anticipated launch.
A key aspect of the mission is the satellite's bulk. With a total payload mass of 9.2 metric tons, Jupiter 3 will be the heaviest geostationary satellite ever launched, according to Hughes Network Systems, the operator of the satellite. Despite its significant weight, the Falcon Heavy, which can exert over 5 million pounds of thrust at liftoff and is capable of delivering 26.7 metric tons to GTO, is more than up to the task.
Jupiter 3, constructed by Maxar, features an entirely new architecture based on a broad range of advances. The next-gen device is an ultra-high-density satellite that will double the capacity of the Hughes Jupiter fleet and, once operational, will "support in-flight Wi-Fi, maritime connections, enterprise networks, backhaul for Mobile Network Operators (MNOs), and Community Wi-Fi solutions, in addition to satellite internet connectivity across North and South America," according to Hughes. Once deployed, the satellite—the largest that Maxar has ever produced—will have a wingspan that stretches for 10 stories and include 14 solar panels.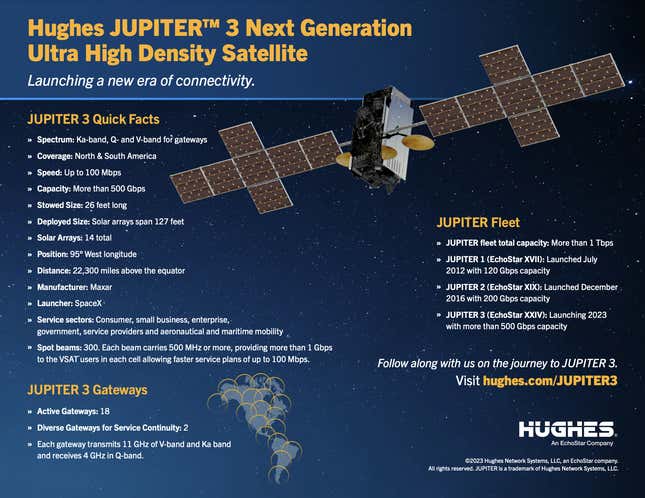 The Falcon Heavy stands tall at 230 feet (70 meters), and it's composed of three reusable Falcon 9 nine-engine cores. For this mission, both side boosters will attempt vertical landings roughly 8 minutes after launch, while the central booster will crash into the ocean.
This mission marks the seventh for SpaceX's Falcon Heavy and the third for 2023. It's also the 50th mission of the year for SpaceX, in what is another impressive year for the Elon Musk-founded company.
Want to know more about Elon Musk's space venture? Check out our full coverage of SpaceX's Starship megarocket and the SpaceX Starlink internet satellite megaconstellation. And for more spaceflight in your life, follow us on Twitter and bookmark Gizmodo's dedicated Spaceflight page.