The Space Shuttle Discovery's crew today includes one special robot — Robonaut 2, who has way more lifting and manipulation capacity than existing humanoid robots. Check out this super-dramatic movie-style trailer, showing why Robonaut is the bot with a mission.
I love the super-tense movie music interspersed with splashy captions and shots of Robonaut doing heroic poses. The first humanoid robot in orbit is getting a bad-ass sendoff.
According to the Ottawa Citizen:
Robonaut 2, which NASA is to launch today aboard the space shuttle Discovery on a flight to its permanent home on the International Space Station, will be the first humanoid-like robot to fly in space. Based on technology nurtured in part at NASA's Ames Research Center in Mountain View, California, and built jointly by the space agency and General Motors, the robot has a head, two arms and a humanlike chest and shoulders. It has fingers, thumbs and wrists with enough dexterity to grip a pen and write "hello." It can even dial an iPhone.
G/O Media may get a commission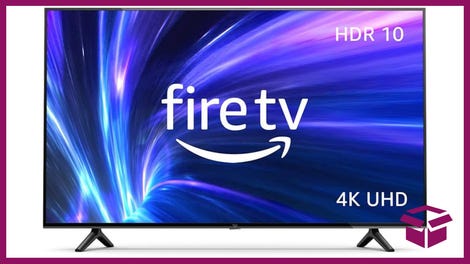 42% Off
Amazon Fire TV 50" 4K Smart TV
NASA intends to use Robonaut to do tasks that are too dangerous for humans, such as risky spacewalks, as well as for jobs that are too mundane, like swabbing the internal surfaces of the space station to prevent bacterial buildup - an onerous task that now falls to astronauts. On Earth, GM hopes to use a future version of Robonaut, or component pieces of its technology, on its assembly lines or even inside its cars.
More details and pics at the link. [Ottawa Citizen]