A random thought: Many narratives are spoiler-proof. You pretty much know the main story beats of any superhero movie before you watch it. All that happens when you read spoilers is that you consume extra bits of the narrative out of sequence (which may make the story actually feel more intriguing, and add an extra layer of meaning when you watch the complete work and see how those pieces fit). In other words, we're doing Hollywood a favor by sharing spoilers — including new clips from Incredible Hulk and Hancock and set reports from Transformers 2 and Watchmen. It's also totally healthy to look at a super-spoilery picture from the Doctor Who season finale, and to soak up the new info about Chuck, Lost, The Middleman and Heroes.
Incredible Hulk:
You know how the Hulk talks in the new movie? And says "Hulk Smash!" Well, here's a TV spot where they show it. There, that's your last reason to see the movie gone. [Cinema Gaslight]


(BTW, I saw Hulk, and there was no Captain America cameo that I noticed. I even sat all the way through the endless credits, and no easter egg — other than the Tony Stark cameo before the credits. But maybe there will be a post-credits easter egg in the non-preview versions, as there was for Iron Man?)
Transformers 2:
More details about the filming of the air-and-space museum scenes of Transformers 2, where Shia and friends are searching for a hidden Transformer. Shia dresses in an old-timey aviator outfit, with white scarf and goggles (maybe to blend in with the mannequins?) and tasers a security guard. And at one point John Turturro points at the Blackbird SR-71 (which plays a huge role in the movie apparently) and yells "Decepticon! Get behind the MIG!" [Superhero Hype]
G/O Media may get a commission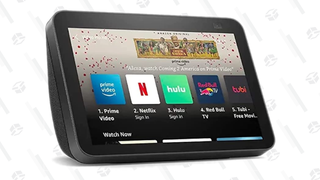 Hancock:
Here's a featurette about the making of Hancock that includes some new footage, including Hancock taking a whiskey bottle into the bathroom. Plus it puts the footage you've already seen in a bit more context. (It's from a Korean site, hence the subtitles.) [Naver via Comic Book Resources]


Watchmen:
The scene from the dystopian Alan Moore graphic novel Watchmen where the young Kovacs (Rorschach) walks in on his sex-worker mother with a client will appear in the movie. And in fact, director Zack Snyder's own son plays young Kovacs in that scene, where he sees his mother in bed with a strange man, who then flees. And the mother belts the child in the face for losing her business. The scene will be a bit shorter than in the movie and may appear during flashbacks when Kovacs is talking to his psychiatrist. [ComicRelated]
Lost:
Apparently ABC has been asking focus groups how they feel about Michael's death on Lost, and whether they'd want Michael to come back from the dead. So maybe his death isn't final after all? Also, it's possible Walt, and Sun and Jin's child, also have to go back to the island along with all the adults. [E! Online]
Heroes:
In the first few minutes of Heroes season three, Claire shoots at her uncle Peter. And we see Claire with dark hair, due to a "shift in time." (It sounds as though this will be a future version of Claire.) [E! Online again]
Chuck:
On Chuck, Morgan saves Anna from some video-game jocks who are being mean to her. (Probably the same jocks who are taking over the home theater dept. at Buy More for their own personal frat house.) [E! Online again]
Also, Chuck dies this season... twice! And they've cast the role of the debonair ex-spy who teaches Chuck to be more of a ladies man, and it's not Roger Moore. It's... John Larroquette??. (Okay, that's different.) Also, as we may have mentioned, Arrested Development's Tony Hale plays a "corporate efficiency expert" who comes in to shake up the Buy More. And Michael Clarke Duncan plays a great villain. [Chuck TV]
Doctor Who:
Supposedly this is the first picture of Davros, the evil creator of the cyborg Daleks, from the tail end of the current Doctor Who season. Real or fake? You decide. (I'm thinking it looks a bit too cheesy to be real, but you never know, and people are posting it all over.) [Pop Culture Zoo]


The Middleman:
Here's the official synopsis for the second episode of superhero show The Middleman:
When a Terra Cotta Warrior is brought back to life, The Middleman and Wendy set out to stop him before he can take the last living heir of the Qin dynasty to the land of the dead, releasing a hail of fire that will rain down on the Earth for a thousand years. With some help from fashionista and reformed succubus, Roxy Wasserman, the two must make a daring trip to the underworld to get the deed done. But will Wendy be able to focus on their latest mission, or will the fallout of her argument with Lacey get in the way?

Still stinging from Wendy's harsh criticisms, Lacey lands herself a job as Roxy's assistant, which tests her activist spirit.