Lots of great app updates, a quick tour of Spartan browser for phones, and a water-phobic iPhone. This is all the news tidbits and rumors you missed in the last 24 hours, all on BitStream.
We've heard it all before—waterproof iPhones. It's a patent rumor that goes back years. But a new patent, posted yesterday, is Apple's second water-phobic patent in as many months. Whereas the patent last month tackled nano-coating and silicon seals, this one focuses on making sure that no pesky H2O molecules sneak past your hardware buttons. But patents are just that—patents. But if Apple could make a smartphone completely waterproof without sacrificing design (which Jony Ive would never allow), well... that would certainly be something. [Patently Apple]
GIF via XEETECHCARE
Apps and Devices
Adobe's been on an iPad app tear recently and is now releasing Adobe Slate so you can make presentations and stories look way more professional. It looks a lot like Microsoft's Sway, but you can never have too many options. [Adobe]
After a rash of security shortcomings, Venmo, a super simple payment app, finally enables two-factor authentication. [Venmo]
Rithm is another streaming app looking to steal Spotify, or even Tidal's thunder, and at $4/month it just might. But does it really have what it takes? [TNW]
G/O Media may get a commission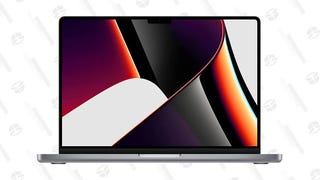 Save $300
2021 14" 1TB MacBook Pro
Microsoft Lens is the nifty app that can digitize all your documents. It was one of our picks for Best Apps on Windows Phone in 2014, but now iOS and Android users can get in on the action. [Office Blog]
Samsung announced the official prices of its curved 4K TVs. I hope you didn't like your money! [CNET]
HTC is rolling out software updates from the M9 to its older devices. My M8 is at the ready. [Engadget]
Rumors!
Samsung won a big victory for its chip-making business. Supposedly the mega corp will be supplying the next iPhones with A9 processors. [Bloomberg Business]
This video gives a brief tour (maybe) of what Project Spartan looks like on Windows Phone.
What You Might Have Missed on Gizmodo
Sony 4K Action Cam Review: Still Not Enough to Beat GoPro
12 Smartphone Keyboards That Are Trying to Reinvent Mobile Typing
The Real Science Behind the crazy Night Vision Eyedrops
Why Even Our Most Radical Visions of the Future Include Pizza
I Toned My Weak Vagina With This Little Blue Blob
Comcast Is Offering Gigabit Internet Speeds—But Probably Not for You