The uprising seen at Standing Rock in 2016 was historic. But the moment when a Native American tribe tried to stop a crude oil pipeline in the name of water and sovereignty has largely slipped out of the public consciousness.
So, apparently, have the millions of dollars in GoFundMe donations people poured into it—nearly $8 million to be exact, according to an investigation published Friday by High Country News. What happened to all that money? It's hard to say. The magazine didn't estimate exactly how much of it ultimately went toward the movement, but it stresses that there isn't much accountability over how GoFundMe money's used.
At the height of the Standing Rock Sioux Tribe's fight against the Dakota Access Pipeline in North Dakota, a number of GoFundMe campaigns cropped up on social media. Those I remember seeing were geared toward the camps where the pipeline's opponents essentially lived. It turns out more than 200 Standing Rock-themed GoFundMe campaigns raised at least $3,000, with a couple raising more than $1 million.
Fundraising causes varied widely, from firewood to energy bikes and winter supplies to community yurts. High Country News, however, zeroed in on one particular account: that of the veterans for Standing Rock.
G/O Media may get a commission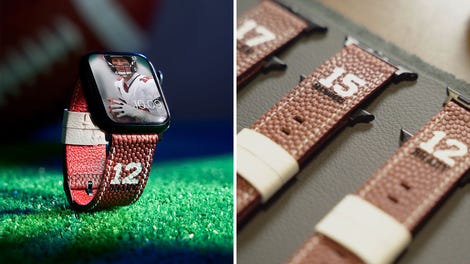 Official NFL PRODUCTS
Official NFL Apple Watch Bands
When veterans came out in support of this anti-development, pro-indigenous fight, it was a big deal, giving the movement more mainstream visibility. It's also where things got a bit more messy, as the magazine lays out in its investigation. A veteran-led group, Veterans Stand, raised more than a million dollars, but whether that money contributed to Standing Rock, or even the veterans who answered the call to show up in support, is still a major question mark.

"Veterans Stand had raised more than $1 million, but it is unclear how much of that was spent on actual organizational activities," High Country News wrote.
Michael Wood, the 38-year-old who launched the GoFundMe campaign and was in charge of that money, ended up in new a condo, though. The story goes on:
There is no way to know how much money Veterans Stand still has in its coffers; GoFundMe doesn't release information about campaign funds, the funds were diverted into Wood's bank account, and the organization never released an audit to the public or its many donors. Wood has claimed that he reimbursed 4,500 veterans — far more volunteers than ever signed onto the official roster — giving them $245 each. He also claims that 8 percent of the money went to various banking, money transfer and GoFundMe fees. Of course, neither the $60,000 for his condo and the $65,000 spent for the Vans Warped Tour were listed on the GoFundMe page, and for 10 months after Standing Rock, the organization masqueraded as a nonprofit despite failing to complete the necessary registration.
But this is just one example. Much of the $8 million groups raised had to have gone toward the fight against the 1,172-mile long pipeline. Right?
The fund that raised the most money (upwards of $3.5 million) was run by LaDonna Tamakawastewin Allard, an outspoken member of the Standing Rock Sioux Tribe who ran her own camp during those days. The Red Warrior Camp fund, run by Native American attorney and advocate Tara Houska, also raised more than $280,000. Smaller campaigns still raised a lot of money. $15,000 wasn't unusual, according to the data High Country News published online.
As its report makes clear, though, without receipts, the public can't really know where (or to whom) this money went. Did it go to the Standing Rock Sioux? The tribe didn't respond to multiple requests for comment from High Country News.
So for now, one one really knows. Today, the tribe remains in litigation over the now-completed pipeline. Online, our attention has moved on—from the woes of Standing Rock, and from what happened to all that money.