Is a major DC hero left out of Batman v. Superman after all? Find out why Venom deserves his own movie, and why Gotham is so diverse. Jenna Coleman explains why Clara's fate will be a major surprise on Doctor Who. Plus, what elements from Star Wars Rebels will make it to Episode VII? Spoilers now!
Top image: Man of Steel
Batman v. Superman
Benedict Cumberbatch is either actually in talks to join the cast of the film, or he's trolling. Talking to E!, Cumberbatch answered a question about Batman v. Superman:
I think Batman v. Superman is going to happen. It's a film that's being made.
And then he was asked if he'd in it:
I'm not at liberty to say whether I'm Batman or Superman.
Pressed on Justice League:
Justice League, yeah. Maybe. Let the rumor mill run.
And as the coup de grace:
I don't know. I mean this is like the second time I've heard these rumors. I love rumors.
On the one hand, this sounds to me like a person who is fed up with being asked about rumors like this. On the other hand, the tinfoil hat inside us all asks why he wouldn't just deny it if it weren't true. Your call. [E! via Comic Book.com]
And lets just add another rumor to compete with the other rumor: Now people are guessing that Aquaman isn't in the film at all. Taking Momoa's previous statement that he was "excited" to see Batman v. Superman combined with the long lead-in to the announcement of Dwayne Johnson playing Black Adam, it could be that the reason we haven't gotten a confirmation is that things are still in flux.
G/O Media may get a commission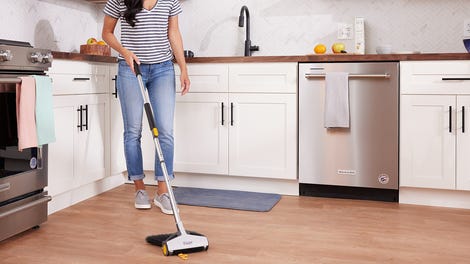 BOGO 50% Off
Flippr - BOGO 50% Off
Warner Bros. is developing two Aquaman scripts, so maybe Aquaman isn't showing up until one of those goes into production. Who knows?! Anything could be possible! [Cinema Blend]
---
Star Wars
We've heard versions of this before, but now we know a bit more about what elements from the show Star Wars Rebels will be incorporated into Episode VII. Simon Kinberg explained:
It's a very integrated process, there's real communication between all the filmmakers because we're all part of a larger timeline. There is absolutely communication and integration between the different stories. We are very aware of what they're doing in VII, and we also have to click into place with Episode IV.

... There are characters, vehicles, imagery that are introduced in the show before we've ever seen them in the movies, possibly including VII.
---
Venom
Alex Kurtzman says that the reason for doing a Venom movie is that "you can do things with Venom that you can't do with Spider-Man." He added:
Venom is the representation of every line that will get crossed. He's a much darker character.
[MTV]
---
Doctor Who
With reference to the rumors that Christmas will be Jenna Coleman's last episode, Coleman refuses to say whether or not it's true:
There's lots of rumours. We've sat down with [showrunner] Steven Moffat and we've all decided we don't want anyone to know which way it's going.

If you know I'm in the next series – or if you know I'm off – you'll know how the story ends.

Because there's a surprise we've got coming, it's much better that nobody knows which way it's going to go – so that's where we're trying to keep it at the moment.
From Den of Geek's spoiler-free review of Saturday's episode, we learn the theme of "Listen":
Are we ever really alone? (For the purposes of a spoiler-free review, that's as far as we'll go.) Are people who talk to themselves really doing so? It's set up via a pre-credits monologue by Peter Capaldi, in which he gets to make use of the TARDIS' new chalkboard again (it's not the only new bit of the TARDIS we get to see this week either). And it offers a further chance to dig a little deeper into the character of Capaldi's Doctor.
It's apparently a pared-down, creepy horror-style episode, with the humor scaled back. The review also hints that this episode will mess around with the larger canon of the show:
Yet we strongly suspect that's not what people are going to be talking about come the end credits. For, again treading very carefully so as not to give things away, Steven Moffat's script is one that's willing to dig back into the narrative of Who, and play around a little, as he was doing a couple of times last year.

We wouldn't say it's entirely successful, but he's got bold ideas here. Yet if the loudest complaint about last year's Who was that it was spending a lot of time looking backwards (for better or worse), then the same may well be aimed at portions of "Listen."
Here's the cast list for episode 8.05, "Time Heist":
Psi Jonathan Bailey

Saibra Pippa Bennett-Warner

Ms Delphox Keeley Hawes

Mr Porrima Trevor Sellers

The Teller Ross Mullan

Guard Mark Ebulue

Suited customer Junior Laniyan
---
American Horror Story
For the first time in the show's history, a character from one series will appear in another. The rumor that Pepper (Naomi Grossman), first introduced as a Briarcliff patient in Asylum, will return in Freak Show has been officially confirmed. Said Ryan Murphy:
"What Elsa has done for 20 years is she goes around to hospitals and jails and rescues these 'freak' circus performers who are going to be shipped away to asylums and she signs the waivers and she becomes their guardians." This season of AHS takes place in 1952, a good 12 years before the events of Asylum. So Freak Show, according to Murphy, "is sort of like what happened to Pepper before she went to the asylum."
Go here for more of the photos from Entertainment Weekly. [via SpoilerTV]
---
Gotham
With Fish Mooney, Barbara Kean Gordon, Renee Montoya, and Sarah Essen, there's a lot of diversity happening on the show, and The Advocate spoke to EP Danny Cannon about that decision:
"Gotham is beautiful, dark, dangerous, and romantic. It's the kind of cityscape you should look at and believe anything can happen, and that means everybody should exist there," says co–executive producer Danny Cannon, who also directed the show's pilot episode. "There's no way we on Earth we would have a show like this limit itself with out-of-date values."
Here are the first photos of Carol Kane as Gertrude Cobblepot, the mother of the future penguin. The character is described as "a proud and faded beauty; an old European character with delusions of grandeur." [Entertainment Weekly]
---
Go to the link for a video featuring Detective Harvey Bullock. [IGN]
Here's the description for episode 1.02:
"GOTHAM" (8:00-9:00 PM ET/PT) CC-AD-HDTV 720p-Dolby Digital 5.1

MONDAY, SEPTEMBER 29

GORDON AND BULLOCK INVESTIGATE A CHILD TRAFFICKING RING ON AN ALL-NEW "GOTHAM" MONDAY, SEPTEMBER 29, ON FOX

Detectives Gordon and Bullock investigate a child trafficking ring preying on Gotham's street kids, including Selina Kyle (Camren Bicondova). Meanwhile, Penguin (Robin Lord Taylor) resurfaces in the countryside and begins to make his way back to GOTHAM, leaving victims in his wake in the all-new "Selina Kyle" episode of GOTHAM airing Monday, Sept. 29 (8:00-9:00 PM ET/PT) on FOX. (GTH-102) (TV-14 D, L, V)

Cast: Ben McKenzie as Detective James Gordon, Donal Logue as Harvey Bullock, Jada Pinkett Smith as Fish Mooney, Sean Pertwee as Alfred, Robin Lord Taylor as Oswald Cobblepot/The Penguin, Erin Richards as Barbara Kean, David Mazouz as Bruce Wayne, Camren Bicondova as Selina Kyle/the future Catwoman, Zabryna Guevara as Captain Sarah Essen, Cory Michael Smith as Edward Nygma/the future Riddler, Victoria Cartagena as Renee Montoya, Andrew Stewart Jones as Crispus Allen, John Doman as Carmine Falcone

Guest Cast: Carol Kane as Gertrud Kapelput, Frank Whaley as Doug, Lili Taylor as Patti, Richard Kind as Mayor Aubrey James, Drew Powell as Butch Gilzean, Kyle Massey as Macky.
---
The Flash
Here's Candice Patton talking about how Iris isn't a damsel in distress:
Yeah — what I'm really learning and loving about Iris is she's super-smart, she's super-curious and she's very brave. And those are things that I love in women, and those are things that I strive to be myself, so it's really fun to play that with Iris. Our writers are striving for that with every episode with her, that she's not stupid and she's not naïve — she's the opposite of all of those things.

So you get your share of the action? Not just romantic subplots, but you're front and center in the action storylines as well?

Yeah, that's the thing about Iris — she's super-curious, right? So she's always on her blog and she's always connecting with other people in the city to find out who these meta-humans are and who "the streak" is, so she's constantly willing to put herself in danger. She causes conflict with Barry and her father, but, you know, when a woman wants something... [Laughs]
---
Arrow
At Salt Lake City Comic Con, Stephen Amell described season three:
I can tell you that we have Caity Lotz coming back as Canary in our first episode. We have Mr. Barrowman (Malcolm Merlyn) joining us as a regular this year. We have Ra's al Ghul. We do another fun travel episode where we go to Corto Maltese (a DC Comics fictional country). That's exciting. Oliver is in Hong Kong. That's also very interesting. We always have flashbacks and we get my good friend Colin Donnell - Mr. Tommy Merlyn - in the flashbacks this year.
He also talked a bit about the upcoming "The Secret Origin of Felicity Smoak":
"I recently got four days off out of an eight-day shoot, which is a record for me," he says. "I don't have another day off until January. Felicity and Felicity's mom afforded me four days of vacation. It was lovely."
---
Outlander
Here's preview for "The Garrison Commander":
This episode picks up right where the last episode left off with Lieutenant Foster questioning Claire if she is being held against her will by the MacKenzies. Initially she finds some comfort being among her own people again since crossing through the stones. She hopes that she'll be able to return to Inverness and travel to the stones after she has talked to the commander at the garrison. Her situation becomes tenuous when Black Jack appears, and she once again finds herself under suspicion. Soon she is the subject of Black Jack's interrogation and learns his true nature.

The star of this episode is Tobias Menzies who portrays both Frank and Black Jack. Frank comes across as a dull, although perfectly nice and unassuming, man while Black Jack is very dark and twisted individual. Claire can't help but look for signs of Frank in Black Jack. They share the same face and voice but that is where the similarities end. The viewers, and Claire, will see plainly that both men are nothing alike. Tobias Menzies depicts Black Jack as a man who it is very easy to hate.

Here are a few teasers:

-The English officers make no secret about how they feel about being sent to Scotland and the locals.

-Dougal proposes a solution to a problem.

-Claire sees Black Jack with an item that she recognizes as a family heirloom that Frank treasured.

-Black Jack promises to reveal his true nature to Claire. The interrogation is an intense battle of wits.

-Claire's medical skills are needed.

-Claire learns something about Jamie.
---
Person of Interest
Here's the description of episode 4.02, "Nautilus":
"Nautilus" – Although Finch insists that he no longer wishes to help with new numbers, his interest is piqued when Reese learns that the newest POI is a brilliant college student engaged in a mysterious, life-and-death scavenger hunt, on PERSON OF INTEREST, Tuesday, Sept. 30 (10:01-11:00 PM ET/PT) on the CBS Television Network.

CHEAT TWEET: Will Finch intervene b4 the latest POI is a casualty of a dangerous scavenger hunt? #PersonOfInterest 9/30 10:01pm http://bit.ly/1CXgV9W

REGULAR CAST:

Jim Caviezel (John Reese)

Michael Emerson (Harold Finch)

Kevin Chapman (Lionel Fusco)

Sarah Shahi (Sameen Shaw)

Amy Acker (Root)

GUEST CAST:

Quinn Shephard (Claire)

David Starzyk (David)

Andreas Damm (Romeo)

Samantha Posey (Pushy Student)

Dan McCabe (Hipster Geek)

Quinn Meyers (Barista)

Brendan Burke (Jackass Biker)

Antoine Harris (Street Tough #1)

Marco Reininger (PMC)

WRITTEN BY: Dan Dietz and Melissa Scrivner Love

DIRECTED BY: Chris Fisher
---
Sleepy Hollow
Here's the description of episode 2.02, "The Kindred":
Crane wakes from a prophetic dream worried that Abraham (aka the Headless Horseman) intends to perform an ancient and gruesome ritual in order bind himself to his love, Katrina, for all eternity. Ichabod uses his knowledge of his old and former friend to figure out where Katrina is being held prisoner, and he and Abbie plan to stage a rescue before nightfall. In order to achieve their goal, the Two Witnesses use information gleaned from Corbin's files and from one of Benjamin Franklin's notebooks to try and summon forth a weapon – or, more precisely, a monster – known as "The Kindred," which legend tells has powers equal to those of the Horseman of Death himself. Abbie meets Captain Irving's replacement, Sheriff Leena Reyes, a no-nonsense peace officer with ties to Sleepy Hollow and a firsthand knowledge of the Mills sisters and their troubled past. The new top-cop brings with her the same brand of skepticism initially held by her predecessor, creating several new impediments for our heroes to contend with. Meanwhile, a jailed Captain Irving faces new troubles after finally revealing the true details of his encounter with the demon Ancitef. Undaunted by his recent setback, Moloch continues his plans to free himself and his army of demons from Purgatory, and Henry Parish uses his otherworldly powers to try and turn a former foe into an ally.
And go here for more photos from the season premiere. [K Site TV]
---
Agents of SHIELD
Go here for more photos from the premiere. [SpoilerTV]
---
The Originals
Here's a photo of Danielle Campbell. Make of it what you will. [SpoilerTV]
---
The Vampire Diaries
Here's the synopsis for episode 6.01:
"I'll Remember" – (8:00-9:00 p.m. ET) (TV-14, DLV) (HDTV)

FRESH STARTS AND SECOND CHANCES — After spending the past four months coping with the loss of Damon (Ian Somerhalder) in an unconventional and potentially dangerous way, Elena (Nina Dobrev) has returned to Whitmore College for the start of sophomore year. Unable to move on, Caroline (Candice Accola) is desperate to find a way to reverse the anti-magic spell the Travelers have put over Mystic Falls and grows frustrated when her calls to Stefan (Paul Wesley) go unanswered. Tyler (Michael Trevino), who is human once again, has a run-in at a football tailgate that tests his ability to control his anger, while Matt (Zach Roerig) worries that Jeremy (Steven R. McQueen) is dealing with the loss of Bonnie (Kat Graham) in a self-destructive way. Alaric (Matt Davis), who is struggling to adjust to his new life as a vampire, finds himself in an awkward situation when he meets Jo (guest star Jodi Lyn O'Keefe), a beautiful doctor at the university hospital. Last, while everyone believes Stefan is off tracking a lead to get Damon and Bonnie back, Elena is shocked when she learns the truth of what he has really been up to. Jeffrey Hunt directed the episode written by Caroline Dries (#601).
Additional reporting by Charlie Jane Anders and Madeleine Monson-Rosen