Whistle is a new, collar-mounted activity monitor for your dog, allowing you to track exercise, food, medication and other parameters whether you're with them or even when you're apart.
What's It Supposed To Do? The Whistle device is a silver dollar-sized wafer of plastic and stainless steel equipped with a three-axis accelerometer, plus WiFi and Bluetooth connectivity. It syncs data with a smartphone app (iOS or Android) to give you the ability to track your dog's daily activity.
In addition to that activity tracking, you can use it to log meals, medications and annotate your dog's day with notes and photos.
Multiple owners or caretakers can use the app, giving you the ability to track your dog's activity as he's cared for by different people.
G/O Media may get a commission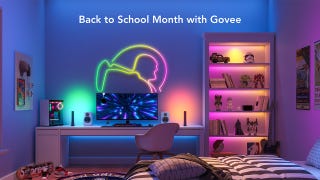 Back to School
Back to School Month with Govee Sale
How's It Supposed To Do It? Whistle pairs with your phones via Bluetooth and you can connect it to multiple WiFi hotspots, say at home and at a friend's house where your dogs spends a lot of time.
It uses data from the accelerometer to determine what your dog's up to throughout the day, the kind of exercise he's receiving — walking, playing, running, swimming or resting — and the intensity of that exercise. Through the phone pairing, Whistle also informs you who the dog is doing those activities with. Here's an in-depth explanation of how the device determines different types of activities are occurring, in addition to their intensity.
All that data is then synced to the cloud once an hour (when in a connected WiFi area) and displayed on a slick app. You can set daily activity goals, compare your dog's amount of exercise to others of similar breed, age and size and track all that over time.
The app also includes simple data logging functionality for meals and medication and you can attach photos and share all that data.
The device itself is IPX7-level waterproof and can even survive swimming in the ocean. Its Lithium-Ion battery lasts 7 to 10 days and charges via USB dock in just an hour.
The included collar attachment is variable in size to fit virtually any collar and mounts the device in total security. It's designed to fit dogs as small as 15lbs, but will be too cumbersome if you've got one of those Paris Hilton purse "dogs."
How Does It Perform? Wiley leads an extremely active lifestyle, so I was skeptical of Whistle's usefulness for him. But, it has actually proved an invaluable tool, particularly when I'm forced to leave him at home while traveling.
It's also been useful over the last week, when temperatures and humidity in LA have been so high that we've been unable to do our typical daily hike, instead allowing me to work towards his daily activity goal through smaller pieces of exercise throughout the day. Whistle allows me to track a 15 minute walk here, 10 minutes of play in the front yard there, then shows me how all that's adding up towards his daily goal.
With my work schedule and frequent travel, Wiley is often cared for by a variety of people, including roommates, friends and the girlfriend, all of whom chip in here and there to feed him, walk him and give him cuddles. Equipping each with the app has allowed what was once an unorganized group who had to talk feeding schedules and walks over various text messages to become organized through a central communication hub — the app — making it easy for them to tell when Wiley needs a little TLC.
He's not currently taking any medication, but in the instances where he's been prescribed antibiotics or painkillers, it would have made logging those easy and centralized too. Previously I would draw out a chart and stick in on the fridge, asking people to check off the dates and times, but now it's much more easily tracked on the app. Whistle will also allow me to monitor this remotely, make sure he's getting the required medication, and remind my friends if a dosage is forgotten.
So far, Whistle has worked flawlessly. With only one button on the device and a simple, slick smartphone app, it's idiot-proof to use and there is no learning curve. The device itself is rugged enough that I have no doubt in its ability to remain attached to Wiley's collar or survive any of his shenanigans. It's also light and small enough that it wears without him noticing it and shouldn't snag or be caught on anything, even when he takes off through dense chaparral after a rabbit.
How Does It Compare To Rivals? As far as I can tell, Whistle is the first fitness tracker for dogs. It works similarly to human devices, but can't currently track distance, speed or location — functions that will be arriving with a GPS-equipped update next year.
Worth It? With detailed tracking of exercise and easy data logging of other health parameters, Whistle more than justifies its $129 price by making what we used to do poorly through memory and paper into a seamless daily process that actually requires less human input on its way to creating a much better system for tracking Wiley's care.
Activity tracking has turned into a valuable data point in Wiley's daily life, giving me the data needed to ensure he's adequately exercised each day, even at times in which work, life and weather get in the way. Whistle will be an invaluable tool for dogs who's care is shared across multiple family members, friends or caretakers as well.
Whistle is simple, effective tool that empowers owners to better care for their dogs.
IndefinitelyWild is a new publication about adventure travel in the outdoors, the vehicles and gear that get us there and the people we meet along the way. Follow us on Facebook, Twitter and Instagram.