While we've watched tech companies provide a means for us to tear apart the fabric of society, they've been credited with keeping the financial markets booming over the last year—but that could be coming to an end.
This year has seen record gains and earnings on the stock market, but much of the growth has been wiped out in recent days, and tech companies are taking the bulk of the blame. Specifically, all eyes are trained on the "FAANG" stocks—Facebook, Amazon, Apple, Netflix, and Google. For more than a year, analysts have watched nervously as those five major stocks have turned in outstanding performances and become a barometer for the larger market.
As the markets opened on Tuesday morning, FAANG stocks had lost about $1.02 trillion in market value since their recent highs. Each has had their individual problems, and overall uncertainty is causing investors to back away. Apple for instance, is down 19.92 percent, at the time of writing, from its peak on October 3. That's just shy of the 20 percent drop that defines a stock entering a bear market. For the first time this year, Google parent company Alphabet was in the same bear territory as the bell rang on Monday and increased its loss to 25 percent in early trading. Everyone else in the FAANG group has blown past the 20-percent benchmark, with Facebook hurting most of all. Early Tuesday, the embattled social media company was down around 40 percent from its all-time high in July.
Of course, it's always possible things turn around. But the nature of the thing is that no one knows. As Steven Wagner, chief executive officer of Omnia Family Wealth, told the Wall Street Journal, "Look, you could have another 20% blowup rally, but we just don't know. Nobody knows. So you have to ask yourself if you have to get every last nickel off the table."
The FAANGs have become important staples in hedge fund portfolios and their performance has been based on a sky-is-the-limit belief in growth opportunities for sectors like artificial intelligence and machine learning. But even when a company like Apple turns in record profits for the year, investors are unhappy with its outlook in the near future. On Tuesday, Goldman Sachs cut its forecast for the Cupertino giant. "In addition to weakness in demand for Apple's products in China and other emerging markets it also looks like the balance of price and features in the iPhone XR may not have been well-received," Goldman analyst Rod Hall wrote in a note, according to CNBC. The company isn't expected to show growth for the next year, Hall wrote.
G/O Media may get a commission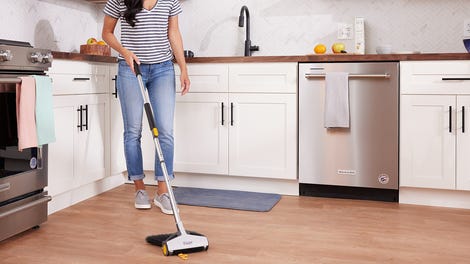 BOGO 50% Off
Flippr - BOGO 50% Off
Apple held steady in October as others fell, and it was considered to be a safe haven to guard against other losses. When a company like Apple drops, it sends ripple effects into chipmaking and manufacturing industries. The Journal estimates the overall loss in value on the global stock market to be around $5.5 trillion since October. Brent Schutte, chief investment strategist at Northwestern Mutual Wealth Management, told the newspaper, "When you lose leadership in the market, people start wondering if that's indicative of the whole market."
MarketWatch points out that investors are keeping an eye on another metric known, unsettlingly, as a "death cross":
A death cross refers to when a price chart's 50-day moving average, viewed by many as a short-term trend tracker, crosses below the 200-day moving average, which many recognize as a dividing line between longer-term uptrends and downtrends. Technicians view the bearish cross as marking the spot a short-term pullback graduates to a long-term downtrend.
Netflix produced its first death cross on Monday. Facebook received the black mark in September, while Google's death cross arrived last Thursday. According to MarketWatch, Apple and Amazon are both "weeks away" from forming their own death crosses. The tech-heavy Nasdaq composite index is expected to produce its first death cross in two years next week.
In Europe, Nokia was down 4 percent and Ericcson was down 3.5 percent. And in America, non-FAANG tech stocks are struggling as well. The biggest elephant in the room is NVIDIA which has fallen 50 percent since October 1st. Many analysts are chalking up that plunge to a decline in the cryptocurrency market, for which NVIDIA's GPUs are used in mining rigs. On Monday Bitcoin hit its lowest price in 13 months.
To be clear, there are lots of factors that contribute to the health of the overall market; tech companies have just become a sort of finger in the wind for some investors. The Washington Post has a wonkier dive into the factors that could lead to a recession in the near future, and you won't find the acronym FAANG anywhere. The quakes occurring on the surface of the markets don't necessarily signal layoffs and economic disaster, but a gradual erosion of confidence absolutely could. Keep in mind that Larry Kudlow was a financial analyst and TV talking head that no one respected back in 2007 when he said there was no way in hell a recession was on the horizon. Today, Kudlow is the Trump administration's top economic advisor and just hours ago he told reporters: "Recession is so far in the distance, I can't see it. Keep the faith. It's a very strong economy." More comforting words have never been uttered.
A strong holiday season could still ease some of the pain, but without tech stocks providing safety to hedge against riskier bets we could see an unwinding that affects every industry. In which case, we could go from yelling at each other online to commiserating on the unemployment line.