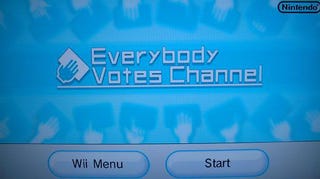 Nintendo Wii users woke up this morning to a Valentine's Day surprise: the "Everybody Votes Channel," a consensus-gathering polling tool that lets everyone vote on matters frivolous or important. Users saw a message sitting in the Wii's inbox today, inviting them to download a small applet that lets them effortlessly express their opinions.
After you've voted, you have an opportunity to predict what everyone else's vote will be, and then you'll see how weird you are compared to the public consensus. We're just wondering what Nintendo is going to do with all this data. Hey, we here at the Giz let everybody vote, too. So why don't we have poll about this Everybody Votes Channel?
Gawker Media polls require Javascript; if you're viewing this in an RSS reader, click through to view in your Javascript-enabled web browser.
Check out this screen shot of the Everybody Votes Channel's user interface:


This looks like fun! That does it. We're getting a Wii asap.
New "Everybody Votes" Wii Channel [Wii Nation] (Thanks, Shaun!)