Could Amazing Spider-Man 4 be an Avengers-style team movie? Could a Sandman or Fables film be coming soon? Is Chronicle 2 in trouble, and is 20,000 Leagues dead? Plus Brad Bird's Tomorrowland gets its female lead, Gina Carano joins Avengelyne, and Arrow finds a Black Canary. Plus updates on The Crow and Dead Space.
Spoilers ahead...
Top Photo from Riddick.
Batman Beyond
There is a rumor floating around that the next Batman movie could be based on the classic animated series Batman Beyond. The series takes place in a future where an aged Bruce Wayne passes on the cowl and serves as a mentor to teenager Terry McGinnis. The rumor seems a bit unlikely, given that it doesn't fit in with a continuity where Batman is Bruce Wayne in the Justice League. [Batman on Film via Film School Rejects]
---
Amazing Spider-Man 4
Now that Sony has already greenlit two more Spidey movies after Amazing Spider-Man 2, what's going to happen in the fourth movie? Director Marc Webb admits the fourth one getting the green light "was a little bit of a surprise," and drops some hints that it may be more than just a Spider-Man movie. "We always talked about there being a set of three movies, but there may be elements that expand outside Spider-Man that could fulfill that fourth film." That quote is being taken to mean that the fourth Amazing Spider-Man film could be some kind of Avengers-style team-up, but given that Sony doesn't have the rights to any other major Marvel characters, it would have to involve characters from within Spider-Man's own extended supporting cast. Maybe we'll find out more at the movie's panel later today. Tons more at the link. [Movies.com]
G/O Media may get a commission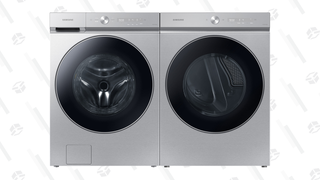 Get $500 back in credit
Last Chance: Samsung Bespoke AI Washer and Dryer Preorder
---
Equals
Director Drake Doremus, known for his Sundance Grand Jury Prize winning Like Crazy, is teaming up with Moon scribe Nathan Parker to make a science-fictional love story. Doremus says:
"My next movie is going to be a sci-fi, love story written by Nathan Parker, writer of 'Moon.' An incredible collaborator, we've been working together for almost a year now and hopefully we'll be making the movie sooner than later,"

"It's not going to be out of hand, but I think it's a logical next step, if that makes any sense without giving too much away, of the budget realm. I'm really excited to explore a whole new thing while bringing my own passions to it and that's what's exciting about collaborating with someone who's doing something totally different to you as together you can create something very original and unique by bringing different elements to the table."
---
Avengelyne
Gina Carano, former MMA fighter turned actress, and comic creator Rob Liefeld are talking about adapting Avengelyne into a movie, with Carano in the titular role. The two are at Comic-Con promoting the project, but the search for a script writer won't begin until next week. The comic story is about a fallen angel that must find and protect "the one," the person that hold the salvation of mankind from demon. [The Hollywood Reporter]
---
DC Universe
In an interview with The Hollywood Reporter, DC Entertainment Chief, Diane Nelson, talks about the characters she'd like to see made into movies and some steps that might get them there:
Sandman is right on top. I think it could be as rich as the Harry Potter universe. Fables. Metal Men. Justice League. And yes, I'm going to say it: Aquaman.
---
Tomorrowland
Britt Robertson (Under the Dome) has landed the lead female role, and will play alongside star George Clooney. Hugh Laurie was previously cast as the villain. Robertson will play "a high school girl with an unconventional understanding of technology who's launched on a journey to reclaim her future." [FirstShowing.net]
---
How to Train Your Dragon 2
The film has added several new voice talents. Cate Blanchett will play the character Valka, a human who rescues dragons caught in traps. Kit Harrington will voice a dragon trapper named Eret, and Djimon Hounsou is joining the cast as a maniac named Drago Bludvist.
Also, It has been announced that Jonsi, the Sigur Ros frontman, will write three songs for the upcoming film. [FirstShowing.net]
---
Chronicle 2
Max Landis, the original writer and director of Chronicle, is no longer working on the sequel. When asked for an update on Twitter, Landis responded, "I've been off Chronicle 2 for months now. Fox had a different direction they wanted to take the series. Josh [Trank] was never attached." [/Film]
---
The Crow
Director Javier Gutierrez shares how he pitched his movie to comic creator James O'Barr to get him onboard:
I love the story and I told them I'd do it because I love the story, but it's not a remake of the original. It's a new interpretation. Of course, we have to fill some parts and new elements, but there was so much beauty and passion to the original. A lot in there we could do that was never done. That's the main thing that captured my attention. We can do something original. The darkness, the beauty, the violence and love. That's what got me excited. A lot of fans responded to the original movie, but this is going to be different. This is going to give them some good gifts. We're going to pull some stuff from the original comic that's going to be tough and we're going to do it in an original and artistic way.
O'Barr and Gutuerrez discuss why Luke Evans is good for the part of Eric:
O'Barr: He's never really had a leading part. He's always been a supporting character. There's no baggage there. Much like Tom Hardy, he can become anything he wants to become. He's not Bruce Willis who comes with a package. It's the John Wayne curse. John Wayne is going to be John Wayne in whatever film he makes. I like the idea that Luke has done so many different types of roles.

Gutierrez: The character of Eric is so complex. He's going to be sensitive when the love story comes in and it's going to be dark when the violence comes in. You have to buy that cocktail of emotions and to find an actor that can balance that in his soul and eyes is tough. He has to have that range, we need an actor. Not somebody with a pretty face. I was very lucky to get Luke. We have a good actor that can put his soul into it.
And, here is a new poster promoting the film at Comic-con. [Shock Til You Drop]
---
Paranormal Activity
Looks like we are going to go a year without a Paranormal Activity movie. The spinoff movie that was to feature a Latino cast and come out this October has been pushed back to Jan. 2014. Paranormal Activity 5 does not yet have a writer or director attached yet. [/Film]
---
20,000 Leagues Under the Sea
According to director David Fincher's people, Fincher left the production of 20,000 Leagues months ago, essentially killing the project. All that press in April about the film shooting in Australia was a desperate attempt by the Australian government to entice the project back. [The Playlist]
---
Dead Space
EA is trying to turn its space-horror video game franchise into a movie franchise. Screenwriter Justin Marks (Streetfighter: Legend of Chun-Li) has been hired to adapt the script. [Shock Til You Drop]
---
300: Rise of an Empire
And yet another 300 poster, this one feature Eva Green as Artemesia. [ComingSoon.net]
---
Seventh Son
The latest Seventh Son character poster features Julianne Moore as the big bad. [ComingSoon.net]
---
Elysium
Two new TV Spots:
---
Kick-Ass 2
The first TV spot has been released:
---
Riddick
And here's the second TV spot for Riddick.
---
Avatar: The Legend of Korra
Steven Yuen, Glenn from The Walking Dead, has been cast in a guest role as Wan, the first Avatar. The first Avatar will appear in two episodes, titled "Beginnings 1 & 2.″ These episodes delving into the deep past will take on a different artistic style to separate them from the current narrative. A Nickelodeon representative says, "To depict the world in Wan's time, the creative team drew inspiration from ancient and traditional East Asian ink wash paintings and woodblock prints for the environments, color palettes, and stylizations of the elements. The results expand the vision of the Avatar world, but also stay very true to the building blocks of its visual influence." [Wired]
---
Arrow
Arrow has finally added the Black Canary, but she isn't going to be Laurel Lance. The show has decided to bring back the "golden age" Black Canary and cast Caity Lotz as Dinah Drake. She will start as a recurring character, and eventually develop into a series regular. [ComingSoon.net]
---
Intelligence
The upcoming show about a secret agent with a computer chip in his head has brought on some comparisons to Chuck, but star Josh Holloway says his character isn't Chuck. He explains, "But it's not Chuck at all. The computer can't enhance what I am. I can't download how to fly a helicopter and suddenly fly a helicopter. I'm basically just connected to the information grid, so it can assist me in more practical ways than that concept of Chuck. I'm still Gabriel and I get my tail kicked most of the time." [TV Guide]
---
Person of Interest
This Easter egg filled poster was released at Comic-Con. Executive producer Jonathan Nolan sums it up by saying, "In light of the news about PRISM, we felt this poster celebrated both our panic at America's descent into an Orwellian nightmare and our excitement over all the free marketing we're getting out of it." [Entertainment Weekly]
---
Beauty and the Beast
Here is an interview with the stars about what is coming up in season 2. [TV Line]
---
Grimm
Season three promotional poster. [Spoiler TV]
---
Teen Wolf
Teen Wolf released a trailer at Comic-con teasing the next few episodes:
---
Star-Crossed
Watch the cast of the new alien Romeo and Juliet series talk more about ideas behind the show. [TV Line]
Additional reporting by Charlie Jane Anders.