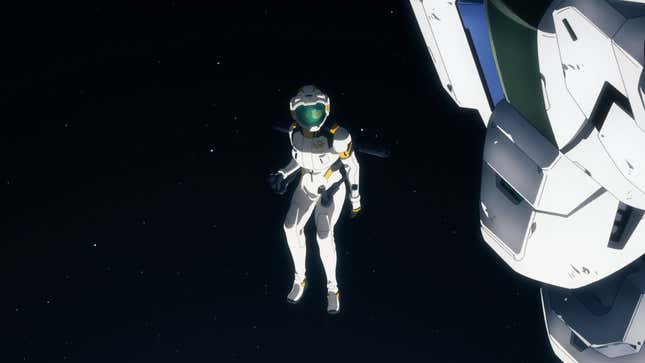 Remember when the first season of the excellent new Gundam show, The Witch From Mercury, ended and shocked everyone with a reminder that it is, indeed, a Mobile Suit Gundam show? Well, good news: its second season is not slowing down on reminding you of that fact in the most gutwrenching manner possible.

Jujutsu Kaisen 0 Has Infectious Good Energy

"What They Wish For" is only the second episode of Witch From Mercury's second season, but it feels like it has the stakes to truly change the tone of the show in a manner season one's finale could only really gesture at (albeit with a very red, viscera-covered giant robot hand). In 20-odd minutes, the show completely lays waste to the safe haven of its primary setting, the mobile suit megacorp academy Asticassia; peels back the layers of the figure that is clearly going to become its primary antagonist, Suletta's mother Lady Prospera; and then if that wasn't enough, horrifyingly answers a question that has lingered from the very earliest days of the show: whatever happened to little Eri Samaya from the prologue episode?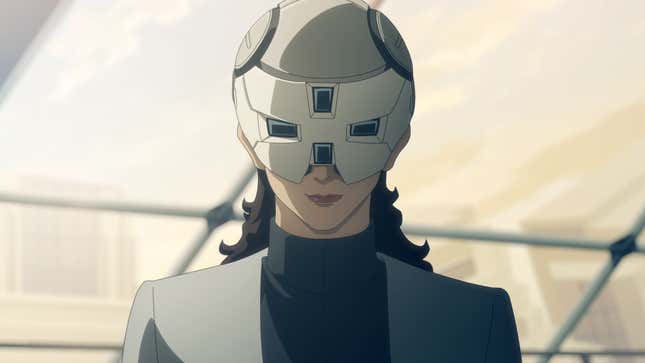 The answer to all of these threads is, frankly, nothing good. And yet, for all their inevitability, each blow Witch From Mercury hammers at its audience feels devastating, in part because the series allowed these beats to linger in its audience's heads across the first season. Even if Witch From Mercury was your first Gundam series, the idea of a school populated by kids who range from the orphans of a maligned Earth populated by an abused worker class, to the scions of intergalactic megacorporations that have co-opted space colonization for themselves, is pretty much a powder keg waiting for some tinder to spark. If you were already a Gundam fan coming in, from the get-go you were likely pointing at that metaphorical tinder and yearning for it to alight.

The same could be said for Lady Prospera's machinations. From her visual design placing her in the franchise's long history of "Char Clones" to throw you off, to the way everyone around Suletta slowly starts to question her relationship with her mother, Witch From Mercury has both primed you to expect the foulest of turns and yet agonized you in taking its time to take that turn. And then there's the Eri question, something that fans have theorized over and over again since her noted absence from the series beyond its prologue episode. Are she and Suletta one and the same, is she some kind of alt-human experiment akin to the show's exploration of Elan, is she a ghost in the machine to the series' main suit, Aerial? Finally getting "confirmation" of that theory might, on the one hand, feel anti-climactic, because it's something fans have been thinking about for a while. And yet, there's still something painful in the discovery of it all, because deep down there was perhaps a kind of hope that maybe, just maybe, things aren't as bad as they might seem to be.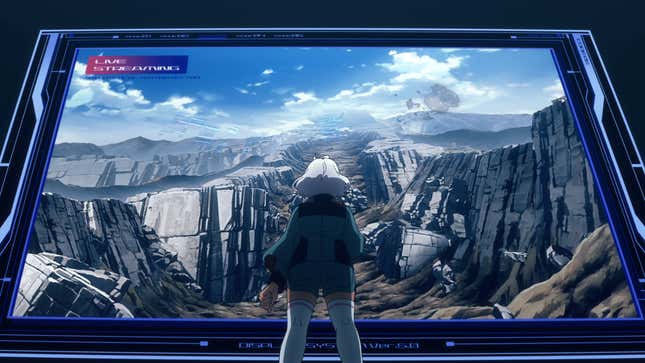 So what are the answers? For Asticassia, it's that its students cannot be sheltered from the conflict they are inevitably being trained to take part in some day. As the Dawn of Fold agents Sophie and Norea disrupt the academy's open-house "Battle Royale" exhibition duel—puncturing the artificial violence of the school's system with literal, actual violence, killing and wounding participating students who can do little bit react in horror at confronting real warfare in their suits designed for real warfare—the school becomes the battleground it has long since emulated. Suitably, in the chaos of a faux giant robot fight becoming a very real and bloody one, we only see the reaction in fits and starts, flashes of PTSD from Chuchu as she tries to fire, only to be confronted with the memory of the attack on Plant Quetta last season, or in the screams across comm chatter as students scramble to escape or cry for help with the wounded.

As Suletta and the Aerial race to battle against Sophie and Norea in and out of the school's confines, the episode just keeps hammering home this brutally by cutting away from the action and over to Quetta itself, as Lady Prospera lifts a little more of her metaphorical mask. Now trying to manipulate the recovering Miorine as she has so masterfully manipulated her own daughter, Prospera tries to bring the young woman in on "Quiet Zero," the real aim of her father: a project to use the GUND format that powers Gundam-type suits to eradicate the military-industrial economic society. Having put on this face of allyship with Miorine—doesn't she want to see her father's wish fulfilled, is she not tired of the mechanized conflict that has turned her into a pawn to be duelled over?—privately Prospera reveals to her allies that she has bigger reasons for backing Quiet Zero that go beyond eliminating mobile suit warfare. And those things do indeed have something to do with her daughter... but not the one we've been following throughout the show.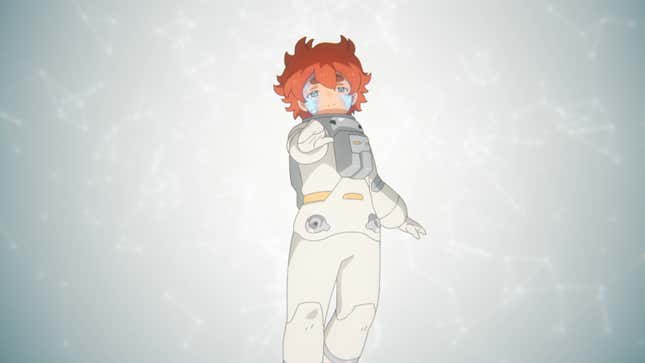 Because yes, as people had long speculated, the third inevitable conclusion of all this is that Eri is indeed a part of the Gundam Aerial herself. As Suletta unleashes the power of the suit against Sophie and Norea, Prospera calmly explains to her fellow "witch" Belmeria—who herself has already been involved in experiments connecting Gundams to an artifical kind of humanity with whatever Elan Ceres' deal is—that her first daughter has evolved beyond the constraints of the GUND format that have turned it into a persecuted curse, and beyond human form itself. Eri's soul is what makes Suletta so capable with Aerial, her connection with her sister nullifying the powerful "data storms" that otherwise afflict and eventually kill users of the GUND system, as we see with Sophie when she burns herself up to try and defeat Suletta. This future, where Prospera believes her child is happy, even as the system of a tool of horrifying violence, is what she wants for the universe at large. An endpoint for humanity beyond flesh and blood—which is why Prospera is so willing to spill so much of it to get there.

And so, Witch From Mercury screams at us, this is indeed a Gundam show. Not just in that there is the inevitability of violence and conflict, but that it is indeed ultimately a series about connection, about humanity's ability to transcend form and function to achieve some new understanding of itself—from the newtypes of the classic Universal Century series all the way to Eri Samaya, this is what makes Gundam what it is as much as the war crimes and the giant robots do. However, having driven this point home as brutally as it could to answer these key questions about itself, now the central thesis of Witch From Mercury is that it's starting to perhaps ask a different question: can itself and its heroes escape the inevitable curse of being a Gundam show, and reach for the franchise's loftiest ideals instead?
Mobile Suit Gundam: The Witch From Mercury season two is streaming now on Crunchyroll, with episodes releasing weekly on Sundays.
---
Want more io9 news? Check out when to expect the latest Marvel, Star Wars, and Star Trek releases, what's next for the DC Universe on film and TV, and everything you need to know about the future of Doctor Who.