Batman and his friends and family will face the "Death of the Family" this week, while Princess Leia will finally hop in her X-Wing to school the Empire in a whole new manner. Meanwhile, Buffy teams up with an Angel star, Rick's daddy issues boil over in The Walking Dead, and Agent Coulson gets his greatest promotion yet! Here's everything comics have in store for you this week.
Top image: Secret Avengers #1
---
New Issues
DC's "Death of the Family" storyline finally wraps up in Batman #17, and we can promise you it's a doozy, as Batman finally confronts the Joker with the lives of Nightwing, Robin, Red Robin, Batgirl and even Alfred on the line. The aftermath continues in Batgirl #17, while Batman and Robin #17 puts the dynamic duo in new troubles thanks to Gotham's 300th anniversary. Katana's new solo series begins, as the former assassin battles her own sword, the Soultaker, while the Suicide Squad get two surprise visitors, one of them quite familiar. Plus, there's new issues of Ame-Comi Girls, Batman: Arkham Unhinged, Before Watchmen: Comedian, Deathstroke, Demon Knights, Django Unchained, Green Lantern: The Animated Series, Ravagers, Saucer Country, Superboy, Team 7 and Threshold.
Dark Horse's fantastic new Star Wars series' second issue is finally here, as Princess Leia forms her own X-Wing stealth squadron (including Luke!) and Han and Chewie tangle with Boba Fett. B.R.P.D.: Hell on Earth #104 concludes the "Abyss of Time" story, while in Buffy the Vampire Slayer: Season 9: Freefall #18, Buffy teams up with Angel's Illyria! Plus, look for Creepy Comics, Ex Sanguine, Strain and To Hell You Ride.
G/O Media may get a commission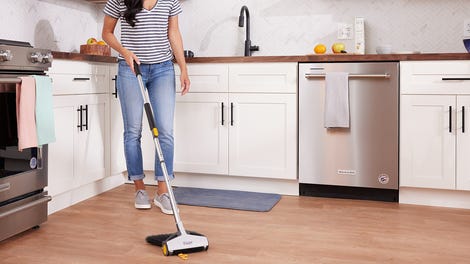 BOGO 50% Off
Flippr - BOGO 50% Off
IDW's new Ghostbusters series begins, as a new team tries to fell the proton-packs left by their mysteriously vanished predecessors. The madness of Mars Attacks continues in issue #7, as the Martians tangle with a little boy named Tommy and his dog. Most importantly, IDW's My Little Pony: Friendship Is Magic #4 hits today; will friendship be magic enough to stop Queen Chrysalis' evil plan? Then there's High Ways, Popeye, and Transformers: Regeneration One.
Image's main course includes The Walking Dead #107, as a very upset Rick not-so-politely questions Nagan regarding the whereabouts of his son and The Walking Dead: The Governor Special for the TV fans. The fascinating Manhattan Projects #9 sees Oppenheimer, Groves, Einstein and von Braun compete for the fate of the world. Plus, a new issue of the excellent Morning Glories, America's Got Power, Bedlam, Change, Clone, Cyber Force, Elephantmen, The End Times of Bram and Ben, Fatale, Great Pacific, Hoax Hunters, Peter Panzerfaust, Storm Dogs, and Todd, The Ugliest Kid on Earth.
Marvel's Now project is in full swing with the premiere issues of Secret Avengers (including Hawkeye, Black Widow, The Hulk, The Winter Soldier, Maria Hill and Phil Coulson!!!) and Uncanny X-Men (including the likewise odd group of Cyclops, Magneto, Emma Frost and Magik. Then in Jason Aaron's tremendous Wolverine and the X-Men, the Jean Grey School takes a field trip to the Savage Land. Brian Michael Bendis' beloved Powers ctarts a new chapter in Powers Bureau #1. Age of Apocalypse concludes, alongside new issues of Avengers Arena, Avengers Assemble, Cable and X-Force, Fantasic Four, Fury Max, Avengers: Earth's Mightiest Heroes, Scarlet Spider, Ultimate Comics X-Men, X-Men, and X-Treme X-Men.
Other notable comics for February 13th include: Pendleton Ward's Bravest Warriors #5 (Boom! Studios), Bionic Man Vs. Bionic Woman #2 (Dynamite), and Planet of the Apes Special #1 (Boom!).
---
Trade Paperbacks and Hardcovers
Dark Horse's wares include hardcovers of Alabaster Wolves, Chronicles of King Conan Vol. 4: The King Is Dead and The Curse of Dracula.
DC's biggest trade has got to be the second collection of Scott Snyder's excellent Batman series, titled Night of the Owls, as Batman finally faces the shadowy cabal that's hidden in Gotham for 300 years. The first Batman: Arkham Unhinged collection (based on the video game) hits, along with Green Arrow: Salvation.
The first collection of IDW's Mars Attacks! invades tomorrow, as well the second volume of the Star Trek: The Next Generation/Doctor Who crossover Assimilation.
Marvel's trades include a Marvel Firsts: WWII Super Heroes collection, the first omnibus of David Michelinie, Bob Layton and John Romita Jr.'s awesome Iron Man run, and the first /new Scarlet Spider trade, titled Life After Death.
Other trades and graphic novels of note: Assassin's Creed: The Chain (Ubisoft), Atomic Robo Vol. 7: Flying She-Devils of the Pacific (Red 5 Comics), Dead Space: Salvage (Titan Books), and a special slipcase edition of Harvey Horror's Tomb of Terror Vol. 1 (PS Artbooks)
As usual, here's the list of everything being released to comic stores tomorrow, and you can find your nearest comic retailer here.