Community made huge waves among Doctor Who fans when it introduced a metafictional TV series called Inspector Spacetime — and now there's a chance we might get a full-fledged Inspector Spacetime webseries.
We saw a live reading (with illustrations) of the first episode of this webseries at the Gallifrey One convention last week. And now, here's your exclusive first look at a rough animatic of that first episode... that includes some interesting changes.
Travis Richey, creator of the Inspector Spacetime webseries, is letting us post the video of the first episode's animatic before it goes up anyplace else. And you'll notice that some changes have been made — instead of Blorgons, the Inspector's mechanized enemies are now Circuit-Chaps. And instead of Constable Regginald Wigglesworth, the Inspector's associate is now a woman named Piper Tate. According to Richey, these changes were made to distance the project somewhat from the elements introduced by some of the Community writers, so it can stand on its own.
If you want to see the version that was done as a dramatic reading at Gallifrey One, which included the Blorgons and Constable Reginald, you can see it as part of the full panel video, at left. The panel video also includes some totally demented stuff about the history of the fictional show over 50 years, including the Christopher Lee and Steve Carell Inspectors.
G/O Media may get a commission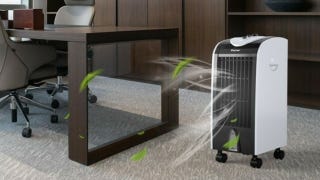 Save $10
Evaporative Portable Air Conditioner Cooler with Filter Knob
So if you like the rough animatic of the first episode above and you want to support this as an ongoing webseries, then you should definitely head over to the project's Kickstarter Page. Where Richey explains:
After my first scene of Inspector Spacetime was shot for Community, I instantly saw the potential for the character, and set about creating this web series with my writing partner. And it turned out pretty damn awesome. I thought it would be a great idea to take it with me if I ever got to do another episode, give it to the folks at Community and say, "You guys should make a web series of this, and by the way, here's a script!"

Turns out that Hollywood doesn't work quite that way... It had to be pitched through official channels. So my agent pitched it. Even then, I didn't hear anything.

And now, with Community's future uncertain, but fans of Inspector Spacetime as enthusiastic about the character as ever, I realized I'd just have to do it myself.

Strike that. We'd have to do it. Ourselves. The fans. Because that's what we do. It is, in fact, what made Inspector Spacetime anything at all. Fans turned a 15-second clip into a show with 50 years of history!!

So I'm going to make the Inspector Spacetime series, and I need some help to do it. I've made several hundred minutes of original comedy content over the last few years, on no budget. Unfortunately, though the writing and acting are excellent, you can see the lack of budget in the production quality. I think Inspector Spacetime deserves to look and sound like it belongs on TV (because, frankly, it does).

For that, I'm turning to Kickstarter to raise a minimal budget for equipment only. At this point, no one involved in the production will be paid for their work, and no one will make one dime off the finished product. There won't even be ads on the Youtube videos. We're making this show because I know fans want to see it. I know, because I'm one of them.
To be clear; NBC, Sony, and the Community production team have nothing to do with this web series. It is entirely fan produced. With your help.