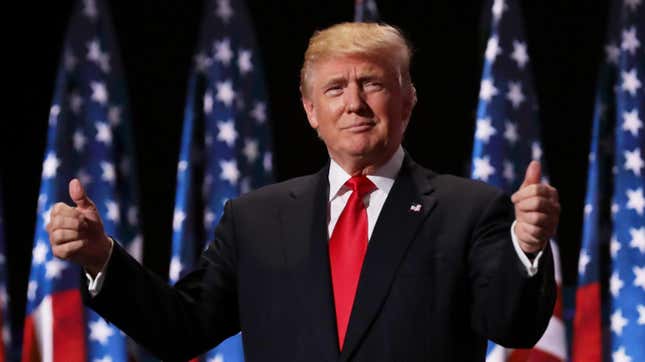 Google is ending its suspension of Donald Trump's YouTube channel Friday, making it the last of the major U.S. social media companies to reverse course on a ban of the former president. Trump is effectively back online. How he chooses to connect with his reunited 2.6 million followers there, however, remains unclear.
Meta's Apparent Firing Goof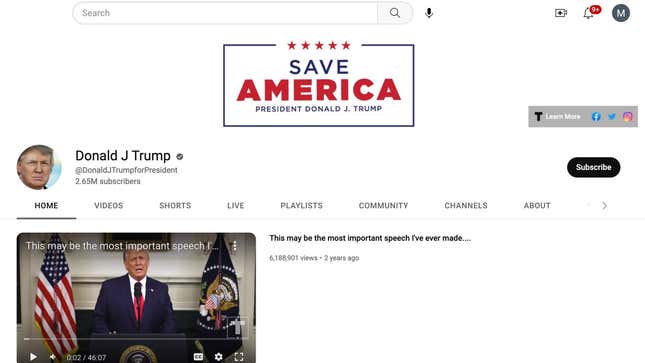 YouTube vice president of public policy Leslie Miller said in a statement that the ex-president's account is "no longer restricted and the ability to upload new content is restored." Axios first reported the news. Comments on Trump's old videos, which were disabled, are enabled again. Some of his videos that YouTube still deems as inciting violence, however, will not be restored.
"We carefully evaluated the continued risk of real-world violence, balancing that with the importance of preserving the opportunity for voters to hear equally from major national candidates in the run up to an election," Miller said in a statement.
YouTube, the world's largest video platform, officially suspended Trump's channel on January 12, 2021, nearly a full week after his supporters stormed and defaced the U.S. Capitol and several days after similar bans from Meta and Twitter. The company initially suspended Trump's accounts for a minimum of seven days for violating its policies and, "in light of concerns about the ongoing potential for violence." YouTube eventually extended that ban "indefinitely," once that seven day period expired.
Meta's recent decision to reverse its suspension may have played a deciding factor YouTube's recent policy decision, since both companies relied on similar framework justify keeping the president offline. Back in March 2021, YouTube CEO Susan Wojcicki told The Atlantic Council that the company was willing to bring Trump's channel back online when the "risk of violence has decreased."
"The channel remains suspended due to the risk of incitement to violence," Wojcicki said during the interview. "Given the warnings by the Capitol Police yesterday about a potential attack today, I think it's pretty clear that that elevated violence risk still remains. However, I do want to confirm that we will lift the suspension of the channel."
Wojcicki's remarks were similar to the words spoken by Meta President of Global Affairs Nick Clegg, who said the the social media giant decided it was time to lift Trump's suspension because they no longer believedTrump's account poses the same "serious risk to public safety," as it did when they initially suspended him in January 2021. Clegg said the decision to suspend Trump's account was made under extreme, unprecedented circumstances and real threats of imminent violence. "Our determination is that the risk has sufficiently receded," he added.
That determination by Clegg may have provided YouTube an easy outline for how it could craft its own Trump reversal, acting, in effect, similar to a tech policy legal precedent.
Whether or not Trump actually winds up using his YouTube account remains unclear. So far, the former president still hasn't posted to Twitter, the first of the major U.S. social media platforms to let him back on the platform. Trump, at the time his account was reinstated by new Twitter CEO Elon Musk, said he had "no reason" to return to the platform and would stay on Truth Social. Recent reports, however, suggest that could all change once his exclusivity contract with Truth Social expires later this year.