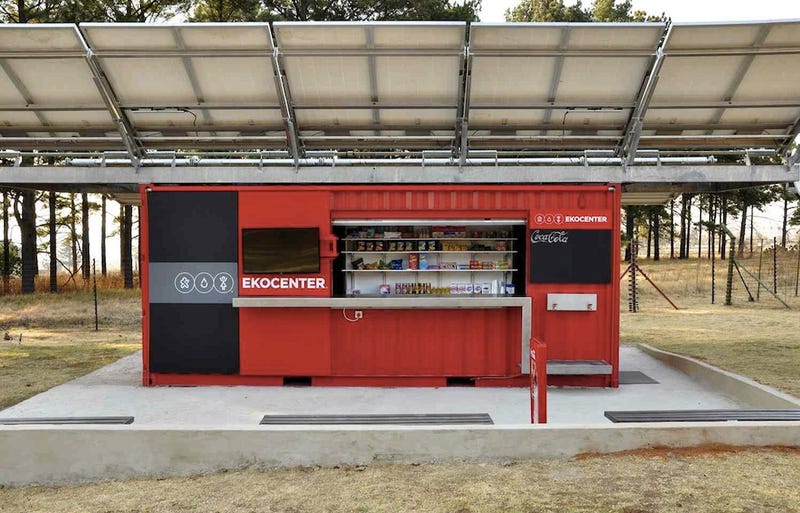 Coca-Cola's global distribution channels are so well-developed that a Coke can get pretty much anywhere on the planet—even places where there's no access to fresh water. But Coke is working on that, too. As part of its mission to bring drinking water to the communities it serves, the company has developed a solar-powered, Wi-Fi-equipped kiosk with a water purification system—and it plans to drop them in 20 countries by 2015.
The EKOCENTER, as it's called, is a modified shipping container outfitted with satellite communications and a Slingshot water distiller designed by Dean Kamen (yes, of Segway fame; there's a long list of other partners that include IBM and UPS). The solar panels on the roof not only power the purification system and the Wi-Fi, they also act as a shelter from the sun.
In addition, each EKOCENTER may provide "basic necessities" like food, refrigerated vaccination storage and health education. The images here are from a pilot program currently up and running in Heidelberg, South Africa, and there should be at least one more installed by the end of 2013. They estimate that they could provide access to safe water to 500,000 people by 2015.
The EKOCENTER is basically an expanded, semi-permanent version of the ColaLife project, where Coke uses the extra space in their crates to ship medicine. It should, of course, be part of Coke's mandate to provide water, medicine, and healthy food to places where they're also selling diabetes-inducing soda. But perhaps even more interesting is what Coke representative called the kiosk to a New York Times reporter: "We're calling it a downtown in a box."