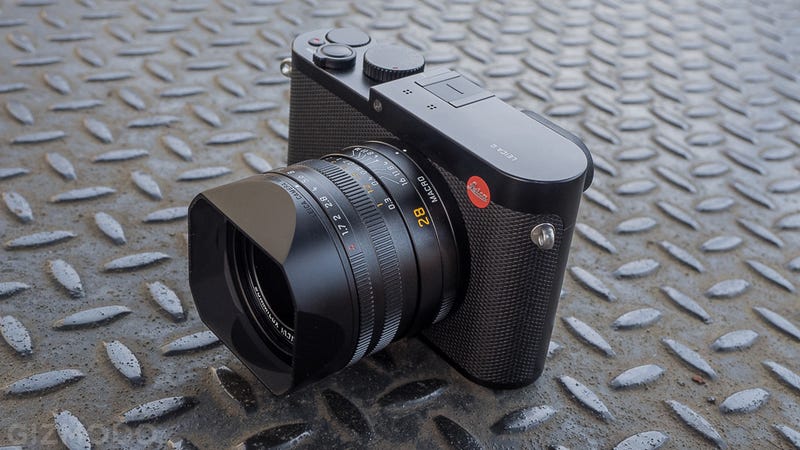 Leica has spent the better part of the last decade peddling one or two great products, flanked by a bunch of overpriced "special editions", and some re-branded Panasonic cameras (also overpriced). The Leica Q finally brings something new to the table. I spent a weekend with the Q, and here are my thoughts.
The Leica Q is a fixed-lens camera with a full-frame 24 megapixel sensor. It's basically what you'd get if you took their flagship digital M body, shaved off a few centimeters, replaced the rangefinder with modern autofocus, and glued on a lens—a 28mm f/1.7 prime lens to be exact. That's one damn fine piece of Leica glass, and it's the Q's biggest strength.
This is the first time Leica has paired a fixed lens with a full-frame sensor. In fact, the Q is only one of two cameras anywhere out there with this combo. The other is Sony's RX1, which debuted in 2013 to much fanfare. Cameras like these have a very niche appeal. Usually it's for pros who want a highly capable secondary carry-around camera, or hardcore enthusiasts wanting the latest jewel.
Sony's RX1 cost $2800 at launch. If you suffered sticker shock back then, well, hold on tight: the Leica Q will run a hearty $4250. Is it at all justified?

Well, let's put it in perspective. The Leica M, which has a similar full-frame sensor, costs $7000 just for the body. The Q combines a similarly terrific sensor with a superb lens, one that would surely run at least a couple grand if it were sold by itself. Compared to the Sony RX1, the lens is brighter, the body features an electronic viewfinder, and the overall build is solid as a rock. All of a sudden $4250 doesn't sound completely unreasonable.
People are going to scoff at the lack of interchangeable lenses. Big time. I can hear their objections ringing in my ear already. Leica has built in a sort of workaround to this limitation with switchable frame lines for 35mm and 50mm equivalent crops. Of course, the resulting images will be lower in resolution (12 megapixels at 35mm, 5 megapixels at 50mm).
Personally, I think high-end fixed-lens cameras are great. They provide extremely good quality in a small package, and often feature outstanding optics for cheaper than the lens would cost on its own. And performance doesn't disappoint. A few days of casual shooting gave me confidence in a decent autofocus system, responsive interface, and most of all, stellar image quality. The sensor, which is newly developed, produces natural, rich colors, and does great in low light. But the optics are what really make it shine.
View our sample images at their original resolution on our Flickr page.