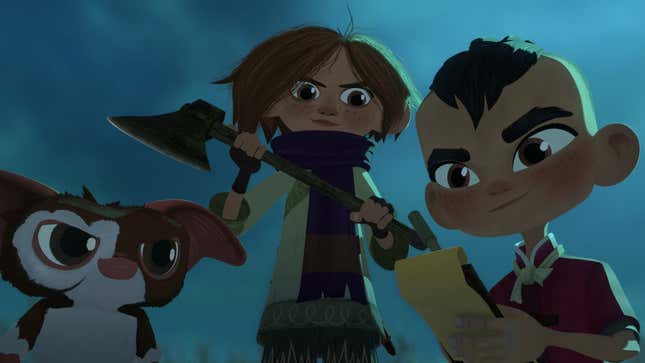 Be careful with bright lights, water, and snacks after midnight: Gremlins: Secrets of the Mogwai has been unleashed on Max! The animated series follows Gizmo, the adorable critter from Joe Dante's Gremlins films, on his adventures with Sam Wing (Izaac Wang), a much younger version of the shopkeeper character in Gremlins.
In 1920s Shanghai, Sam's family becomes instrumental in protecting Gizmo and his fellow Mogwai. Hijinks ensue as the Wing clan (Sam's parents are voiced by Ming-Na Wen and BD Wong; grandpa, an old adventurer, is voiced by James Hong) becomes entangled in the mystery of what makes the furry creature so dangerous—and realizes they're not the only ones aware of the magical beings in their midst.
io9 recently chatted with the cast, including original Gremlins star Zach Galligan (who returns not as Billy Peltzer, but a fun bit character), to discuss the WB Animation prequel series, created by Tze Chun and produced by Dante and Steven Spielberg.