We've been focusing on gadget gift guides lately, so I thought I would mix up the lists a bit for TGIF and focus on architecture. Here are some of the best places to just kick back and relax.
This stunning home is embedded in a hill in Vals, Switzerland, but it still has some amazing views. Seriously, you could just grab a chair, a beer and look at it all day. Hit the link to see what I mean. [Iwann Baan via Link]

If there ever was a house that lived up to the name "Universe," this space in Roca Blanca, Mexico would do it. The design is based on the Jantar Mantar Astronomical Observatory, which was built in Jaipur, in 1724. The home has 360 degree open air views of the ocean with swimming pools and hammocks. In short, everything you could ever want in a place to relax. [Link]

If you had a treehouse when you were a kid, you probably considered it as your own private sanctuary. Imagine what it would be like to have a treehouse that is 11 stories tall, with dozens of rooms for you to run away and hide in. [Link]

Spending a few nights in a hotel is a great way to escape from our miserable lives, but the Winvian in Connecticut is more exciting than most. It features themed rooms that would be so much fun you would have little reason to go out during the day. There are golf rooms with putting greens, a treehouse cottage, a music room with playable architecture and even a helicopter room with an actual Coast Guard chopper inside. [Winvian]

As much as I can't stand the Cowboys, I have to admit that their ridiculously over-the-top stadium is probably the best place to watch a game on the face of the Earth. Super field-level luxury boxes, a mind blowing assortment of concessions and a HDTV that measures 159 feet across. If you were Joey Fatone's brother, you would have even had the privilege of playing Gears of War 2 on that gigantic screen. Of course, that would mean you would actually have to endure the shame of being related to Joey Fatone.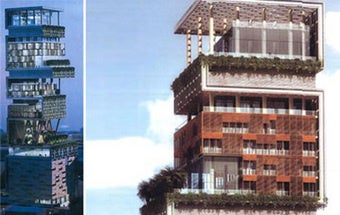 There should be a crime against spending $2 billion dollars on a private home, but I'm sure you could have a lot of fun hanging out in Mukesh Ambani's pad. Needless to say, this 22-story monstrosity has every kind of entertainment and relaxation facility you could imagine...and then some. [Link]

Prison may not be the most desirable place to be, unless you happen to be staying at the Leoben Justice Centre in Austria. Seriously, take a look at the pics in the following link. It looks more like a resort than a correctional facility. [Damn Cool Pics and Link]

Electronic House's Home of the Year for 2009 is short on taste, but high on gadgets. If you were hanging out here, you would be treated to beautiful views, the latest in home automation, racing simulators and an absurd amount of home theater equipment. [Electronic House via Link]

This list contains some extreme homes, but Russian billionaire Roman Abramovich's yacht takes excess to the high seas with a price tag rumored to have cost in the billions. While on board, you would be treated to every kind of luxury imaginable—and you wouldn't have to worry about intrusion because the yacht is fitted with a missile defense system and anti-paparazzi laser shield.

What if one of the best places to kick back and relax was your office at work? Google has taken that approach with the design of their Swiss headquarters. It features cozy seating, pool tables, foosball and a top notch lounge. [Link]