Sony's slimmed-down PS3 is a cute little ugly duckling, and not without its concessions. From fewer USB ports to an over-priced vertical stand, and its removed "Install Other OS" feature, here's what you should know before picking one up.
First off, it's not actually called the PS3 Slim, that's just it's nickname. It's officially called the PS3 120GB. Either way, I plan to buy one myself. I like that the matte finish is more scratch and fingerprint resistant, even if it comes over as a little retro Chinese knock-off. In the same vein, these 10 considerations may not affect how you plan to use the Slim—but knowing is half the battle, right?
G/O Media may get a commission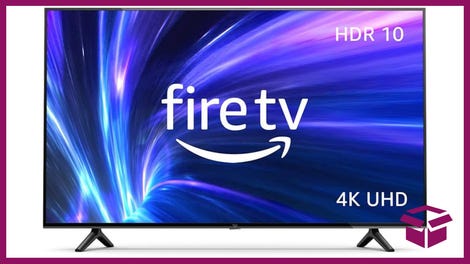 42% Off
Amazon Fire TV 50" 4K Smart TV
1. Available September 1, Prices Already Dropped (North America)
If you prefer your PS3 fat and glossy, the existing 80GB model has now dropped to $300—that's how much the new 120GB PS3 Slim will be in September. (The current 160GB PS3 has also been reduced, to $400.) And be on the look for bargains as retailers wind down stock: Today's Gadget Deals of the Day has an 80GB bundle that includes LittleBigPlanet and a Blu-ray copy of Wall-E for $299 (normally $400).
2. You'll Probably Want the Stand
As Jason said in his hands on, the Slim isn't really stable enough to balance vertically without its stand. Problem is, the stand is sold separately, and at $24, seems over priced. You also won't be able to pick one up until 2 days after the PS3 Slim first goes on sale. Expect to eventually see third-party alternatives in a Skittles-rainbow of colors.
3. Hard Drive Upgrades
As we've mentioned, FCC records indicate that Sony may also have plans for 150GB and 250GB versions of the PS3 120GB. Either way, it only takes one screw (now located under the front, instead of the side) to swap in your own SATA laptop hard disk (and doing so won't avoid the warranty).
4. PS3 3.0 Firmware Not Initially Pre-Installed
That's because it's released on September 1, the same day the Slim goes on sale. So to get the 3.0 Firmware goodness, you'll need to sit through a software update out of the box. Sony says it'll preinstall 3.x in later units. Sounds fair to me.
5. It Won't Play Your Old PlayStation 2 Games
That won't be returning," Sony's John Koller recently confirmed. Likely not a big deal unless you've got a massive collection of PS2 titles that you don't want to part with. If so, the launch PS3s with hardware PS2 Emotion Engine are your best bet (for greater compatibility), but the second-generation 60- and 80GB models will also play PS2 games using software emulation.
6. No Linux for You!
In its infinite wisdom, Sony has removed the "Install Other OS" feature (Settings -> System Settings -> Install Other OS) and official Linux support along with it. The current 80- and 160GB PS3s support Linux, but Sony's cut the cord on the Slim because it wants to "standardize" the OS. Counting down to open-source hack in 3, 2…
7. No On-Off Switch
The Slim has no on-off switch at the back, so now relies on the standby power button at the front. Both the power and eject buttons are no longer touch-style; they've been changed to physical buttons.
8. No Media Card Reader
No surprise here: PS3s haven't had media card slots for ages. Why not just stream photos from your laptop to the PS3 wirelessly, or copy them to a USB drive? Speaking of which…
9. Two USB Ports, Not Four
Not what we had hoped for, but again, not surprising. Not only is this a slimmed-down model, but all third-generation PS3s have only 2 USB ports (and skip the media card reader).
10. Bravia Link
Connect the PS3 Slim to a Bravia Link-capable Sony HDTV (via HDMI) and you'll be able to control the XMB interface with your TV remote. The TV will even automatically power down the PS3 when it gets turned off.
11. It Plays The Same PS3 Games!
Slim or not, it's still a freakin' PS3 and will play the same PS3 games and Blu-ray movies you throw at it! Plus, the smaller 45nm Cell chip helps it consume less power, and may potentially even be a little faster.