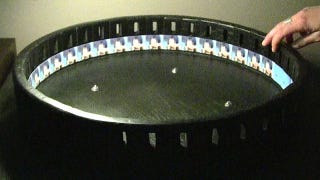 Before there were GIFs there were motion pictures. And before film on reels, these "movies" were made up of actual printed still images that zipped in front of your eyes in rapid succession with the help of machinery. Our friends at Oobject collected a batch of crazy zoetropes and other machines, both and new, that create moving images. No photoshop required.
Each machine below has its own video, which should keep you occupied for a while. But when you're done, make sure to check out these trippy video projections on buildings, as well as these wacky magin lanterns.
Emile Reynauds one person praxinoscope theatre from 1879.
Making of Moray McLaren's "We Got Time" video.
The worlds largest zoetrope.
Pixars amazing 3D zoetrope.
Digital Zoetrope by Troika.
Temperley zoetrope circus installation.
The life size zoetrope.
Peter Hudsons burning man zoetropes.
The Cyclotrope - a bicycle wheel animation.
Zoetrope using laser etched crystals.
Open mutoscope from 1912.
3D animation of Muybridge's chronophotography.
setup

Top image via Scott Blake/ Wikimedia Commons