Shadows are dark. Light is bright. It's the way of the world. But solarizing images allows you to reverse this idea. And for this week's Shooting Challenge, you showed us another world where the normal rules of light don't apply.
Winner: Tree At Night
Experimenting with solarization is one of my favorite processing tricks as Man Ray is my favorite photographer. For this challenge, I shot one of the many trees in my neighborhood that are lit from below at night. I love how, as you look up at them, the branches twist and snake in to the dark. But for this picture to work, I needed to expose what was hidden to eye. For that, I set my Nikon D3100 for a 30 second exposure and set the aperture to f/13 to give me a relatively deep depth of field. I placed the camera on the ground, pointing it straight up a few feet away from the tree trunk, and finally set the 18-55mm lens to 18mm. As I solarized the picture in Photoshop, the network of branches normally hidden in the night revealed themselves. I had an idea of how I wanted this to turn out, but the end result far exceeded my expectations.
Gabe Loewenberg
---
Cape Cod
G/O Media may get a commission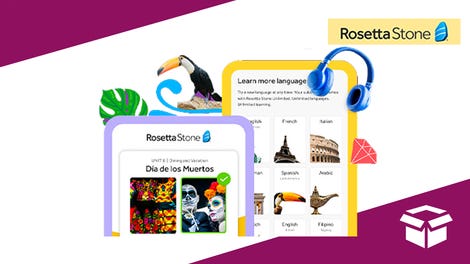 Extra 20% off
Rosetta Stone Lifetime Subscription - All Languages
I spent the past week in Cape Cod, Massachusetts where my family has a Summer home. This was a shot taken at sunset at the Nobska Lighthouse, my favorite lighthouse, in Woods Hole. This is a place I have grown up at every year since I was born (with a few exceptions) and an area of the World that I hold very close. If you ever have the opportunity to visit Cape Cod, do not pass the chance up. And give a little visit to the Nobska Lighthouse while you're there!
Michael Orrantia
---
Keyboard
I liked the idea of taking a shot of a piano and inverting the keys. I took this of a piano I was given by a friend, its a pretty cliche shot. I played with the tinting a bit to give it more of a sepia effect. Hope you enjoy.
John Warner
---
Seattle Skyline
This was shot on a Canon T2i, kit lens with a ND-8 filter @f11, iso 100, shutter speed was 2mins. I wanted to take some long exposure shots of Las Vegas and thought this contest was a good excuse. I've never solarized a picture before so be gentle in the comments. The shot was taken from the top of a parking garage. The best/worst part of long exposure photography is the wait. It makes me anxious and the anticipation overwhelming, but the payoff is well worth it.

Ryan Floyd

Bobcat-Panther
I went to visit a remote animal shelter deep in Long Island today. I took a picture of a Bobcat behind double steel fences. I had to zoom in between the fences to get this photo.
I used a Nikon D610, with a 55-300mm crop lens at 1/160 with ISO 500. As for photoshop, I first made the picture black and white. Then I added a curve adjustment layer and create a "V" shape line to have the solarize effect. I added a second curve to further enhance the contrast. The last thing I did was add a radial blur filter to create a sun beam effect coming from it's head. I feel this create an effect as if the Bobcat is moving or coming at you fast! :)
Allen Lau
---
Maxima Abstraxima
The base image was the hood of a brand new 2016 Maxima that was being showcased at a local mall. I liked the way the super shiny hood of the silver metallic car was reflecting the overhead structures, and the way that the surfaces create a but of an abstract.
The image was captured with a Nokia Lumia 635, and image was manually "Solarized" in Paint.net 4.06.
Jonas Demuro
---
Six Flags
We had family in town for the week and went to Six Flags Great America with all the kids. I took this shot while waiting in line for one of the rides and after standing in the line for about an hour the shadow pretty accurately reflects how we all felt! The light was really harsh so I thought working with the shadows and inverting them would be a good fit for the challenge. Equipment:.
Leica M, Summicron-M 1:2/50mm, 1/4000s, f/4.0, ISO 200, Converted to B&W and inverted the tone curve in Lightroom.
Sean Bjork
---
Hairy Plant
My wife brought home from the garden center this really weird looking, hairy plant and I knew what I wanted to do - I backlit it with a big softbox and shot it with my favourite macro lens. Canon 5D mk III, 100mm macro lens at f/22, ISO 100.
Ian Roberts
---
Tuning
I took a picture of my husband tuning his guitar. I used a barn door with a red gel to give a slight highlight to the guitar so it would bring out some detail. This whole capture was a feat in itself, as my husband hates his picture taken.
Carole Roberts
Sinister Shopping
By applying the solarization filter the simple act of visiting your local big box store becomes much more ominous. Canon 60D — F8 — 1/30" — ISO500 — 28mm
Mike Case
---
HVAC
This picture was taken while I was helping my wife work at her Middle School. I looked up and saw these pipes that are part of the HVAC system and thought that their shiny material would look good solarized!
I took this with a Canon Rebel T1i without any special settings and did the solarization using Gimp.
Jeremy Cox
---
ALICO
This is a picture of the ALICO building in downtown Waco, TX. It's symbol of what the town was and still could be. Waco is also in the migratory pattern of the Common Grackle, and I took the shot as a massive flock was flying past. I took the shot just before sunset, a time when the sky would still be light, but the neon lights at the top of the building would be illuminated. I took the picture with a Panasonic GH4 and SLR Magic 17mm lens at ~f2.8. Post processing was done in Pixelmator with the method from the first solarize shooting challenge.
Peter Leininger
---
Dark Sunset
Sunset over Morton Arboretum in Lisle, IL. Went for a hike with the girlfriend and kids through the arboretum to see the 'Nature Connects: Art with LEGO bricks' exhibit and snapped this picture as the sun was setting and thought it would be interesting for this contest. Great ending to a wonderful day. Photoshop B&W with curves layer adjustments, Moto X
Raz Akhter
---
Barn At Sunrise
This barn is located in rural Delaware. I pass it frequently, and have always liked the pattern in the stone and mortar. I stopped on my way to work early Monday morning and took this shot. What I like about this photo is that when the darks and lights are swapped, the barn looks normal since it is made of random dark and light stones, but the trees and sky look otherworldly. Canon G7X, f/5.6, 1/60 sec, ISO-125. Touched up and solarized using GIMP desaturate and curve tools.
S Wootten
---
Old Hog
All aboard! Talk about nostalgia, I snapped this shot at the New York Transit Museum on Saturday afternoon using my trusty sidearm, my Fuji X20. Originally shot in vibrant color and solarized in photoshop. The train was an old hog, a car they used to run in the early 1900s. My boo sat on the wicker seats holding a beautiful bouquet of orange flowers, while I snapped away—a 'Special' shot indeed.
Michael Mooney
---
Tree Fern
I was immediately intrigued by this shooting challenge because my 16-year-old son had learned about solarization in his photo class, and told me about how it's done in the dark room.
So I stepped outside and started shooting our tree fern up towards the bright sky. And this is what I got. Taken with A Nikon D3300 with a Nikkor 18-55mm f/3.5-5.6, shot at f/5.6, 1/400, ISO 200.
Dan Lythcott-Haims
---
Cemetery
This is my first ever entry into one of your challenges. When I read the post I figured what the hell , let me give this a go. I knew exactly what my subject would be... A cemetery. Cemeteries always look great in black and white, but I had never done any solarizing to them.
I went to Holy Redeemer Cemetery in South Plainfield NJ to fire off a few shots. It was a beautiful day 86 degrees and sunny with relatively low humidity. After strolling the grounds for awhile I came across this statue/tombstone. It stands about 8 to 9 feet tall and is made of solid granite. It towers above most every other stone in the cemetery. My Gear: Iphone 6+ with native camera app. Post Processing:I brought the photo into Photoshop Cs5 and did some cropping to frame the photo better. I then used the black and white adjustment layer as well as the curves adjustment layer. After tweaking the curves setting I was fairly happy with the outcome , but knew it needed some more cleaning up. There was some very odd looking outlines between the cross and sky. I used the blur brush set to 100% strength and traced the edge to smooth it out. I then decided it needed some "film grain" to it. I set another layer on top and set it with a 50% grey fill and set to overlay. I then added noise set to 10% gaussian and monochromatic. The final step was to do a gaussian blur on the noise to tone it down a bit.
Matthew Lehr
---
Some very, very cool entries this week! Thanks to everyone who shared their work with us. Look out for a new Shooting Challenge tomorrow.