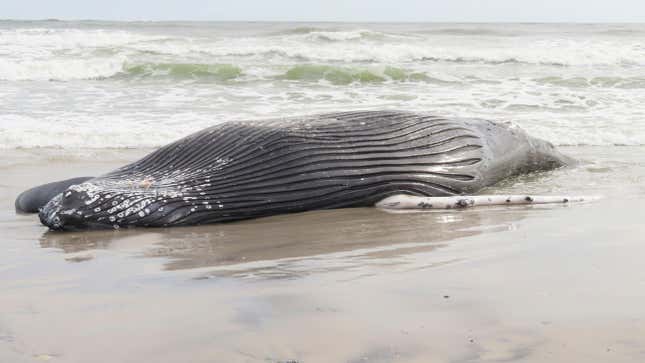 Several New Jersey environmental groups are defending offshore wind development after seven dead humpback and sperm whales washed up along New York and New Jersey coasts in the past month.
Rare Polar Bear Attack in Canada | Extreme Earth
Last week, environmental group Clean Ocean Action called for a pause in ocean-floor preparation work for future wind projects. The group and other supporters called on President Joe Biden to investigate the recent whale deaths recorded in New Jersey and New York. "The federal government should have been here with busloads of people really doing an examination if they were taking this seriously," Cindy Zipf, the executive director of Clean Ocean Action, told NJ.com.
In response, concerned environmental groups gathered for a press conference on the Atlantic City Boardwalk this Tuesday in support of offshore wind farms, the Associated Press reported. "What we know kills whales is plastic pollution and what we know kills whales is abandoned fishing gear," Jennifer Coffey, executive director of the Association of New Jersey Environmental Commissions said at the gathering, according to NJ.com.
"The number one threat to the marine environment is climate change. Offshore wind is one of the most important tools we have to protect the entirety of our marine ecosystem," Allison McLeod, the policy director for the New Jersey League of Conservation Voters, said according to AP.

Some experts have suggested the recent whale deaths may have been caused by ship strikes. According to the Marine Mammal Stranding Center, a humpback whale that washed ashore at the North End Natural Area in Brigantine last week had signs of "blunt trauma injuries consistent with those from a vessel strike," the Associated Press reported. The 32-foot-long female humpback whale had a thick layer of blubber and its stomach was full of partially digested fish, which suggested that the whale was active and in decent health before dying.

"Vessel strikes and entanglement in fishing gear are the largest known human threats to whales of all species," the Mammal Stranding Center said in a statement, according to AP. "Although there has been speculation about whether these whale deaths are linked to wind energy development, at this point no whale mortality has been attributed to offshore wind activities."
Government agencies have also said that the connection between offshore wind farm development and whale deaths is still unclear. The National Oceanic Atmospheric Association has tracked whale deaths along the East Coast since January 2016. Deaths were recorded before offshore wind construction began in the Atlantic Ocean, NJ.com reported. "Of the whales examined, about 40% had evidence of human interaction, either ship strike or entanglement. To date, no humpback whale mortality has been attributed to offshore wind activities," a NOAA spokeswoman said, according to NJ.com.
Orsted, the Danish multinational energy company that is set to build two of the three wind farms approved for New Jersey, said that the company's own survey vessels have not struck whales off the state coast. "The offshore wind industry is subject to the most stringent level of protections for marine mammals and protected species. Every aspect of our surveys, construction, and operations are reviewed by multiple agencies and subject to protective conditions, including vessel speeds, time-of-year restrictions for construction activities, and mandatory protected species observers." Maddy Urbish, the company's head of government affairs in New Jersey, told AP.