Nicolas Winding Refn, the director of Bronson, Drive, and the upcoming Neon Demon, has a problem. That problem is his insane amount of exploitation posters from New York's down and dirty Times Square days. To solve this problem, he put them into a book, and it's fucking crazy.
The book, Nicolas Winding Refn: The Act of Seeing, features over 300 exploitation posters featuring sex, drugs, monsters, more sex, aliens, even more sex and every other crazy genre you can think of. Along the way, the filmmaker asked journalist Alan Jones to contextualize each poster to give it its proper due.
"[Jones] suggested I collate them into a book because so many of the titles includes were barely even half-remember, some totally forgotten, others completely obscure or talked about in hushed tones from the yearning post of view of never being seen," Refn says in the book. "I'd actually bought a time machine into a world of filmmaking that has to date mainly been documented from a romantic angle through rose-tinted glasses....What was once considered trash and worthless has now become historical and treasured."
Below, we've got just seven of the hundreds of pieces in the book, along with some insight from Jones's recaps in Nicolas Winding Refn: The Act Of Seeing.

G/O Media may get a commission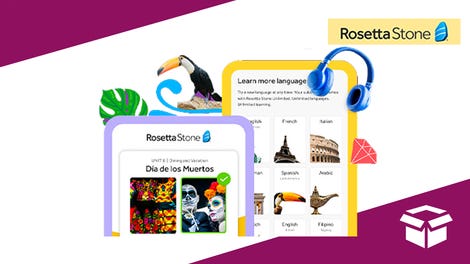 Extra 20% off
Rosetta Stone Lifetime Subscription - All Languages
The Angry Red Planet (1959)
"…A genuinely fascinating vision of Mars thanks to lurid production designer and a reddish-orange tinting process hyped as Cinematic. The plot has four astronauts, including [Nora] Hayden, landing on Mars and battling assorted alliance creatures - the highlighted Bat-Rat-Spider crossbreed being the most infamous and hilarious. A massive success for [producer Sidney] Pink…."
Conquest of Space (1955)
"…was remarkably accurate in [its] landscape creation of Mars as a red sandy world dotted with chunky black rocks, even though the sight of snow falling as the astronauts landed on Christmas Day pushed the romantically reverential angle….A huge financial flop ending [Produer George] Pal's working relationship with Paramount…."
Horror Hotel (1977)
"Or Death Trap, Eaten Alive!, Starlight Slaughter, Murder on the Bayou and Slaughter Hotel as director Tobe Hooper's feature was also known after The Texas Chain Saw Massacre (1974) had put him firmly on the shock horror map….Were the endless title changes - this one 'borrowed' from the US name for the British witchcrafter City of the Dead (1960) - and bad distribution a deliberate ploy on [producer Mardi] Rustam's part for bloody-minded revenge? Could be, as this fine slice of Bayou Gothic never did gain the reputation it deserved."
Night Tide (1961) [Style 'A' Poster]
"Director Curtis Harrington's haunting debut feature is one of the finest low-budget chillers of the era and showcased a memorably subdued performances by bad boy [Dennis] Hopper in his first leading role…..Althought it filmed in 1960 and premiered in 1961, it wasn't released until 1963 when [Roger] Corman's Filmgroup rescued it from being held to random in a lab by the main financier who wanted a guaranteed return before letting it go."
Thrill Deviates (1965)
"Once more the poster doesn't even give a hint of the plot starring Dale West as an envious demented transvestite slashing buxom women in San Francisco. Instead it trades on the hulking monster/femme fatale formate of countless horrors of the era…..Clearly meant to be part of some bigger sex thriller, synopses of the day make references to another featured strand about Glen, a rapist and child molester, offering drugged candy to a young girl outside her school."
The Time Travelers (1964)
"…the special effects work is absolutely nothing like what the poster hints at. But it remains an intriguing potboiler with a markedly bleak finale because the [time travelling] scientists can do nothing to alter the course of history. [Writer director Ib] Melchior said, 'We were on the verge of total A-bomb annihilation so I wanted to put that destruction scenario into a movie to make people understand the consequences.'"
The Witch (1952)
"While excavating a grave on the estate of Baron Hallberg, an archaeological team unearth the remains of a 300-year-old ancestor rumored to be a witch. Soon, the local peasants start seeing a naked girl cavorting around the country side and everyone becomes convinced she's the resurrected evil priestess of Satan….Not that '50s punters cared about the historical genre aspects, they went solely because star Mirja Mane indulged in a vast amount of naked romping for the era."
Nicolas Winding Refn: The Act of Seeing will hit book shelves on October 5 and debut at Fantastic Fest in Austin, Texas in September along with a Mondo Gallery show of some of the posters on September 25. Find out more info here.
Image credit: posters from Nicolas Winding Refn: The Act of Seeing