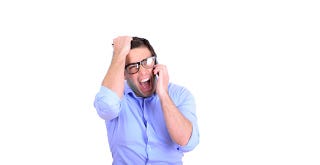 Trying to cancel Comcast service is one of Dante's circles of hell, as has been painfully and repeatedly proven in the past. So what could make this bureaucractic nightmare even worse? A government bill, of course.
Assemblyman Mike Gatto has proposed what TechCrunch has aptly dubbed "Ryan's Law", a bill that would ensure you can cancel internet or cable services online. As Gatto says:
"AB 2867 allows Californians to conveniently unsubscribe from a service with a simple click of the mouse. It just makes sense, that if you are able to sign up for a service online, you should also be able to cancel it the same way."
The bill quotes the infamous case of Ryan Block, a former editor of Engadget whose 18-minute cancellation call with Comcast became the stuff of bad sales-pitch legend. On the face of it, Gatto's bill seems sensible—there's certainly no reason why you shouldn't be able to cancel services online—but I can also see a perfect storm of bad menus, security questions and captchas making these even worse that talking to someone on the phone.
[Mike Gatto via TechCrunch]