A well-photographed headshot can help make or break an actor or model's career, which is why performers will often spends thousands of dollars to hire a talented photographer. Your selfies, on the other hand, look like they were snapped in the back of a taxi at two in the morning. Luckily, Adobe says it can help you make them look a lot less terrible.
Adobe Sensei is the company's artificial intelligence and machine learning framework that's already powering part of its online photo-matching services, but it wants it to help simplify image processing, too. Similar technologies, like Google's Deep Dream, have already melted our brains with over-processed imagery reminiscent of a bad drug trip, but as a new teaser video demonstrates, Adobe seems to think the same tech could make apps as powerful as Photoshop.
Last July, we got a glimpse of a new image processing algorithm developed by researchers at Princeton University and Adobe Research that can correct the distortions and warping created when a selfie is taken just a few feet from a smartphone camera's lens. You don't realize the distortions have happened, which can include an elongated face and an oversized nose, until you compare your selfies to a professionally photographed headshot.
It looks like Adobe has incorporated this research into the mystery app demonstrated in the above video. It also features other research we've seen, including applying another photo's colors and style to your own, and even automatically removing a subject from the background to create a subtle depth of field effect, or swapping out the background altogether.
G/O Media may get a commission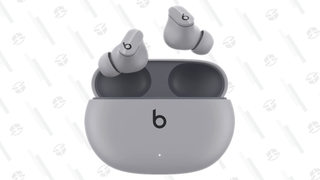 If this selfie-fixing app actually exists, it's unclear when or Adobe plans to make it available to consumers, or if the company will just roll the technology into existing mobile apps like Lightroom. (Or whether they'll make it available at all.) But at the very least, it looks like a much better way to improve one's selfies than just throwing a bunch of stickers and text on top of a terrible-looking headshot.