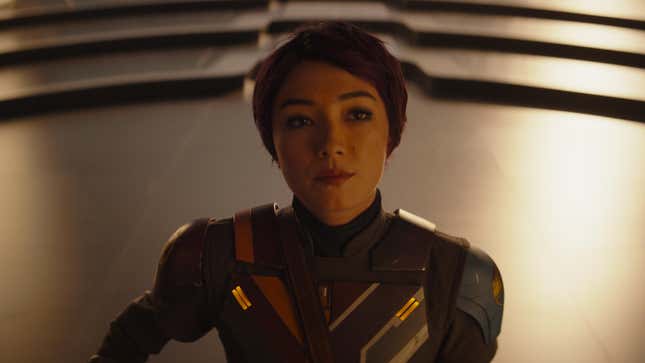 The first two episodes of Ahsoka are now on Disney+ and even for the most seasoned Star Wars fan, they left us with a few questions. Questions like when, exactly, is this taking place? Did we miss something? And is that scene the scene we think it is? We'll get into all of it and more but, first a spoiler warning in case you haven't seen the episodes yet.
Spoilers of the Week May 9-13

So, to answer the question of the headline, were the first two episodes of Ahsoka a prequel? Yes. The bulk of what happens takes place before the final scene of Star Wars Rebels. That scene, which we've embedded below, shows Ahsoka Tano arriving on Lothal to take Sabine Wren on a journey to find Ezra Bridger. We see that scene in live action, with one major change, at the end of episode two. That change, of course, is Ahsoka's outfit, which might make some viewers think, "No, this is not the same scene."

Well, it is. For now. And what we think happened is in the five or six years since Dave Filoni wrote and directed that final episode of Rebels, things changed. Mainly, his thoughts on what exactly happened to Ahsoka in that time. We don't know this for a fact but you can imagine that whenever he wrote that scene, he believed Ahsoka would have had a much fuller, more complete journey by this point in the Star Wars timeline. Hence the gray robe and distinct staff. He may have even believed or known that she would have attempted to train Sabine as her Jedi apprentice. Was that gray robe Filoni's clue to Ahsoka taking over the master role?
When Rebels came out, Filoni was point-blank asked if the next story would be Ahsoka and Sabine going to find Ezra and he said "It's a bit more than that. So we'll see." Could the "bit more than that" be Ahsoka and Sabine's tumultuous master and apprentice role? It seems like a solid bet.
Plus, don't forget, at the time of the Rebels finale, Filoni didn't know Ahsoka would appear in live-action yet—or even that live-action, long-form Star Wars for television was going to become a reality. "I didn't know Jon [Favreau] would be doing Mandalorian at the time when I did that epilogue," Filoni told io9 earlier this year. "That was all in motion, but I didn't understand Ahsoka's role in it, certainly."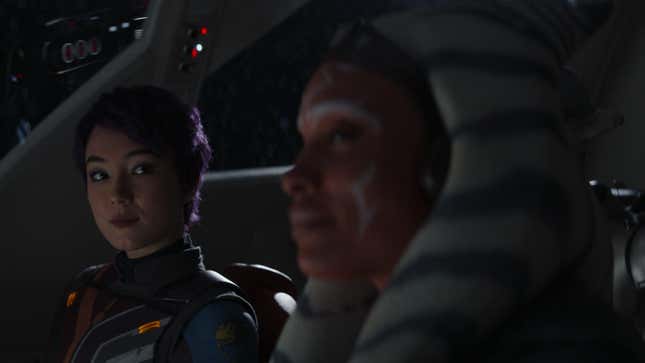 So when he was wrapping up Rebels, he didn't know Ahsoka would meet a little creature named Grogu or share a screen with Luke Skywalker. Those instances, and the fact he now had to write a whole show about her, probably made him think "I can't just jump to this robed, wise, older Ahsoka. There's too much that needs to happen in the middle." Instead, it seems like this season of the show, and maybe future ones too, will build towards that.
What does that mean for Star Wars Rebels? Well, it means that people will have to live with the story being told one way there and another way here. You can't expect perfect continuity always and forever, especially now that something as game-changing as Disney+ exists. As a wise Jedi once said, "Always in motion is the future."
As for the Sabine and Ahsoka relationship, the way the show handles it might make even the biggest Star Wars fan think for a second, "Did I miss something? Was there an episode of Rebels I missed, a book I didn't read, or a comic I didn't buy where we saw Ahsoka take Sabine as her apprentice?" And the answer to that is no. Their master and apprentice relationship was created for this show and will certainly be explored much more thoroughly in future episodes, especially now that the first two episodes have set the stage. Ahsoka has caught up to the end of Rebels. The search for Ezra begins now.
Ahsoka is now streaming on Disney+. Watch it here.
---
Want more io9 news? Check out when to expect the latest Marvel, Star Wars, and Star Trek releases, what's next for the DC Universe on film and TV, and everything you need to know about the future of Doctor Who.