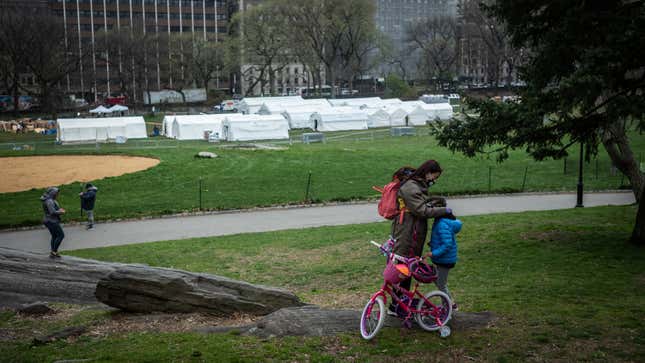 A charity group is stepping in to help New York City, facing the worst outbreak of covid-19 in the country, by building an emergency field hospital in the middle of Central Park to handle overflow patients. But the group and its founder's history of anti-gay sentiment is making people question whether it can truly provide equal care.
Twitter Is Shifting Right | Future Tech
Last week, Samaritan's Purse, a group that bills itself as an "evangelical Christian organization providing spiritual and physical aid to hurting people around the world," announced it would open a 68-bed respiratory care unit right outside Mount Sinai Hospital in Central Park, New York. The hospital is set to start taking on patients Tuesday afternoon, who will come from Mount Sinai. Earlier in the month, the group had funded and created a similar field hospital in Cremona, Italy, a country which is also facing a major covid-19 outbreak.
Though the group has secured some doctors and health care workers for its hospital in NYC, it also called for "licensed Christian healthcare workers" to volunteer. And those volunteering, Gothamist reported Tuesday, are being asked to read and agree with a "statement of faith" that includes this section: "We believe God's plan for human sexuality is to be expressed only within the context of marriage, that God created man and woman as unique biological persons made to complete each other."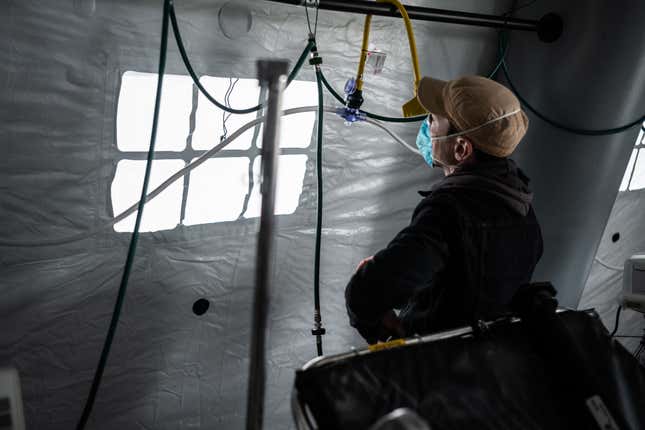 It also affirms marriage as being "exclusively the union of one genetic male and one genetic female." At another point, it states that the unrighteous will be banished by god to an everlasting punishment in hell.

Samaritan's founder and son of the infamous televangelist Billy Graham, Franklin Graham, has long condemned homosexuality as an abomination, attacking gay Christians as "the enemy." Graham has also criticized laws trying to ban conversion therapy, while stoking conspiracy theories about former President Barack Obama's religion and upbringing. The group itself has been criticized for using its charitable activities as a guise for converting non-Christians to their cause.
A spokesperson for City Hall told the Gothamist that the hospital would have to abide by the same rules as Mount Sinai does, which includes an anti-discrimination mandate. They also added that they were "confident that the joint effort by Mt. Sinai and Samaritan's Purse will save New Yorkers' lives while adhering to the values we hold dear by providing care to anyone who needs it, regardless of background."
New York State Senator Brad Hoylman (who identifies as gay) has been more proactive, issuing a statement on Monday that called for "Franklin Graham to publicly assure LGBTQ New Yorkers that they will receive the same treatment as anyone else at the Central Park field hospital." He also demanded that New York City and Mount Sinai keep a close eye on conditions at the hospital to ensure that every LGBTQ patient is treated fairly.
It remains unclear how exactly the city will make sure that any patient there won't be discriminated against, or whether patients—particularly those who identify as LGTBQ—will have an opportunity to be sent elsewhere if they feel uncomfortable about the group.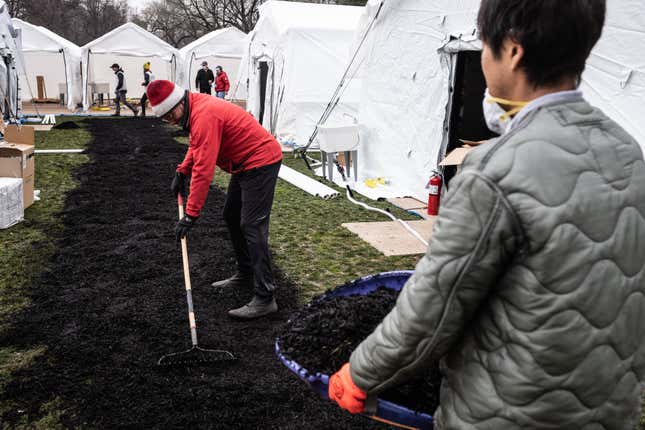 The New York City Department of Health, Mount Sinai, and Samaritan's Purse have not responded to requests for comment from Gizmodo. Samaritan's Purse has not responded to a request for clarification on whether unmarried fornicators in general are allowed to volunteer.

Update: Samaritan's Purse sent a statement to Gizmodo from the organization as well as from Franklin Graham, which was addressed to Senator Hoylman.
The statement from Samaritan's Purse:
"We are a Christian organization and we hire Christians who share our statement of faith. We have a common denominator of our faith in Jesus Christ and sharing that hope."
Graham's response to Hoylman: "I want to respond to concerns you have expressed about the work of Samaritan's Purse in New York's Central Park with our Emergency Field Hospital and medical teams. Regardless of my strongly held religious views—or actually because of them—Samaritan's Purse treats everyone we help the same. We do not make distinctions about an individual's religion, race, sexual orientation, or economic status. We certainly do not discriminate, and we have a decades-long track record that confirms just that. Our doors at the Emergency Field Hospital in the East Meadow are going to be open to all New Yorkers who need our help. We are here to save life, which is precious in God's sight—and we do it all in Jesus' Name. I hope you will be able to come by for a visit and see for yourself. This is a time for all of us to unite and work together, regardless of our political views. Let's support one another during this crisis, and we pray that God will bless the efforts of all those battling this vicious virus."
Hoylman's office released their own response to Graham's statement this morning, pointing out that Graham had not expressly agreed that his organization and any volunteers would abide by the state's NYC Human Rights Law. Holyman also called for New York State to require that every medical provider sign a new legal agreement acknowledging that they would not discriminate against any patients, regardless of their sexual or gender orientation.
Gizmodo reached out to GLAAD via regarding Graham's statement. Spokesperson Ross Murray responded:
"Franklin Graham's call for people to 'unite and work together' would be much better received if not for his track record of publicly and vocally vilifying LGBTQ people and other marginalized groups. By continuing to enforce a strict anti-LGBTQ 'statement of faith' among his staff, Graham is not creating a safe space for New Yorkers during this crisis, especially without affirming that his tent hospital will abide by New York City's human rights law. GLAAD, many LGBTQ New Yorkers, and allies are joining calls from state Sen. Hoylman and City Council speaker Corey Johnson to ensure that every single LGBTQ patient is treated fairly and equally at this field hospital."