Welcome back to Toy Aisle, io9's regular roundup of all the weirdest and most wonderful toys around. This week: The Lego Movie 2 gets some Lego sets (duh), Hasbro finds a new way to sell you cutesy little Star Wars figurines, and...a toilet in disguise. Yes, really! Check it out!

---
The Lego Movie 2: The Second Part Sets
Would capitalism simply collapse if a movie based on a toy line didn't release a new line of toys based on that movie? Lego sure doesn't want to find out, so ahead of The Lego Movie 2: The Second Part's release early next year, we've already got all the details for the sets based on the new flick. The lineup ranges from $10 to $120, and includes the following spoiler-filled sets, so read on for a few sneak previews of the film's plot: Unikitty's Sweetest Friends EVER!, Emmet's Thricycle!, Introducing Queen Watevra Wa'Nabi, Benny's Space Squad, Emmet and Benny's "Build and Fix Workshop," Battle-ready Batman and MetalBeard, Emmet and Lucy's Visitors from the Duplo Planet, Rex's Rextreme Offroader, Ultrakatty and Warrior Lucy!, Emmet's Builder Box, Lucy's Builder Box, Queen Watevra Wa'Nabi's Build Whatever Box!, Lego Movie Maker, Emmet and Lucy's Escape Buggy, MetalBeard's Heavy Metal Motor Trike, Sweet Mayhem's Systar Starship, Emmet's Dream House/Rescue Rocket, Pop-Up Party Bus, and Rex's Rexplorer.
G/O Media may get a commission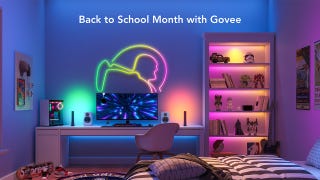 Back to School
Back to School Month with Govee Sale
---
Hasbro Star Wars Micro Force WOW! Collectible Figures
Pringles showed the world that if potato chips can be sold in a tube, then anything can. Case in point, Hasbro has introduced yet another series of collectible figurines called the Star Wars Micro Force WOW! line. Available by the end of next week from Walmart (and then sometime in January from everywhere else), the squishy, squat Micro Force figures come in a blind-bagged tube that resembles a tiny lightsaber. For $8 you get four mystery figures, and a small set of stickers.
---
Mezco Toyz One:12 Collective Netflix Daredevil Vigilante Edition
Well...this couldn't have been revealed at a more awkward time, could it?
Daredevil might have met an untimely end this week, but Mezco are keeping the show alive with a very nifty take on the black, stripped-down costume Matt Murdock wore as the Man Without Fear for much of the show's first and third seasons (although specifically it's the version from season one, sans the wrapped gloves Matt wore when he reclaimed the costume in season three). The 1:12-scaled figure depicts Charlie Cox's Daredevil—well, the lower half of his face at least—clad in his all black clothes and the half-mask Matt used to conceal his identity while beating the snot out of Hell's Kitchen's most dastardly criminals.
The figure is otherwise sparse when it comes to accessories; all Matt comes with is some interchangeable hands, an alternate bloodied head, and a set of billy clubs to do the bloodying with. The figure is set to release in summer 2019...and hopefully by then we'll have learned if there's a future for this version of Daredevil after the Netflix show's cancelation. [Mezco]
---
McFarlane Toys Game of Thrones Viserion Ice Dragon Deluxe Figure
It was already exciting enough that McFarlane was bringing Game of Thrones to its line of 7-inch scaled action figures, but now it's using a resurrected dragon to resurrect an old toyline, too: the McFarlane Monsters range of over-the-top "edgy" takes on beasties across pop culture and folklore.
Viserion in his undead "Ice Dragon" form will kick off the revived line, and comes in at around 9 inches tall on the included stand. As well as an ice-breath accessory piece to recreate the moment the Night King used Viserion's power to tear down the Wall, the figure itself will have 10 points of articulation, so you can pose the dragon mid-flap or soaring in flight.
[Entertainment Earth, h/t Toyark]
---
Play-Doh Wheels Buildin' Compound and Construction Sets
Messing with the tried and true formula of a classic toy rarely results in something better, but Hasbro has tweaked the classic Play-Doh recipe for a new line that makes the material feel more like materials you'd find on a construction site. The Play-Doh Wheels Buildin' Compound is just as smooshable and malleable as classic Play-Doh, but with new colors and unique textures that make it look more like bricks, stones, cement, and pavement. Available next month, in addition to a $5 two-pack of the Buildin' Compound, Hasbro also has a series of $10 to $15 playsets en route that add construction vehicles and machinery that kids can use to build with.
---
Square Off Connected Chess Board
Self-playing chess boards, where your computer opponent was able to move its own physical pieces, were quite popular in the '80s and '90s before mobile gaming became so prevalent. But as convenient as playing a game on your phone is, there's something satisfying about physically wiping out your opponent's pieces. The $369 Square Off chess board isn't cheap, but in addition to bringing back self-moving pieces and AI opponents, it also lets you compete against another human player anywhere in the world. The board connects to an app on your smartphone, which coordinates each player's move, and recreates them on the actual game board. You won't get to see the look on the other player's face when you put them in check, but if you lose, you at least get to wipe all the pieces off the board in frustration.

---
Toywolf W-01 Dirty Man Transforming Samurai Toilet
How many transforming toy toilets do you own? The answer is probably none, unless Optimus Prime was seriously demoted from leader of the Autobots. That makes Toywolf's W-o1 Dirty Man one of the most original, and bizarre, transforming toys we've ever come across. In robot mode it becomes a squat, sword-wielding samurai warrior. But in—err—vehicle mode, it's a porcelain throne, complete with a roll of toilet paper, a plunger, and even an unflushed deposit. If this seems like a must-have accessory for the rest of your Transformer toys who've been having to hold it in all these years, you're going to have to import it from Japan for a little under $100.
[h/t Toy People News]
---
For more, make sure you're following us on our new Instagram @io9dotcom.