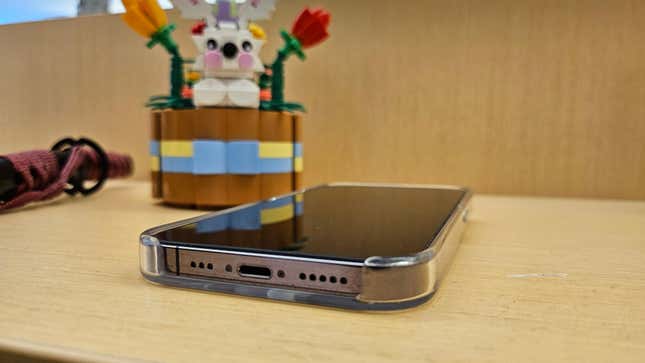 The iPhone 15 is just a month away, and the rumor mill is spinning in high gear before its expected announcement date. The latest news to come down the pipeline of whispers claims Apple's latest iteration of its smartphone will support charging wired up to 35 watts, faster than the current model. Now, it's no 1.21 gigawatts to make Doc Brown flip out, but with the possible move to USB-C cables for the first time, Apple could be emphasizing users hook up the company's own proprietary cables to eke out the most amount of juice possible.
According to 9to5Mac based on unnamed industry sources, some of the new iPhone 15 models will allow charging up to 35W. Compare that speed to the current iPhone 14's 20W and iPhone 14 Pro's 27W, it's a small but sizable upgrade. For comparison, the Google Pixel 7 supports fast wired charging at 20W, and the Pixel 7 Pro tops out at 23W. To reach those speeds, you'll likely need to use a 30W output.
Meanwhile the standard Samsung's Galaxy S23 supports 25W wired charging, while the S23 Ultra can get up to 45W. Getting to that speed does require users to drop even more money on a larger wall adapter.
Apple has its own 35W dual USB-C charging adapter, so newer iPhones should be able to top out on max charging speeds out of the gate. The iPhone 15 is expected to be the first iPhone to make the switch to USB-C to comply with European Union regulations. With that, there's a pretty big caveat as rumors suggest the port will require MFi certification, and that any non-Apple-brand cables will have their charging and data transfer throttled. This may be a way for Apple to incentivize customers to drop more money on its own proprietary outlet adapters. The company did not immediately respond to a request for comment. 
Noted Apple supply chain analyst Ming-Chi Kuo reported earlier this year that Apple was increasing the total shipments for its 20W USB-C power adapter. This could mean that regular iPhones will be sticking to slower charging speeds, while the Pro or upcoming "Ultra" versions would see the increased speeds.
Now, that's not to say charging speeds really matter all too much unless you're extensively using a phone during daytime. Though Apple has never actually detailed its mAh battery size, iPhone 14 Pro is advertised to go 20 hours with constant video playback. Unless you're capturing video for hours on end, you can expect the device to last a full 24 hours at the very least before needing a charge. Most users who plug in when they go to sleep will never even notice any difference in charging speeds.
Other companies like Realme or Oppo have tried to advertised ultra-fast charging speeds of 10 or 15 minutes, but doing so requires a massive, expensive wall unit that's simply impractical for the vast majority of users. In the competitive world of smartphones, charging speeds are hardly the same consideration as battery size, processing power, or comfort, but as Apple experiences a dearth in new iPhone demand, anything the company can use to advertise the new iPhone 15 above the competition is fair game.